Safriel House: Award Winning South African wines for your wine bars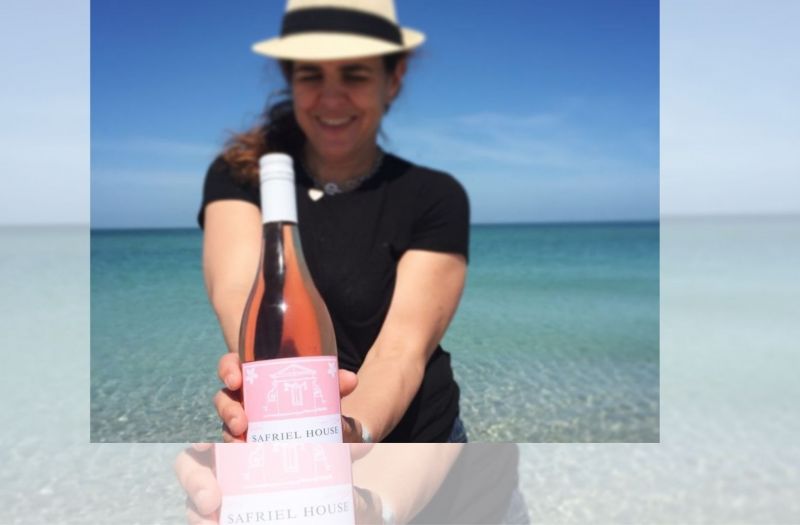 26/02/2021 Safriel House wines are part of the new wave of South African wineries; honoring the winemaking heritage of the Cape and at the same time, incorporating modern and innovative winemaking techniques.
Safriel House is a family owned wine house that is founded upon a passion for, and working experience of South African grape growing terroir and wine making. Our small batch wines express the climate, geology and wine making styles that make South Africa unlike any other growing region in the world. Grapes for our wines come from locations best suited to each variety and we collaborate with similar minded people in the winelands who believe in our avant-garde winemaking approach. Our wines are the type of hidden gems that rarely leave the farm.
Winner of 3 gold medals at the 2020 Sommeliers Choice Awards makes it a preferred south african wine brand for your wine list.
Safriel House Stellenbosch Barrel Fermented Sauvignon Blanc - 93 Points, gold medal.
Select Vineyards Cabernet Sauvignon Reserve - 92 Points, gold medal.
Safriel House Reserve Paarl Barrel Fermented Chenin Blanc - 91 Points, gold medal.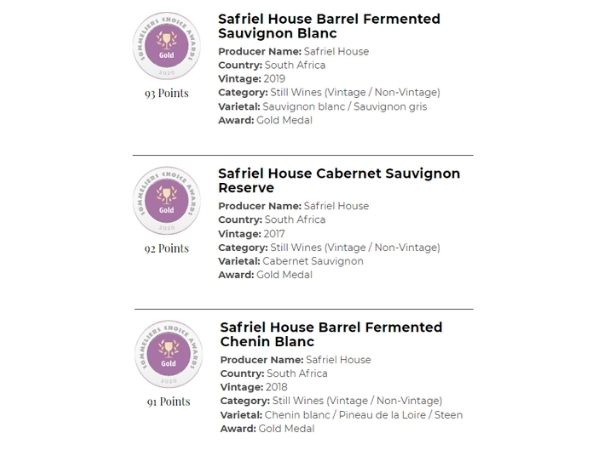 Safriel House wines are part of the new wave of South African wineries. Our wines honor the 300 years of winemaking heritage of the Cape while at the same time incorporating sustainable, innovative and minimal intervention winemaking techniques. This approach tells the story of the most honest expression of the vineyards: blending our rich history and modern best practices to produce an award-winning, terroir-driven range. This allows the wine lover to experience a unique wine of exceptional quality and value that were it not for this approach, may not be available for sale to the public. We match the wines with label art from an extensive art collection that captures the essence of the wine and the art of wine-making.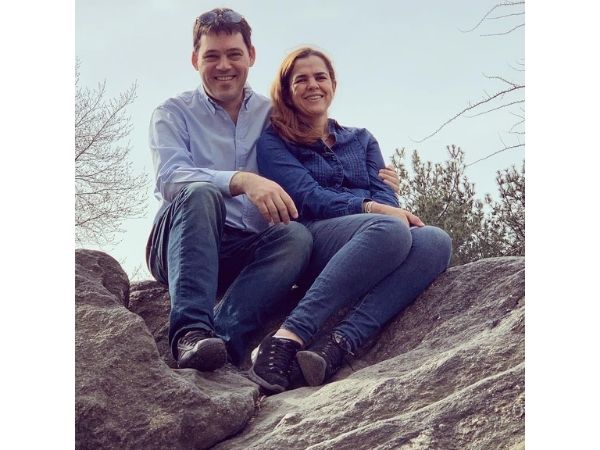 Lynne Safriel and Yair Safriel

The wines:
Safriel House Chardonnay: This wine is medium bodied and lightly wooded with the perfect balance between fruitiness, butteriness and freshness. Grapes were from 15 year old, low yielding vineyards primarily from Stellenbosch for acidity and from inland Franschhoek for more body. Grapes were whole bunch pressed, naturally settled and spontaneously fermented using the grapes' natural yeasts. The wine was aged on its primary fermentation lees for 12 months in 300L French Oak Barrels from Allier and Nevers regions (light to medium toast) barrel and batonaged once a month. Aromas of pineapple, guava and fruit salad pair this wine well with salads, seafood and pastas. It has been well received since launch and is converting more people to Chardonnay lovers.

Safriel House Stellenbosch Barrel Fermented Sauvignon Blanc, represents a special style for this varietal. The Sauvignon Blanc grapes were hand harvested into small crates from a mountain vineyard on the slopes of the Helderberg Mountain in the renowned Stellenbosch appellation. This unirrigated vineyard is located 900ft above sea level facing South. The vines are grown as natural bush-vines, cooled by the breeze from the Atlantic Ocean less than a mile away and nourished by the African sun. Once in the cellar, the wine was divided in three and placed in a 300 liter revolutionized oak barrel, 300 liter seasoned oak barrels and egg-shaped fermenters. The grapes were allowed to commence fermentation spontaneously. To enhance the natural flavors of the region, fermentation occurred using the grapes natural yeast. After fermentation, the wine was left for 12 months on its primary fermentation lees and batonaged once a month for the first four months.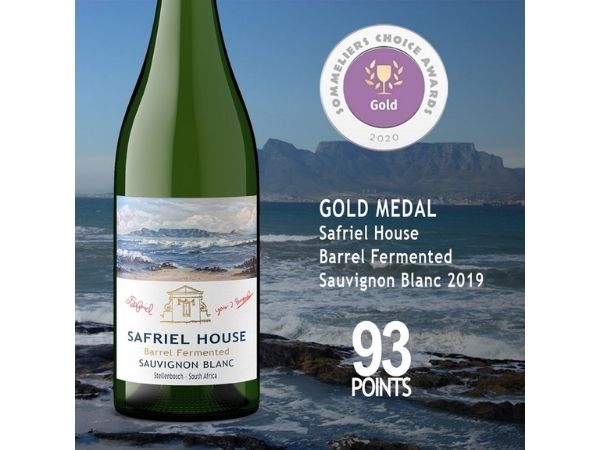 Safriel House Stellenbosch Barrel Fermented Sauvignon Blanc
Safriel House Coastal Cabernet Sauvignon is a lovely, elegant red hailing from a single 200-year-old farm in the Bottelary ward of Stellenbosch. These are the closest vineyards to Cape Town and are almost equidistant to the cool winds of the Atlantic Ocean to the West and False Bay to the South. We make this wine for those who love the Coastal life, the open horizon, sea, sea food and the beach. It has ripe, red fruit and an easy-going light to medium texture which is all too easy to drink. In keeping with our minimal intervention approach, the wine is mostly fermented with its natural (not commercial) yeast and aged in French oak. Best with good food, but fine for a party, this wine pairs well with pizza, pasta, beef and veal dishes. Grapes for this wine were grown and produced on a single 200 year old farm in the Bottelary ward of Stellenbosch, South Africa. Ranked as one of the Top 20 wines to serve on Thanksgiving.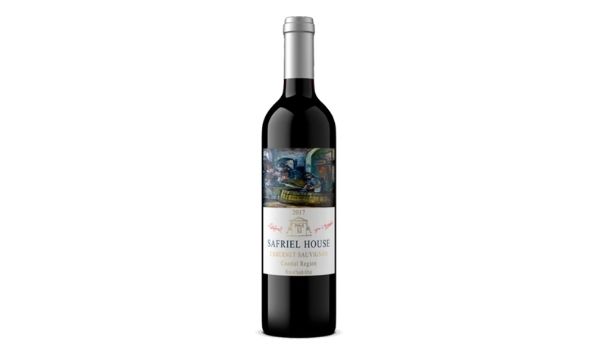 Coastal Region Cabernet Sauvignon 2017
Safriel House Reserve Paarl Barrel Fermented Chenin Blanc is a proud ambassador for South African wines. The grapes for this select wine originate from two blocks on the same farm in the Agter-Paarl appellation, one of the premier regions for Chenin Blanc. This farm was granted in 1699 and has been in the same family since 1775. The two blocks are 26 and 32 years old and planted in decomposed granite and Glenrosa soils. The vines are allowed to grow as small bush vines with no irrigation or artificial canopy and are thus in natural balance, giving a low yield of 7 tons per hectare to enhance fruit complexity. The grapes are harvested by hand and delivered to the winery in crates. The grapes are destemmed and the juice kept in contact with the skins for 3 hours. Only free run juice is used and great care is taken to ensure that the juice is clear before fermentation starts so that the pure, concentrated fruitiness of the dry land grapes is infused into the wines. Fermentation takes place in smaller French oak barrels for complexity and in tank for freshness. The wine is then batonaged once a month for three months after fermentation and aged in barrel for a further 10 months. The vineyard and the cellar are certified for Sustainability & Integrity as well as Fair and Ethical Trade.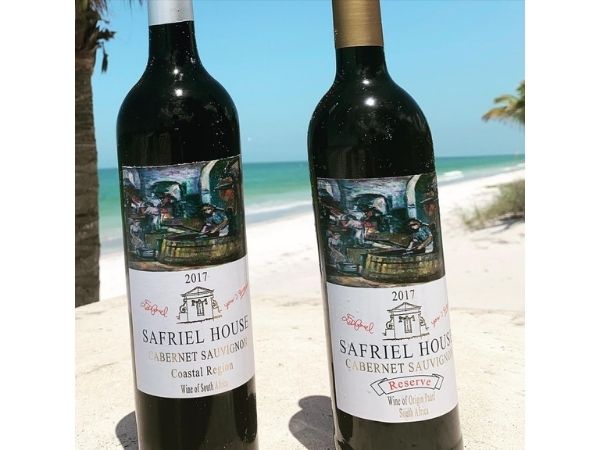 Safriel House Cabernet Sauvignon Reserve: A full-bodied perfectly structured and well balanced wine with a classic claret character Cabernet Sauvignon. Complex and long lasting this wine has depth and power. Oxidative fermentation and aging in 225L French oak barrels (one third new oak) for 12 months.
Grown and produced on a single farm in the best region for Cabernet Sauvignon in Vilafonte and Dundee soils 190m above sea level on a cooler South Eastern slope. One of the few farms in the world that is certified as Carbon Neutral.
[[relatedPurchasesItems-41]]

Trade can contact Lynne Safriel at lynne@safrielhouse.com or 917-476-7744 for pricing and sampling information.
---
About Sommeliers Choice Awards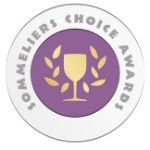 Sommeliers Choice Awards gathers the top restaurant wine buyers, Master Sommeliers, wine directors who have a direct influence on the US on-premise market.
Put your wines in front of them and get rated by Food Parability, Typicity, Value, Quality, and Package.
If you're looking to get in front of the top sommeliers and on-premise wine buyers of the USA, now is the best time to enter your wines.
Deadline For Submission Is Approaching Fast.
Leading wine brands from around the world now have an opportunity to grow their business and gain the attention of wine buyers, wine directors and influencers within the U.S. on-premise industry. Time to submit your wines in the 2021 Sommeliers Choice Awards.
KEY DATES
Special Pricing ends March 31, 2021: ENTER NOW
Warehouse Closes For Samples: April 23, 2021
Judging: May 16, 2021
Winners Announced: May 31, 2021
FEE SCHEDULE (Per Wine)
$100 - Special Pricing - Ends March 31, 2021
$120 - Regular Pricing - April 01, 2021, to April 20, 2021
Quantity Discount Now Available
4 to 9 entries: 10% discount
10 to 14 entries: 15% discount
15 or more entries: 20% discount
(Price in USD)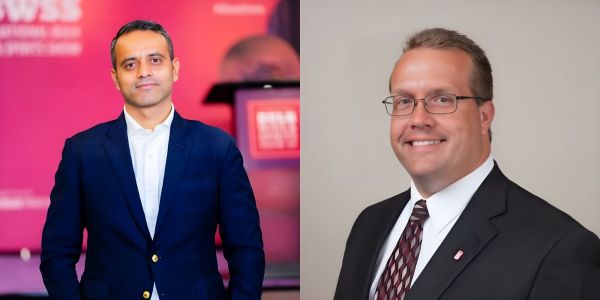 News
Attend this Q&A and insightful session on how beverage brands can develop sales processes to grow on-premise sales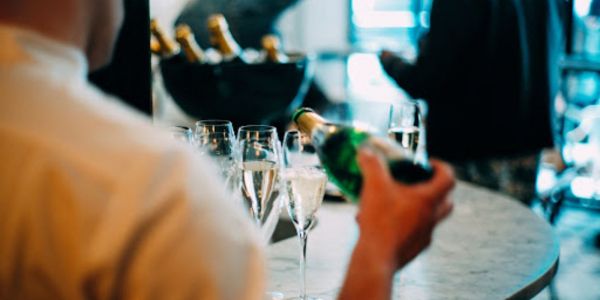 Operations and Management
Nurturing Talent and Expertise: Strategies for Retaining Sommeliers and Wine Waiters in a Challenging Wine Industry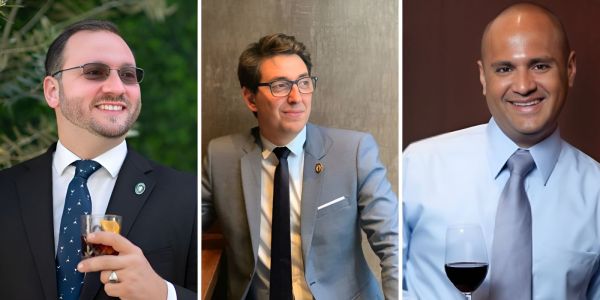 News
Sommeliers Choice Awards is pleased to share that Mark Guillaudeu MS, Jeremy Shanker, and Serafin Alvarado as its judges
South San Francisco Conference Center, 255 South Airport Boulevard, South San Francisco, CA 94080, United States
Register Now