Trestle Thirty One: Finger Lakes wines by Master of Wine Nova Cadamatre MW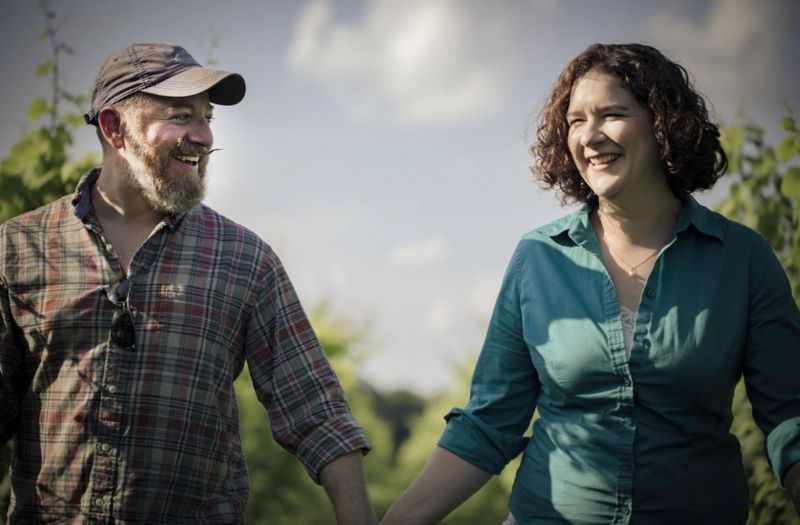 27/10/2020 "We are a small, self funded, family owned winery started by two wine industry pros with a long held dream of having our own winery.  We chose the Finger Lakes of New York because we feel strongly that this area has huge potential and we love the vibe and community of wineries that are super supportive of each other" Nova Cadamatre MW.
The name Trestle Thirty One comes from the large railroad trestle that is prominent from the top of the vineyard on Seneca Lake. This trestle is also the inspiration for the drawing on the front label. The number 31 comes from the Revolutionary War lot that the land was part of. These 500-acre tracts of land were given to Revolutionary War soldiers in lieu of payment after the war was over. In New York, they were numbered and 31 was the number of the future vineyard which Brian and Nova found on the deed once they received it.
Trestle 31 has been awarded with the Sommeliers Choice GOLD Award for our 2016 Riesling! Earned 95 points from the Sommeliers Choice Awards panel.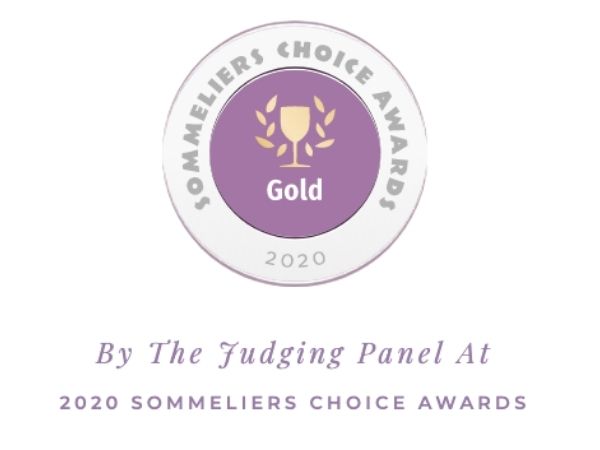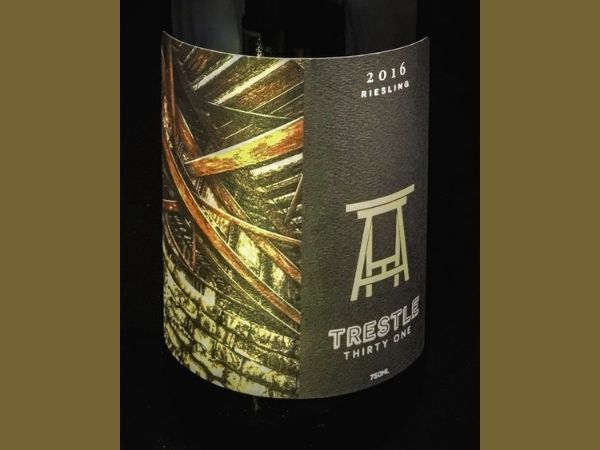 Alcohol: 12% Residual Sugar: 4.0 g/L Total Acid: 7.87 g/L pH: 3.19
Ingredients: Riesling grapes from Zugibe Vineyard, Sulfites Produced Using: Settling enzyme, Epernay II yeast, Yeast Nutrients, and Bentonite.
The vines emerged in mid-May. There was little frost danger in the spring and a mild start to the season. The summer was extremely dry with much of the area was classified as in extreme drought well into the fall. This led to an exceptionally concentrated vintage with minimal disease pressure and a long, beautiful season.
After the fruit was hand harvested and gently destemmed, it spent two hours in the press with skin contact to build body and structure. After pressing, the juice was cold settled for 3 days before being racked for fermentation. The juice was inoculated with Epernay II yeast and kept cold for a long, slow ferment lasting until mid-December. The wine aged sur lie for a month before racking and was gently fined with Bentonite prior to bottling.
Wines being prepared at the winery
The Cadamatre family are so fortunate to have amazing artistic talent in their family. Brian and Nova wanted to keep as much of the business in the family as possible. To that end, they commissioned a drawing by Nova's mother, prominent artist Linda Williams McCune, to make a statement on the front label. Linda's drawings are intricate and dramatic with fine attention to detail, echoing the passion reflected in Nova and Brian's wine style. Brian and Nova had a clear vision for their logo: the trestle table with friends and family gathered around sharing wine and amazing food.
To bring the idea to life, they enlisted the help of Brian's sister, illustrator Katie Cadamatre. Through her creative direction, visual aspects of the brand developed evoking the same values and sentiment. A perfect example is the iconic label, featuring Linda's drawing.
Nova Cadamatre MW
Nova started towards that dream by learning all she could about vineyards and by extension, winemaking. She transferred to Cornell in the fall of 2004 to be part of their newly introduced Viticulture and Enology undergraduate program.
During her time in the Finger Lakes she worked with Thirsty Owl Wine Company and went on to graduate in 2006 as one of the first Viticulture majors from Cornell. She and Brian moved to CA in 2006 and after several years, they moved up to the North Coast to work with Ed Killian, Head winemaker for Chateau Souverain and Director of Winemaking at Asti Winery. Ed was an important mentor, allowing Nova to explore her own talents and organizing opportunities for her to work with other amazing winemakers in CA.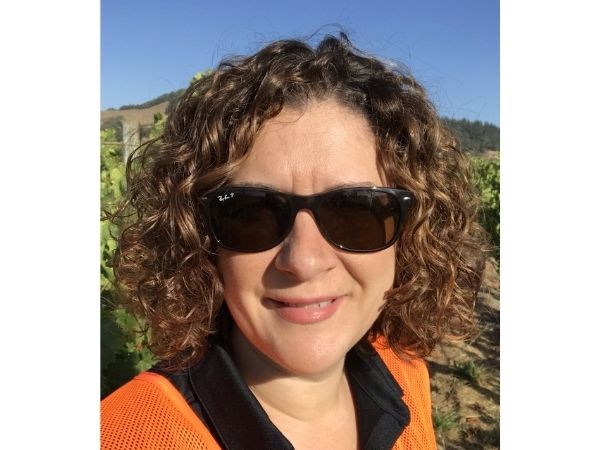 Nova Cadamatre MW
Concurrently, Nova began work on one of the world's most difficult and exclusive wine certifications, the Master of Wine, which she received in 2017. Between the exposure to some of the world's greatest winemaking talent and the intense study for the MW, Nova rapidly became a creative and resourceful winemaker with skill and knowledge to understand the best vineyards. This clearly showed once she began to work with To Kalon vineyard while working as red winemaker for Robert Mondavi Winery in Oakville, CA. It was this success which led to Wine Enthusiast naming Nova one of the Top 40 under 40 in 2014.
As fate would have it, Nova was not meant to stay at the iconic winery and was asked to move back to the Finger Lakes to become Director of Winemaking at Constellation's Canandaigua Winery. Once there, she and Brian knew it was time to begin to work in earnest on their own wines and the result was Trestle Thirty-One. Nova runs the winemaking, vineyard sourcing, and marketing areas of Trestle Thirty One.
Brian Cadamatre
Brian is the visionary behind Nova's dream to start their own vineyard. His love of nature and the outdoors drew him to major in Forestry and Natural Resources Management at SUNY-Environmental Science and Forestry. After moving to CA in 2006, he started working of one of the world's largest dairy companies however once he and Nova moved up to Napa in 2009, he landed a job in the wine industry managing warehouse movements and strategy for Treasury Wine Estates.
His analytical mind and business savvy quickly made him a valuable asset and he moved up the ladder in different departments. Eventually, he landed as the Senior Analyst of Business and Capabilities for Treasury's North American operations. After several years, he moved to work with Jean Charles Boisset where he worked on merger and acquisitions as well as business strategy and planning. Once they were asked to move back to the Finger Lakes, Brian worked as a business consultant and then as a Finance Manager for Constellation in their operations finance group. Brian runs the business side of Trestle Thirty-One, including business strategy, product costing, and regulatory affairs.
Sommeliers and On-Trade buyers can contact Byron Davis, Director of Sales and Consumer Relations; byrond@gmail.com for sampling and pricing.
They are happy to do staff training (either virtually or in person COVID dependent). Promotions can be discussed depending on volumes purchased.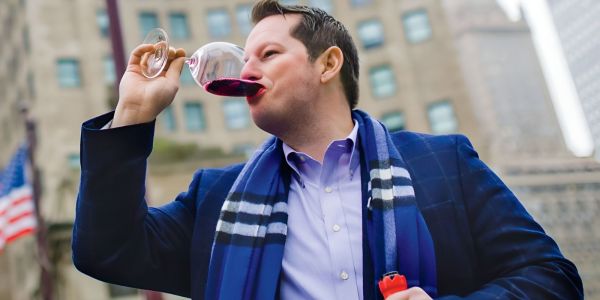 Interviews
Jon McDaniel on what makes a great sommelier, how sommeliers can create effective wine programs and how they can improve wine sales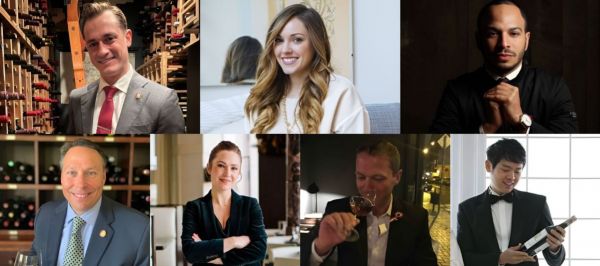 News
Top master sommeliers, sommeliers, wine directors and on-premise buyers of USA will gather in Chicago to judges wines at the 2024 Sommeliers Choice Awards, a leading wine competition benchmarking wines for on-premise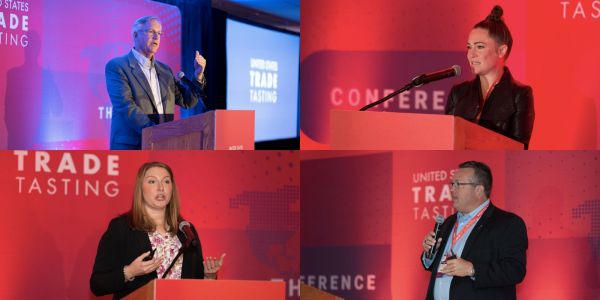 News
Mark Braver, The Fifty/50 Group; Michael E Klauer, Momentum Beverage Team: Jeremy Kruidenier, Wine and Spirits Distributors of Illinois and more take the stage at USATT 2023