Tolosa Winery: Makers of world class Pinot Noirs and Chardonnays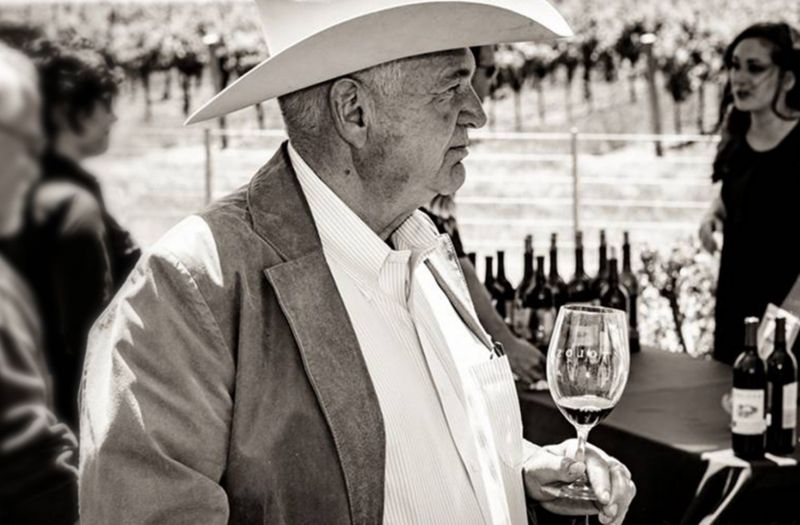 28/10/2020 Being in a region with a grape-growing history that stretches back to the 18th century, when Franciscans at Mission San Luis Obispo de Tolosa produced some of California's first wines of distinction, planting wine grapes was a natural choice.
Cowboy dreams of owning a cattle ranch brought Vintner Robin Baggett to Edna Valley. The cold Pacific wind that sweeps down the coast into the transverse valley and a myriad of soils derived from an ancient seabed made him realize he was on a frontier of a different sort. Tolosa is the expression of his commitment to spare no effort to craft nuanced and balanced Pinot Noir and Chardonnay of distinctive character to rival any in the world. Header image: Vintner Robin Baggett.
Sommelier Business highly recommends their pinot noir and chardonnay that recently secured gold medals in 2020 Sommeliers Choice Awards results.

Logo of Sommeliers Choice Awards
Robin Baggett bought a historic ranch in the valley and began running cattle, but the cold Pacific wind and limestone soils made him realize he was on a different kind of frontier – one for world-class cool-climate Pinot Noir and Chardonnay. Being in a region with a grape-growing history that stretches back to the 18th century, when Franciscans at Mission San Luis Obispo de Tolosa produced some of California's first wines of distinction, planting wine grapes was a natural choice. Robin and his partner Bob Schiebelhut began planting vineyards in 1988, adding several other historic family ranches in the valley over time. Together with Jim Efird, now retired, they founded Tolosa in 1998. Robin's passion for wine making was born, and his wine journey began.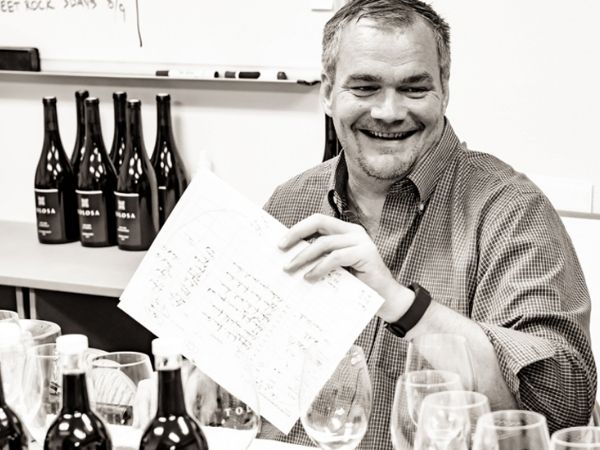 Tolosa partner and consulting winemaker Jean Hoefliger
Jean was born and raised in Switzerland, and after receiving his degree from the Swiss federal school of Changins, he worked in Switzerland, Bordeaux, and South Africa at the estates of Chateau Lynch-Bages, Chateau Carbonnieux and Meerlust. He then moved to California, spending five years as the winemaker at Newton Vineyard before joining Alpha Omega.
As the consulting winemaker for Tolosa and Alpha Omega, he is creating wines that are a remarkable mix of Old and New World and recognized as some of the finest representations of the terroir that is Napa Valley. He also is continuing to pursue the artistry of world-class Pinot Noir that distinguished his tenure at Newton, Hartford Family Winery and Armanino Family Cellars, and during his early studies at the Fonjallaz family's Swiss vineyards.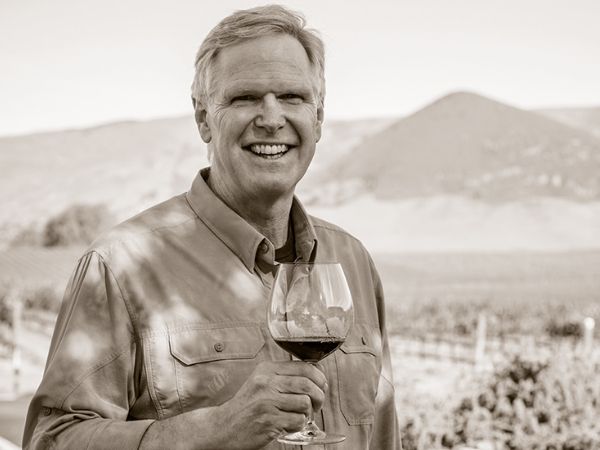 Master Sommelier Bob Bath
Tolosa proudly partners with Master Sommelier Bob Bath. Bath passed the Master Sommelier exam in 1993, becoming one of the first 25 Master Sommeliers in the United States. Bath, like Robin Baggett, played baseball at Cal Poly and graduated from the university in San Luis Obispo. It was at Cal Poly where wine sparked the interest of Bath, a third-generation Californian who was born and raised in Davis. As a collegian, he discovered his love of wine while working in fine dining restaurants during the summers. O
ver the last 30 years, Bath has worked in virtually every aspect of the restaurant and wine industry. After managing high profile restaurants and wine programs for almost 10 years, he spent the next decade as National Sales Manager for Shafer Vineyards in Napa Valley. In 2000, he started his own company, Robert Bath MS – Wine Education and Consultation. Since then, Bath has worked with more than 30 high-profile companies, including The French Laundry, Duckhorn Vineyards, Charles Krug, Crystal Cruises, Taj Hotels, Kendall-Jackson and Uptown Network. He joined the CIA at Greystone in Napa Valley as an adjunct professor in 2004 and took a full-time position in 2010.
He has been instrumental in the development of the Wine and Beverage Graduate Certificate program, the first college graduate-level wine and beverage program of its kind in the United States, along with the CIA Sommelier Summit, which launched in 2015.
The partnership with Bath underlines Tolosa's commitment to continually elevate the knowledge of our team members and to educate the wine community about the special place of Edna Valley.
The wines and how they scored at the 2020 Sommeliers Choice Awards
1772 Pinot Noir
Winner of a gold medal and 93 points at the 2020 Sommeliers Choice Awards makes it an ideal choice for sommeliers to serve in their restaurants.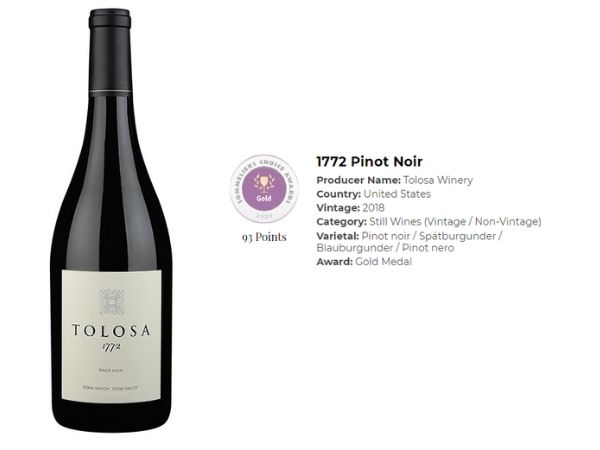 When Tolosa was founded, they chose the name 1772 in honor of the year Mission San Luis Obispo de Tolosa was founded. Today, they carry on the Franciscan's legacy of winemaking in the exceptional terroir that is Edna Valley. This Pinot Noir is a medley of Tolosa's estate vineyard Edna Ranch. The estate vineyard is spread throughout the Edna Valley, producing six unique vineyard sections with 60 soil types and a myriad of microclimates.
The goal is to preserve the characteristics of the coolest AVA in California by showcasing the tension and acidity in the wine. They harvest the fruit by hand, utilize an optical sorting machine, and ferment in open top stainless steel tanks. The wine was aged in a combination of new and neutral French oak barrels for 9 months. On such a vintage, this wine will show the bright red fruit common in Edna Valley as well as the freshness that comes with the cool coastal climate. Tannins are present, and they will soften nicely with a little bit of bottle aging.
1772 Chardonnay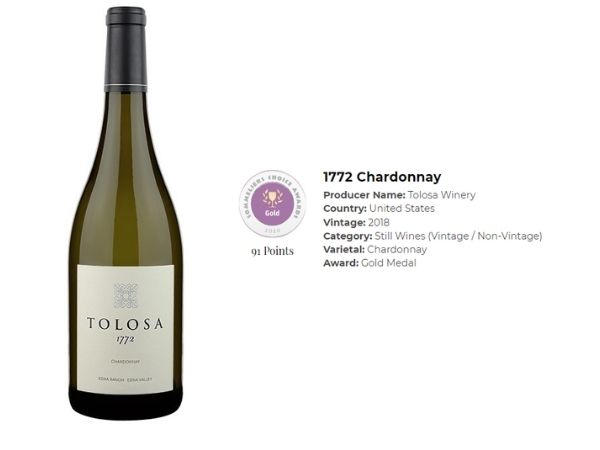 The 1772 Chardonnay is Tolosa's classic Chardonnay that secured 91 points and a gold medal at the 2020 Sommeliers Choice Awards.
Tolosa's estate vineyard is located in the cool climate Edna Valley. The Edna Valley lies within a transverse valley, an old extension of the sea leading to Morro Bay. The vines receive a moderating influence from the Pacific Ocean preserving the natural aromas and crisp acidity in the grapes. The cooler 2018 vintage allowed the grapes to hang on the vine longer to yield intense flavor. This Chardonnay is barrel fermented, with a variety of yeasts used throughout the different lots to enhance the complexities in the wine. Early on during the ageing process, the wine received Batonnage twice a week for 3 months to build a richer mid-palate. The wine aged for 9 months in French oak barrels and completed 100% malolactic fermentation. The Chardonnay maintains a fresh acidity similar to the wines produced in Burgundy, while showcasing an expressive California fruit profile.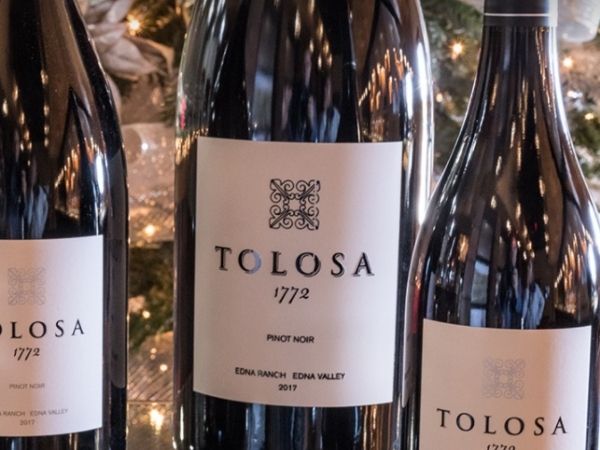 Sommeliers and wine directors can contact Darren Worley at dworley@aocollectivewine.com or 805 782 0500 for sampling and pricing information.
One great way the winery supports its restaurant customers is by offering complimentary visits and tastings at the winery as well as seminar opportunities with Brand Ambassador Master Sommelier Bob Bath.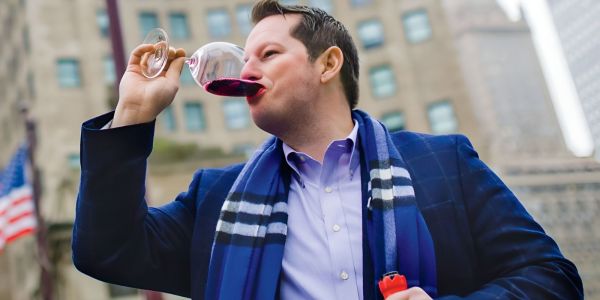 Interviews
Jon McDaniel on what makes a great sommelier, how sommeliers can create effective wine programs and how they can improve wine sales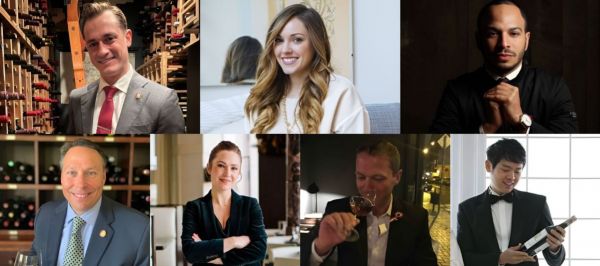 News
Top master sommeliers, sommeliers, wine directors and on-premise buyers of USA will gather in Chicago to judges wines at the 2024 Sommeliers Choice Awards, a leading wine competition benchmarking wines for on-premise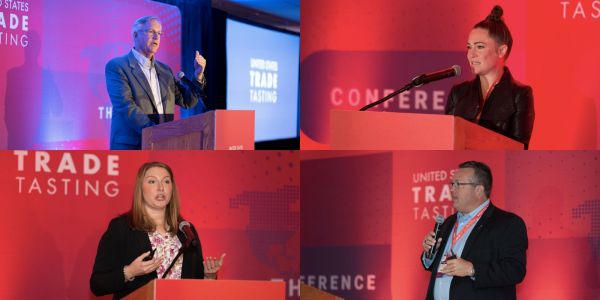 News
Mark Braver, The Fifty/50 Group; Michael E Klauer, Momentum Beverage Team: Jeremy Kruidenier, Wine and Spirits Distributors of Illinois and more take the stage at USATT 2023