Holden Manz Wine Estate wins gold at the top restaurant wine list awards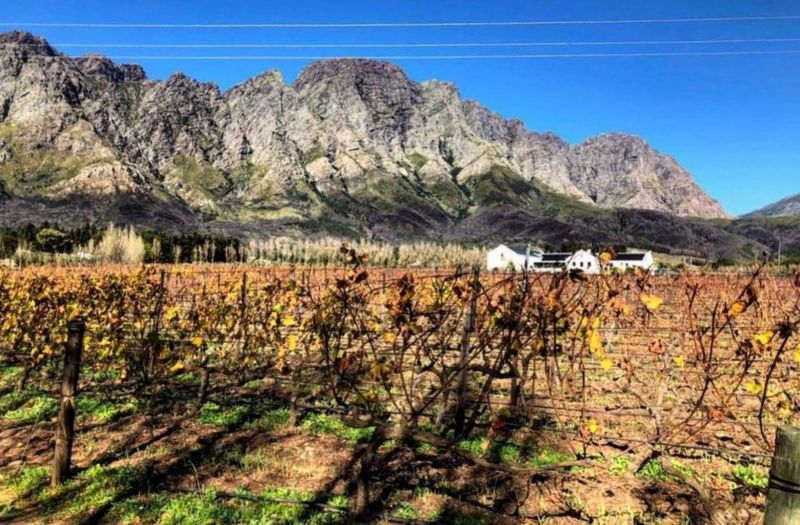 21/10/2020 The Holden Manz Winery features state of the art design which enables their winemaker to fully express the terroir and its fruits in every possible way.
Holden Manz Wine Estate is located in the top, southernmost corner of the Franschhoek Valley, in the embrace of its spectacular mountains. The 22 hectare HMWE is situated between the Franschhoek River and Stony Brook at 300 meters above sea level. An exclusive grower of red grapes, the Estate only cultivates its top 16 hectares under vineyards, notably Cabernet Sauvignon, Cabernet Franc, Syrah and Merlot. Long, cold and wet winters allow the vines to rest well, while hot dry summers and a gentle autumn allows for slow ripening. Featuring a rich and diverse terroir influenced by its unique natural surroundings, with 3 different soil types and a marked seasonal climate, the estate's vineyards are perfectly suited to our intention – the production of ultra-premium wines made for the discerning wine connoisseur.
The winery won 3 gold medals at the 2020 Sommeliers Choice Awards that took place in San Francisco this year.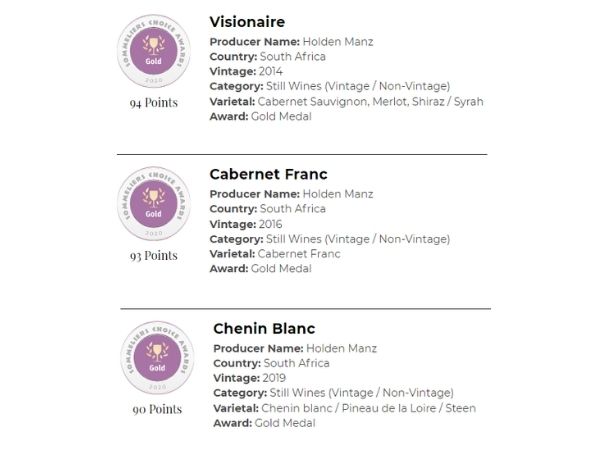 The Winery
Sheltered next to our Franschhoek Kitchen and tasting venue, the Holden Manz Winery features state of the art design which enables our winemaker to fully express the terroir and its fruits in every possible way. With average production sitting at 100 tonnes of manually harvested, high quality grapes, an intimate approach with emphasis on 'attention to detail' is maintained throughout. Smaller tanks allow for separate, small-batch fermentations, while an open-plan barrel cellar provides our winemaker the access to tend to each barrel individually.
A smooth flow from delivery to bottling rounds off the winery, minimising handling and shock on the wines – another way we ensure our wines arrive in the glass in premium condition exhibiting character and bouquet in all its glory. The recent addition of 65 kW of solar panels has significantly reduced our energy consumption – a big step in our ongoing commitment to sustainable production practises.
The Winemaker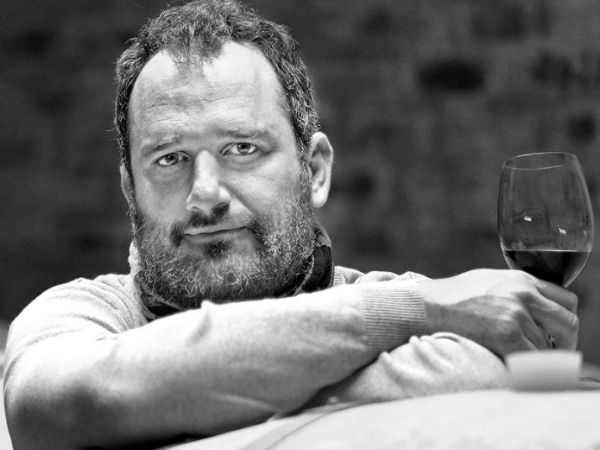 Winemaker Thierry Haberer, has been making wine around the world for more than a decade, with roots that go back earlier than that – his grandfather was a vine grower in Morocco and later a producer in Corsica, a French island in the Mediterranean Sea where his father still makes wine today! "Growing up I was continuously exposed to great wines, visiting remarkable vineyards and tasting its creations, but my passion for wine making grew slowly until it became an obvious course I was destined to follow." Completing his studies at the Faculty d'Oenologie, University of Bordeaux, in 2004 with a wealth of practical knowledge acquired doing seasonal work in the lauded vineyards of Bordeaux, Thierry soon found himself working as a freelance winemaker at international wineries including Anthonij Rupert Cellar (South Africa), Rudd Estate (Napa Valley, USA) and Katerzina Estate (Bulgaria).
It was in 2008 that Thierry went on to join forces with one of France's best-known wine consultants, Michel Rolland. A few years later saw him pack his bags to move to South Africa. A deep love for the country along with its diverse terroir (and cultures) made the move easy for Thierry, likely also influenced by his South African wife and 2 year old daughter. "You encounter different terroir and climates within short distances and I enjoy being able to work with most of the varietals and having the ability to achieve excellent results. I see South Africa as somewhere I can contribute my winemaking experiences and fulfill my personal and professional goals going forward." A passionate and out-of-the-box approach combined with a deep respect for preserving the quality of the fruit shows in every bottle he produces, and there is no doubt that his quality-driven approach and thirst for innovation will set new standards in the Holden Manz range – something to look forward to as Thierry continues to delve into the potential bursting from our terroir and grapes alike.
If you happen to be in South Africa or plan to visit, be sure to check out their 5 star country house. Offering 5 spacious suites fitted with only the best and most lavish, alongside beautiful views of the rolling lawns, vineyards, upper-Franschhoek Valley and mountains beyond, a sense of tranquil prosperity greets guests on arrival. Our extensive collection of contemporary South African art will calm your soul and re-invigorate your senses.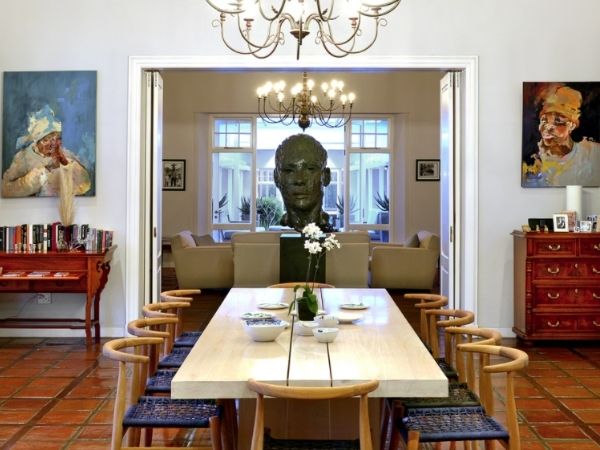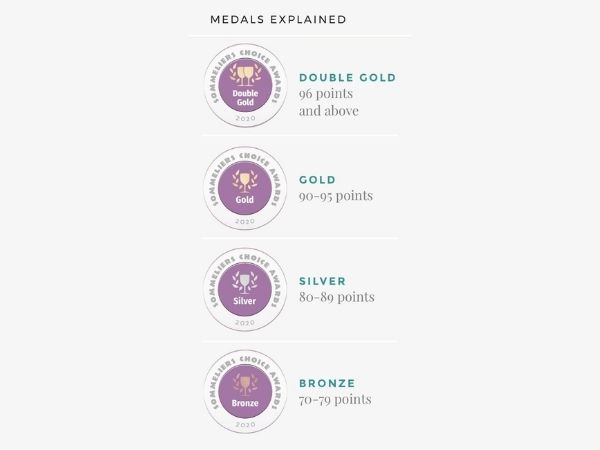 The goal of the new Sommeliers Choice Awards is simple: to provide on-premise buyers and sommeliers a valuable benchmark for understanding which wines would make a compelling addition to a wine list.
HMWE Chenin Blanc - 90 points, gold medal - 2020 Sommeliers Choice Awards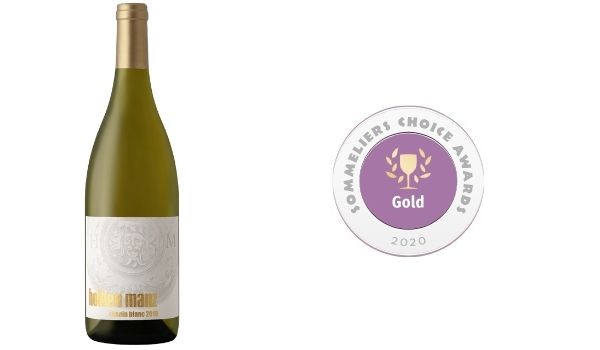 Medium-bodied with zingy acidity. On the palate pear, quince, honeysuckle, peach with lingering flavors of honeydew melon, persimmon and fresh ginger.
HMWE Visionaire (CAB Blend) 94 Points, Gold Medal - 2020 Sommeliers Choice Awards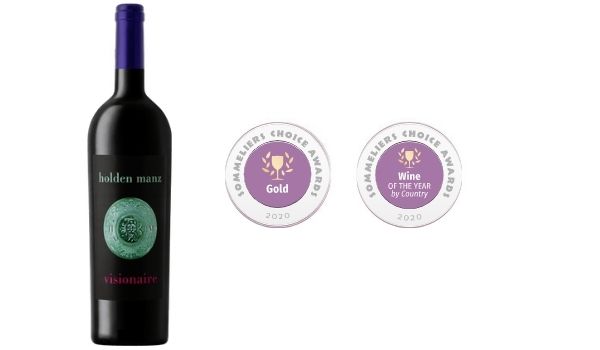 Smooth elegant palate with mid-palate ripeness and spicy supple finish. Red and black fruits dominate balanced with a graphite steeliness. The tannins are soft and refined and exquisitely round off the aromas of spice and fresh plum. The multiple components of Visionaire allow each to show off its own unique characters while combining to produce an experience greater than the parts – each varietal a celebrated soloist combining with the orchestra of the blend!
HMWE Cab Franc - 93 Points, Gold Medal - 2020 Sommeliers Choice Awards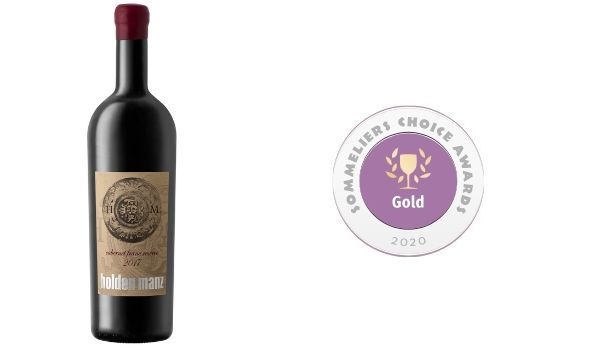 Rich and elegant soft textured wine with predominant cassis and dark berries. Well balanced savoury flavours with good volume. Wood is well integrated, pleasantly subtle tannins. Balanced with a long finish with plenty of spice and mocha.
Who can sommeliers and wine directors contact for more information?
Jayne Rockmill, agentrockmill@icloud.com, 917 816 616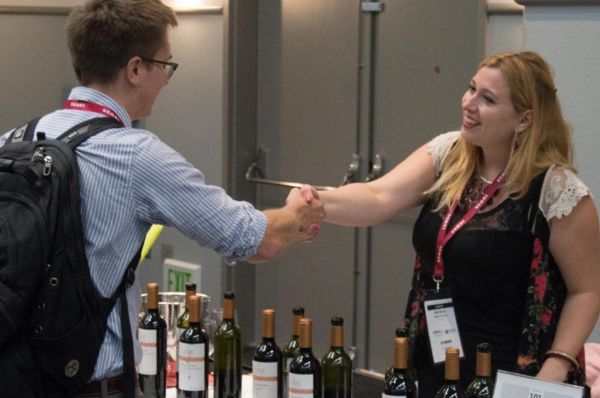 Insights
Building Connections, Expanding Palates, and Elevating Wine Culture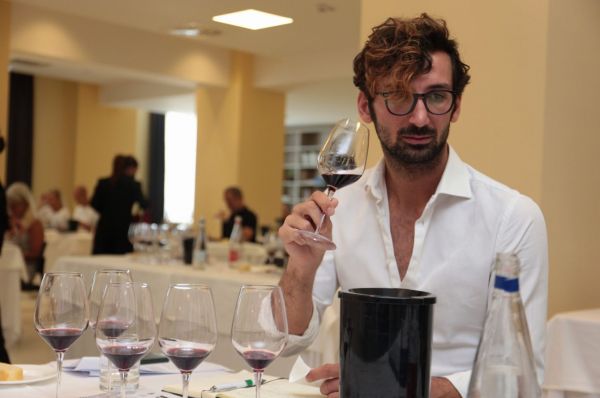 Interviews
"The Ambassador of Wine: A Multilingual Professional with Expertise in Hospitality, Sales, Marketing, and Management."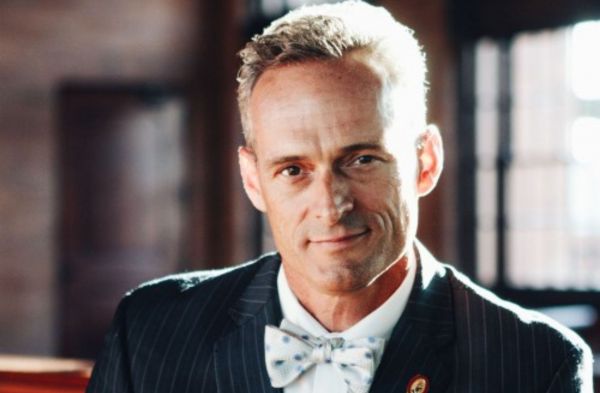 Interviews
Charlie Leary interviews Master Sommelier Ron Edwards of the major fine wine import & distributor Winebow about the company, his job & accomplishments within the fine wine sphere.
South San Francisco Conference Center, 255 South Airport Boulevard, South San Francisco, CA 94080, United States
Register Now
South San Francisco Conference Center, 255 South Airport Boulevard South San Francisco, California
Register Now