Troubleshooting Tips for Challenging Wine Situations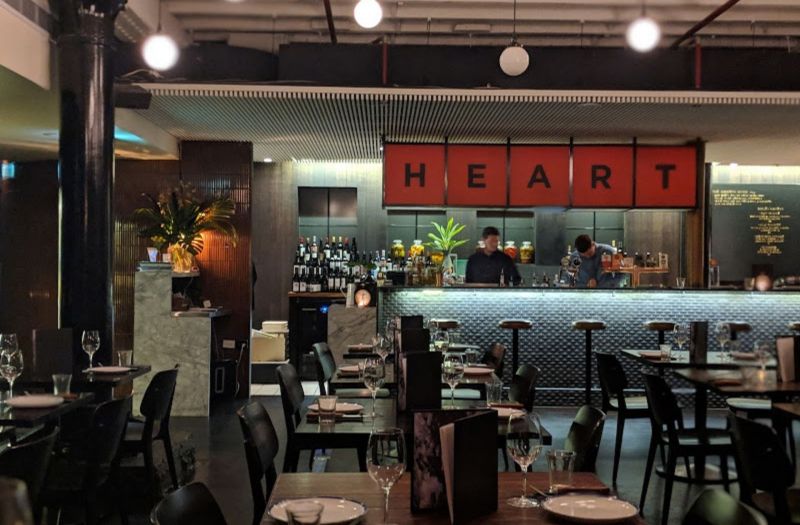 04/01/2021 How to approach difficult guests and turn around their experience without a hitch.
(Image credit: Dining room and bar at Meatmaiden, Melbourne, AUS - Photo by T.B.)
If you've been a sommelier in a restaurant setting for any period of time you will certainly have encountered several types of guests. All diners possess unique preferences and have diverse budgets. While some guests may prefer a certain style of beverage and have different service expectations, all guests expect to have their needs met. Accommodating a discerning guest and exceeding their expectations is guaranteed to keep your clientele satisfied and coming back for future visits.
In a hectic restaurant work environment, one can easily imagine how many moving parts a successful beverage program consists of.
A sommelier must be prepared to offer his guests selections from various offerings that aren't just limited to by-the-glass, by-the-bottle, or pairings. A guest's wine brought in for corkage and possible decantation, the preparation of beverage flights, optimal serving temperatures, stemware, and perfect timing all hinge upon preparedness and prioritization on the part of the sommelier. These efforts and how successfully they are executed are intrinsically linked to guest satisfaction.
To ensure that a guest thoroughly enjoys the entirety of his dining experience and leaves satisfied is dependent on several key factors. Most efforts by hospitality professionals take place behind the scenes and are not even noticed by the guests.
Having prepared an orderly Mise en place before the restaurant opens its doors to your guests is of the utmost importance. This vital set up will allow for seamless dining service and usually consists of various items you should be stocking. Having clean and updated wine lists that represent accurately and readily the beverages on offer counts among the most important parts of beginning a satisfactory shift as a sommelier. A varied, clean, odorless, and unchipped array of stemware alongside sanitized tools such as Coravin, corkscrews, serviettes, and trays are key. Having these essential tools in perfect working order will act as a legitimate safeguard against potential guest complaints. Nobody enjoys dining in a setting that is not immaculate, nor does a guest like to order from a list that isn't accurate.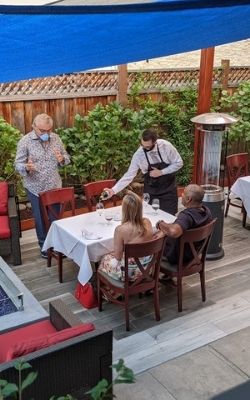 Owner and Wine Director servicing guests at Chez TJ, Mountain View, CA - Photo by T.B.
Being prepared and organized is a great preventative tool when it comes to mitigating the fallout that could stem from a dissatisfied or difficult guest. However, as is always true whenever dealing with the public, certain scenarios of guest dissatisfaction are bound to arise and cannot always be prevented.
Being kind, understanding, and accommodating without being too much of a salesperson or coming across as pushy will go a long way when interacting with a guest at his table. When a guest voices his displeasure about a certain beverage or staff interaction this is usually due to their expectations not being met. Instead of placating the guest with apologies, it would be well advised to hear them out instead, acknowledge their frustration, and offer suggestions on how to best remedy the issue at hand. A listening ear and helpful, caring disposition will accelerate the process of leaving the unhappy guest satisfied. Issues can manifest themselves in numerous ways, but most problems commonly stem from timing or misinformation. Sometimes it seems an entitled guest wishes simply to voice disfavor about certain facets of a restaurant's operation, regardless of how minute or trivial their grievance may appear to be in your eyes. When a beverage has been spilled, one should take care to clean and replace it to the best of one's abilities. Should a price have been misquoted, simply do your very best to honor the stated price or offer a similar item at a relative price point.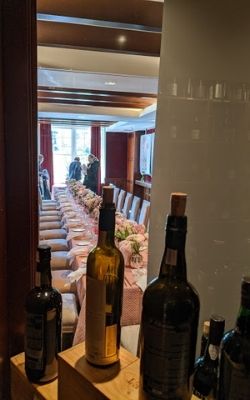 Eager to be opened, bottles watch over guests at The Village Pub, Woodside, CA - Photo by T.B.
Often times certain grievances which a sommelier's guests will voice can be out of their control and require an understanding and hospitable stance when it comes to rectifying such a situation. In a scenario where a guest is not seated in a timely fashion because other diners have not vacated their tables, a complimentary toast pour of sparkling wine while awaiting their table can go a long way. Following up with the aggravated guests after being seated is also a way of showing that the restaurant cares about their enjoyment. If the guest is still voicing displeasure about their experience, then it is important to ensure that they leave the restaurant happy at all costs. This can be accomplished with a free dessert pairing or, in the last case scenario, a complimentary course or gift card may be offered to the unhappy diner. Should a beverage be spilled or glass is broken, then great care should be given to offering to dry-clean of soiled garments, initiating a quick and efficient clean-up and replacement of beverages. Consider treating the guest to another glass, upgrading them to a pour of an elevated offering or taking an item off their bill.
Often money and remedying a situation with actions are not the only steps a service professional can utilize, but instead, they must also rely on strong interpersonal skills when approaching a dissatisfied guest. Lending a listening ear, being compassionate, and open to their input is of the utmost importance when putting out fires with displeased guests.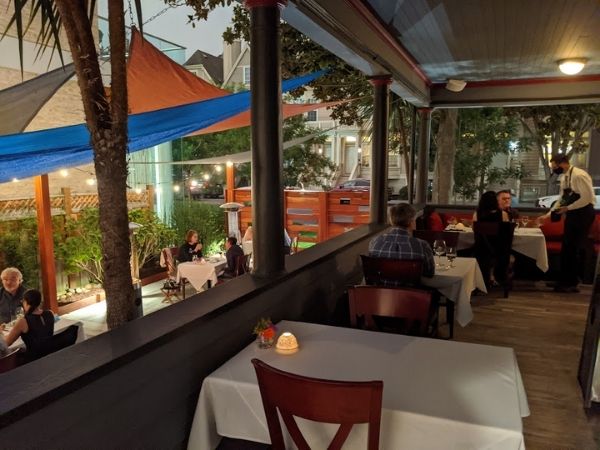 Wine Director Paul Carayas with guests at Chez TJ, Mtn. View, CA - photo by T.B.
It is important to take ownership of a problem and not just try to pass the buck to the manager on duty or to tackle the issue with a band-aid. A heartfelt appreciation for the guest's expectations should always be what a corrective effort should center around. Dealing with a disappointed guest can also serve as a sommelier's greatest opportunity to forge and maintain a loyal and satisfied repeat-guest. Instilling confidence and ultimately attaining satisfaction with your dining establishment in the eyes of an unhappy guest, especially after turning their experience around, can translate to future sales and growth of clientele and reputation. If a guest didn't enjoy a wine you recommended, despite your accurate representation of the wine, both stylistically and price-wise (and even after showing and stating the wine upon presenting it to the guest, as proper custom dictates) it can be annoying to consider suggesting a replacement for a bottle that has been opened without profit. It is often wiser to bite the bullet and accomplish your main goal: guest satisfaction by whatever means necessary, but within reason.
[[relatedPurchasesItems-41]]
Though a guest can at times exceed what a sommelier would expect to be the limitations of uncommon demands, the customer is always right. Whether you "screwed up" a guest's order or a diner didn't enjoy their wine, you would be well-advised to listen for hints they may give you about how to best remedy their dissatisfaction. Be sure to maintain realistic expectations on both ends of the spectrum, for guests and sommelier alike. Checking back in with dissatisfied guests often and making sure you practice good communication is the key to smoothing things over when guest satisfaction had been diminished. Remind yourself that reconciliation and guest accommodation is the ultimate goal and be mindful to remain hospitable, and do what you must to attain guest satisfaction.
Following these simple standards will allow for a sommelier to efficiently turn around difficult guests and have them leave satisfied.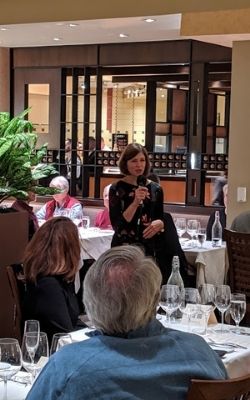 Winemaker Heidi von der Mehden and guests at Parcel 104 @ Marriott, Santa Clara, CA -photo by T.B.
About the author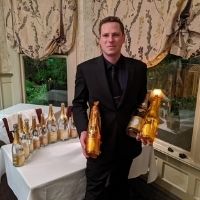 Thomas Brenner is a sommelier, beverage consultant, wine buyer, and wine writer based in the San Francisco Bay Area. A native to central Europe, Thomas has lived in Germany, the Washington D.C. area, and California. When he is not researching material for his wine writing or working as a sommelier, he enjoys traveling to winegrowing regions near and far.
Mr. Brenner has been interested in geography, history, and culture from an early age, setting himself up seamlessly for a career in wine.
He has performed as a sommelier in fine dining establishments encompassing all tiers of coveted Wine Spectator awards and acted as MOD and sommelier at several Michelin-starred restaurants. He has also been a wine buyer for a popular hotel fine dining outlet and enjoys coming up with unique pairings for his guests. Thomas constantly adapts to an ever-evolving set of clientele and dining environments while lending his expertise to online forums, social media, and fundraisers such as Auction Napa Valley, Pebble Beach Food and Wine, and charity dining events at smaller boutique restaurants.
When he is not actively engaged in wine-related work, he spends his time with his eight-year-old daughter in and around his residence in San Jose, CA, eagerly planning his next trip to distant wine-growing regions.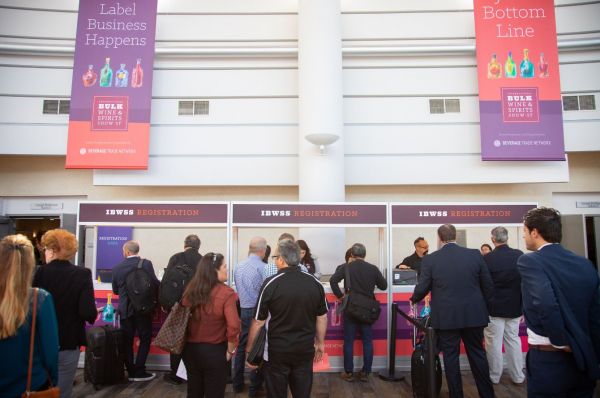 News
IBWSS San Francisco tickets can now be purchased at the official trade show ticket page, and if you buy before March 31, you will also save!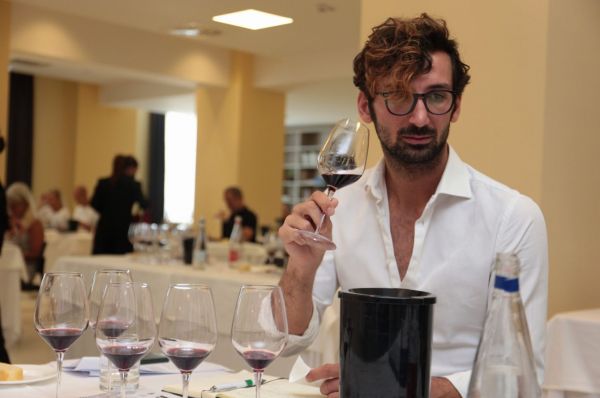 Interviews
"The Ambassador of Wine: A Multilingual Professional with Expertise in Hospitality, Sales, Marketing, and Management."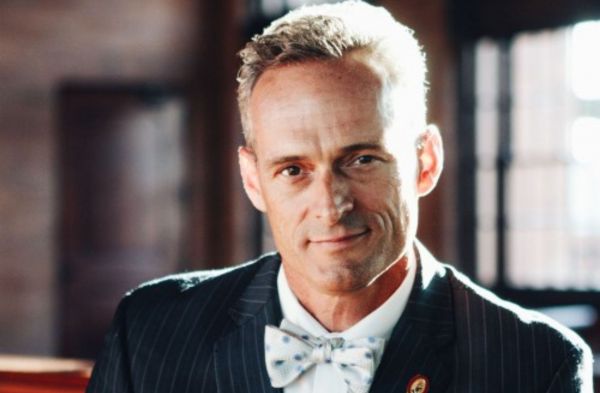 Interviews
Charlie Leary interviews Master Sommelier Ron Edwards of the major fine wine import & distributor Winebow about the company, his job & accomplishments within the fine wine sphere.