Piotr Pietras - MS, Part of Top 3 Sommeliers of Europe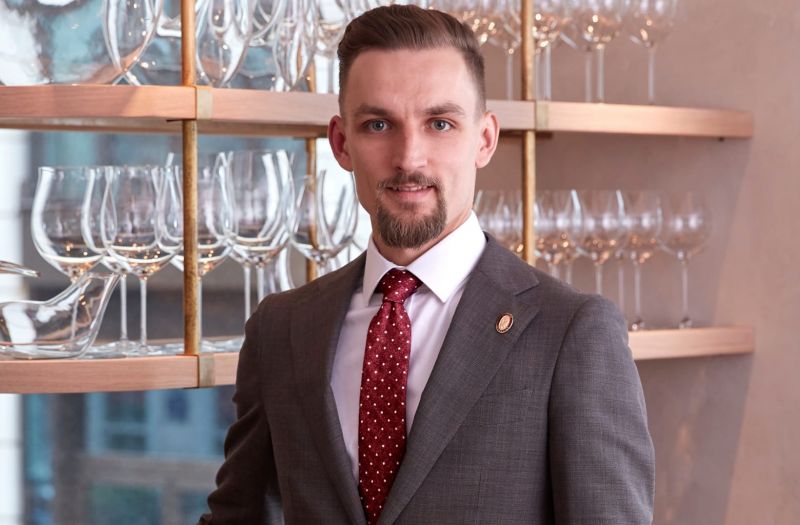 18/02/2019 With a spectacular number of awards, Piotr Pietras prepares for the Best Sommelier of the World competition.
Piotr Pietras MS has won Sommelier of the Year in Poland twice 2015 & 2016 and is currently practicing for the Best Sommelier of the World competition in Belgium later this year. He has won an impressive number of industry awards and in 2018 opened up Hide in London, Ollie Dabbous' much-feted restaurant connected with the aptly named Hedonism Wine shop. He now sets on a new journey in his Polish homeland.
1. You've won many sommelier awards – which one are you most proud?
I have been participating in different competitions since 2013. It is part of my education process to test me and motivate me. By doing them I develop my practical skills and my theory as the studies go really deep into the subject.
I am most proud of the Master Sommelier Diploma. It was a long journey which started in 2013 and finished in 2017.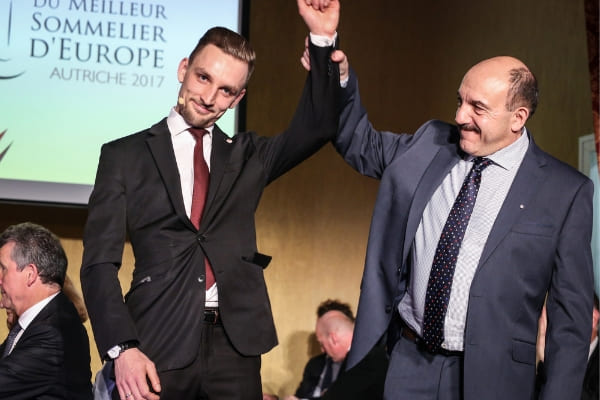 To be awarded 2nd in the Best Sommelier of Europe in 2017 was also special. However, competitions and exams are two different things. Competitions are about winning, exams are about helping each other to pass.
2. You are preparing for the Worlds' Best Sommelier Award – what's involved?
Every aspect is important, but the mental side of it is critical. You have to commit yourself and be resistant to stress.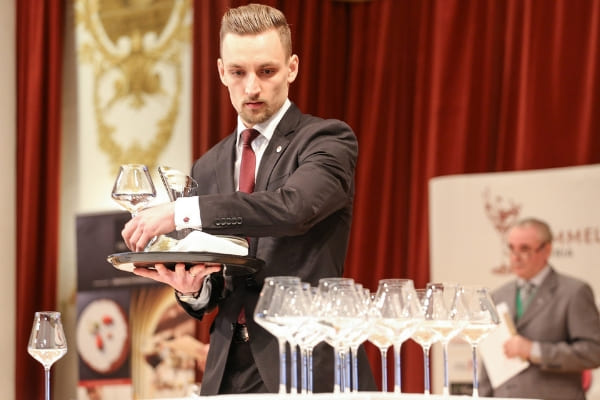 A lot of public come to watch, so it is important to focus on what you do on a daily basis. The competition is about looking after customers it involves preparation for perfect service and you are going to be looking after ex-Best World's Sommeliers, Masters of Wine or Master Sommeliers.
I read a lot, use flash cards and trace maps for the theoretical part and taste wines, spirits, beers from around the world. This year Belgium is the host and so you can believe that Lambic beers may be a part of the tasting.
The competition starts on Monday finishing on Friday with the final. So 5 days of intense competition. The preliminary stage has 65 sommeliers from 62 different countries, then 10-12 are selected for the semi-finals and then 3 finalists play out in front of 500 people or more.
3. You had a career in football beforehand, so it sounds quite like football competition isn't it?
It is similar because you have different teams from different continents competing against each other and it is rather intense.
However, it is dissimilar because ultimately we do it for ourselves. I do it for myself, for my guys in the Association and to show that it is possible to be a great sommelier even though Poland is not a winemaking country. The best sommelier of Europe is Latvian currently. You don't need to be submerged in wine culture from the age of, say, 10 or 15 to become a great sommelier.
4. How did you become to be a sommelier?
I was still playing football in the 4th division, studying and working part-time in the Sheraton Hotel, Poznan. I had to decide whether to become a professional football player or something else.
I was asked by customers many questions on wine, which I couldn't answer on the spot. So, I researched them, googled and bought some simple books on wine. After reading a couple of them in 2011, I thought 'well now I know everything about wine'. But alas 7 years later I am still learning!
5. The world of wine is vast with 00 of 000s producers – how do you go about selecting and finding the best and the best value?
There are a couple of approaches that are important.
We must remember the final customers. The local preferences and local environment are really important. Then there is a particular cuisine in the restaurant. These shape the approach. For me, the value of wine is what the customers like.
I personally value purity, lightness, and freshness over alcohol and oak, but that might not be everyone's choice. That's back to the original point - the customer is crucial.
In hotels and restaurants customers don't want fancy labels anymore, but a choice. The beauty of choice from this place or the other place. Your individual preferences are not that important when you are buying wine.
6. Can you describe the greatest wine experience that you have ever had?
What I discovered is that my palate and preference has been evolving, by traveling and discovery.
The greatest wine for me is about the occasion.
Coming back to 2012 was one of the most memorable tastings. I decided to fly to one of the Decanter vertical tastings which featured Henschke. This was the first tasting that gave me the idea that New World wines can age fantastically.
Authentic, lighter wines and the characters behind the label are the ones that I personally prefer.
7. What is the role of a sommelier in your opinion?
The sommelier role is very complex. It starts with customers. You need to look after them well.
A sommelier is for me an ambassador between producers and customers. They are the worker behind all these wines that they list which require to be presented and served in a professional manner. They need to have the ability to find great value and judge the wine offering.
They need to know their food menu as well.
Often people think that the role is about traveling and tasting great wines. But there are many other aspects to the sommelier role especially the more senior positions; the back office, orders to put through suppliers, prepare training such as blind tastings for junior sommeliers who are studying, you might have to train waiters, bartenders. Having looked after almost 20 sommeliers at Hide, this was not the typical sommelier role.
8. What is the career path for a sommelier beyond the floor?
Apart from the career on the floor I know many sommeliers became ambassadors for other projects, work for suppliers or set up consultancy businesses. It is a very long job with unsocial hours for family people and it is difficult to turn the job into 9-5.
However, for many of us, this is our love and passion and we want to stay close to wine –– for me there are couple different ways.
In Poland, the wine market is not that developed yet, so there is much to do there. When I return this year, I will be involved in wine importing focused on low intervention wines as well as in wine education. I can't say too much detail, so watch this space. All I know is that it will be not much change to my working schedule.
9. And you love cider? That's not like wine is it?
Yeah, I love cider. I have a severe intolerance to gluten so apples not having gluten it suits me particularly. I also love acidity in wines and good, well-made ciders have superb acidity. That's one of the things I like.
10. Which are the most important characteristics that go to make a good sommelier: psychologist, counselor, performer/artist…?
It is a combination of all, but I think that a psychologist is the most important. Empathy is really important, knowing the occasion, reading the customer, anticipating, knowing the customers.
On top of that the financial aspect, making a business grow, knowing how to calculate markups and how to speak with suppliers. And need to be a great taster. But psychologist is really the most important.
11. What's your view on the role that the glass plays in optimizing taste delivered by the wines you serve?
I took part in different tastings around glassware. I was skeptical beforehand. Having taken part in comparative Riedel glassware tastings I was convinced the glass does make a difference when it comes to wine drinking.
Thinness and lightness of the glass provide extra pleasure for me and consumers.
12. By the glass programs are increasingly popular. What do you look for when selecting wine for your wine by glass program?
I am trying to find great value from the wines that are popular and well received. I want to combine it with regional or wines from production style that is becoming a trend.
So the composition might be about 70-80% classic – a safe choice and then 20-30% experimental wines. It might be something from the cool climate from Australia and surprise the customer. They think that they are going to have some big blousy Australian chardonnay, but are then greeted with elegant fresh lively wine.
BTG programmes are great tools for sommeliers to create trends and not spend huge money.
13. What's your view on wine closures and does this influence your own or do you think it would affect the choices made by your customers?
As professionals, we don't pay too much attention to closures.
Whether it is screwcap, Vinolok or cork it doesn't really matter, what matters is the result in the glass.
I have tasted some aged screwcap wines which can be stunning.
Consumers they sometimes ask questions about screwcaps and in retail some look for wines with cork. But more and more all they want to have is fantastic juice. I think it is a big issue in the media but not for consumers.
14. What are the key aspects required when training staff?
Consistency and patience from the trainer are the first requirements. It is a process and it takes time. You can't just throw all our books at people. They need to be equipped with a proper language – not too technical or scientific– digestible for the customers and encouraging, they need to facilitate the call process.
I know of a couple of restaurants do training once or twice a year. This is not enough. It needs to be every day or at least every week. Just 10-15 mins before service starts perhaps explaining the BTG programme – different producers, their approach how it works in respect for the pairing menu, these sort of things.
Waiters and servers need to behave naturally and with confidence. Training needs to provide that flow and easiness – making them confident. They need to have great tools – guided by the head sommelier and to read books and have access to websites. It's a complex process. I can speak endlessly to discuss training.
15. How do you work with the chefs and kitchen to marry wines/drinks and their creations? What are your tips for menu pairing?
With Ollie at Hide it was easy. He is super nice, approachable and versatile. He knows about wine and drinks. He has a bit more commercial approach which helped to calibrate our pairings.
He prepared the dishes and I prepared 4/5 wines per dish.
In the end, we spoke with chefs and sommeliers and came to a decision based on how it tastes and goes with the dish.
It was the same at Launceston Place.
They know that wine brings extra value to the whole place and its customers, so it is up to us to surprise and excite them.
16. What are your career tips for new Sommeliers?
Be curious – I was and still am very curious and sometimes nosey to find out things.
To be in the sphere of inspirational figures is incredibly motivating. I was very lucky in that respect.
Travelling also helps to open your mind. People who are living in France travel to Italy, for example, and experience the different people and ways of doing things. By speaking to others and attending tastings helps you really develop.
17. How important are commercial things to the sommeliers role?
It is very important that sommeliers are businessmen also.
Wine and drinks can be 20% or 50% even 60% of the whole trade so it is really important that sommeliers are equipped with knowledge about how to price things.
You can't apply equal percentages to Petrus as to NZ Sauvignon as it ends up in some hotels for example. Margin needs to be consistent and is also required to be altered to bring more value for customers.
Technology has brought value to everyone in their hand, Vivino, Wine-searcher means that people can discover pricing across the market.
It is how psychology and how it plays into the finances.
18. Best wine that you have ever drunk?
That was probably Philipponnat's Clos de Goisses 1978.
Apart from that recently I got really excited about grower Champagnes and I regularly discover a new producer these days. I am planning a detailed trip which looks at village differences.
I do enjoy Jura wines and many wines from Austria too.
I am very much impressed with many countries in the world. Wines from Victoria state in Australia are often spectacular – lighter,fresher Pinot Noir, Syrah or Chardonnays.
Overall for me, it is all about drinkability and low extraction.
Many thanks for your time!
Alistair Morrell – Editor - SommelierBusiness.com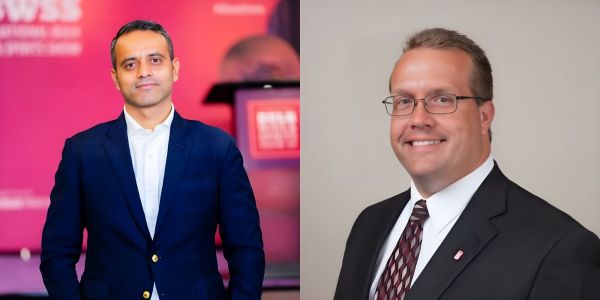 News
Attend this Q&A and insightful session on how beverage brands can develop sales processes to grow on-premise sales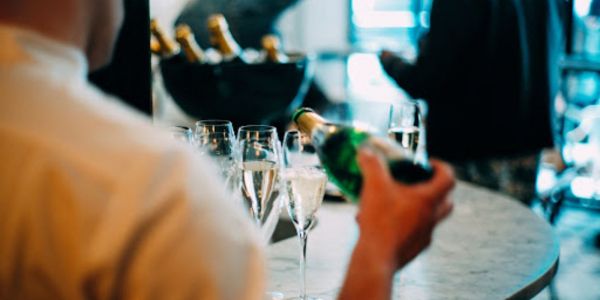 Operations and Management
Nurturing Talent and Expertise: Strategies for Retaining Sommeliers and Wine Waiters in a Challenging Wine Industry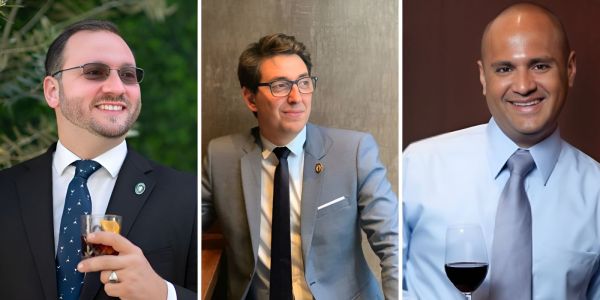 News
Sommeliers Choice Awards is pleased to share that Mark Guillaudeu MS, Jeremy Shanker, and Serafin Alvarado as its judges
South San Francisco Conference Center, 255 South Airport Boulevard, South San Francisco, CA 94080, United States
Register Now