The Art of Blending Wines - The Famous Wine Blends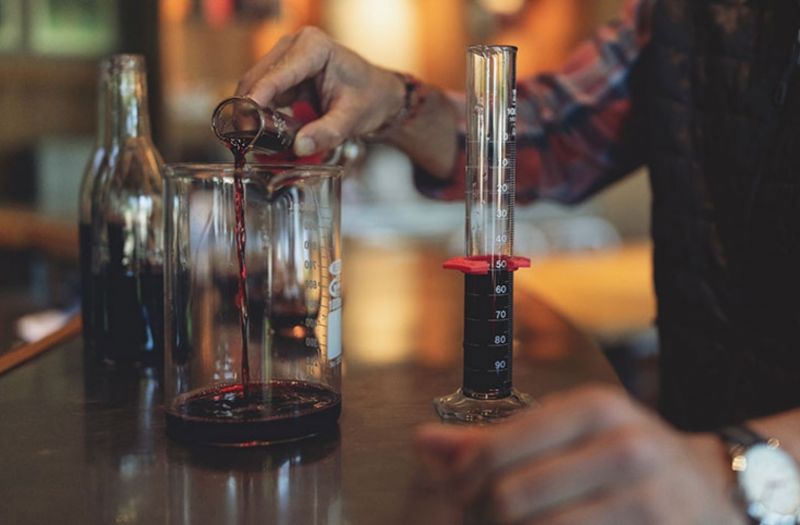 15/03/2022 This article will guide you through an in-depth understanding of blending wines and some of the most well-known wine blends below!
Wine blending is an age-old winemaking method that has been practiced for hundreds of years. Wine blends are popular because of their variety and profusion of flavor. However, most people are unaware that some of the world's most well-known wines are blends.
Using multiple grape varietals allows winemakers to fine-tune characteristics and create intricate symphonies of flavor, with each grape offering its distinct attributes. Some wine blends are made using traditional formulas passed down from generation to generation.
Other vintners make unique mixes to create a novel and intriguing wine with flavor qualities that are unlike anything else on the market. The purpose of blending different vintages of wine is to balance out the flavor characteristics. Varietal blends can be used to make both reds and whites.
[[relatedPurchasesItems-41]]
Vintners blend wines for a variety of purposes. Among the possible explanations are the following:
Developing a distinct style
Vintage production consistency
Highlighting the vineyard's terroir
Changing a wine's chemistry
Increasing a wine's good sensory features
Decreasing the wine's unpleasant traits
Balancing the oaky tastes
Keeping track of wine inventories
Some blends go through more than 50 iterations before the perfect "recipe" is discovered. Blending is how winemakers combine different types of wines to create a single, complete, complex wine. Winemakers seek out wines of various qualities and determine what proportion each should be used to produce the best wine.
Blended Wines (made from more than one grape varietal) have a long, illustrious history. Vineyards were planted with numerous grape kinds hundreds of years ago to hedge against the inherent volatility of each growing season. The European wine-growing regions, in particular, have been plagued by unexpected weather patterns. Red grapes are vulnerable to climatic events such as early autumn rainfall or late spring frost. Interplanting Cabernet Sauvignon, Merlot, and Cabernet Franc in the Bordeaux region provided an insurance policy against unfavorable weather conditions. For example, Cabernet Sauvignon will struggle to mature in a cold year, although Merlot and Cabernet Franc can achieve ideal sugar levels with less heat. Many other European wine areas, including Chianti, Chateauneuf-du-Pape, and Rioja, have developed distinctive blends to ensure quality and consistency from vintage to vintage. Wine blending moved away from the field pick and into the cellar as winemaking techniques became more developed and the globalization of wine became more widespread.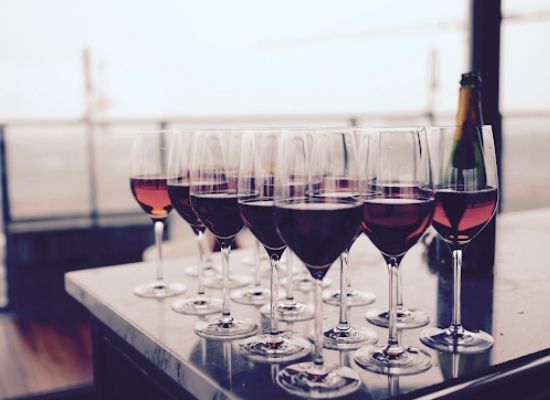 Some of the Famous Red Wine Blends:
Red Bordeaux is a blend of Cabernet Sauvignon, Merlot, and Cabernet Franc, including Petit Verdot, Malbec, or Carmenere. This French mix is well-known for its history and exceptional quality, with flavors such as licorice, chocolate, black cherry, and plum.
Super Tuscan wines are produced in Tuscany, Italy, and are defined as any wine that deviates from Tuscan DOC standards by using international or unauthorized grapes. Cabernet Sauvignon, Merlot, Sangiovese, and various other grapes can be used in these mixes.
Rioja is a renowned Spanish blend made up of 70% Tempranillo grapes and Mazuelo, Graciano, and Maturana Tinta grapes. It is well-known for its cherry, plum, dill, vanilla, and leather notes, and it was one of the first wines used to produce Sangria.
Chianti is a well-known Italian wine made from at least 75% Sangiovese grapes, with the remaining made up of Canniolo, Cabernet Sauvignon, or Cabernet Franc. It is from Tuscany and is noted for its savory flavors and complements any Italian dish.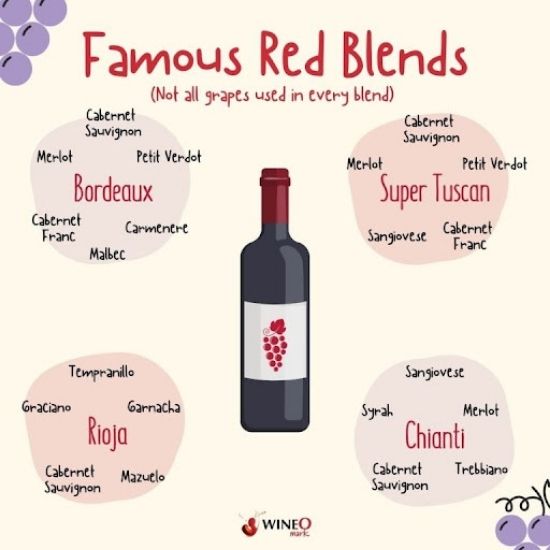 Image source: Wine Omark, Famous Red Blends
Red blends are created from various red grapes, typically crushed and fermented separately before combining. This is more frequent with new-world blends, but traditional blends like Bordeaux or Chianti can simply be made using age-old techniques. Although many high-quality red blends may be matured in oak or bottle, age varies. As a result, flavors vary, although most red blends will feature red or black fruit undertones.
White wine has been around for about 2500 years. White blends were standard for much of European winemaking history due to consolidating vineyards across a given area. White Bordeaux, which began in the 18th or 19th century utilizing grapes such as Semillon, Sauvignon Blanc, and Muscadelle, is a prominent example of this approach. Other white blends have since evolved worldwide, but the category of wine has been severely disregarded compared to its red mix counterpart. Aside from the prominence of red blends, white blends have been underappreciated due to a recent connotation with poorer quality table wines. However, many high-quality winemakers choose to make white blends. These wines can offer a variety of distinct and delectable flavors due to the winery's flexibility to customize its flavor profile. White blends have become increasingly popular in recent years, as greater emphasis has been placed on innovation in the winemaking industry.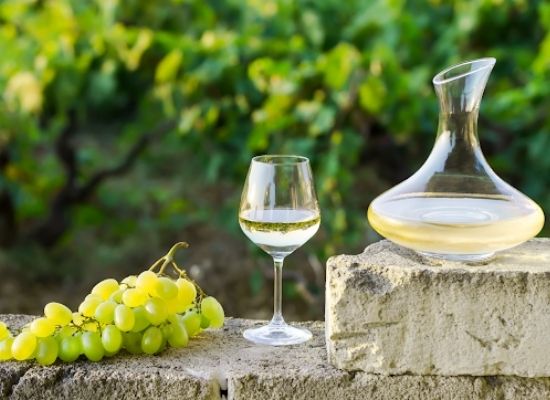 Some of the famous white wine blends:
Traditionally, white Bordeaux is a combination of Semillon, Sauvignon Blanc, and Muscadelle. This French blend is well-known for its history, age potential, and exquisite quality, with peach and sweet apple flavors. White Bordeaux develops richer with age, exhibiting candied fruit, honey, and custard flavors.
Sauternes is a white Bordeaux wine made from the same blend of Sémillon, Sauvignon blanc, and Muscadelle as Bordeaux. In this case, the grapes have been damaged by noble rot, giving the wine a sweet and abundant flavor and a premium price tag.
White Rioja is a renowned Spanish blend of Viura, Malvasio, Verdejo, and Garnacha Blanca, among other grapes. It is well-known for its oaking ability, with citrus and dried fruit notes.
Southern Rhone White Blend is made in France's Rhone region from a principal vine of Grenache Blanc, Roussanne, or Viognier and a smaller percentage of Marsanne, Ugni Blanc, Clairette, Bourboulenc, and Picpoul Blanc. This wine, which has stonefruit, citrus, and spice characteristics, is also made globally.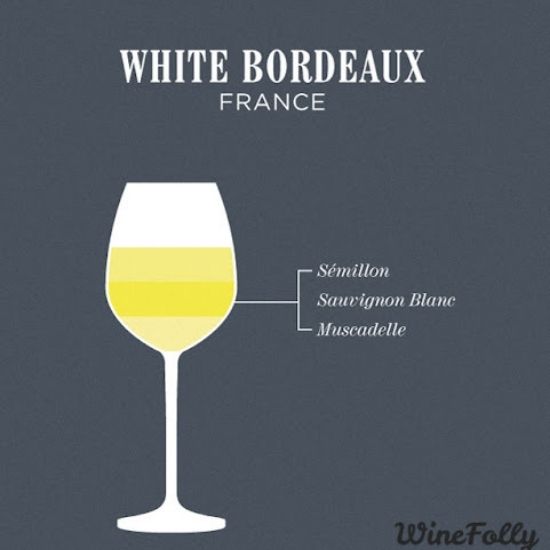 Image source: Wine Folly, White Bordeaux Blend
White blends are created from various white grapes typically crushed and fermented separately before combining. Of course, traditional white mixes can be made using time-honored techniques such as White Bordeaux, Sauternes, or White Rioja. Many white blends have high bottle aging potential compared to most varietal whites. Flavors can vary, but most white blends will feature citrus and white fruit flavors. White blends, like any white wine, are best served chilled.
Article By Aakriti Rawat, Beverage Trade Network
Header Image Source: Duckhorn Vinyards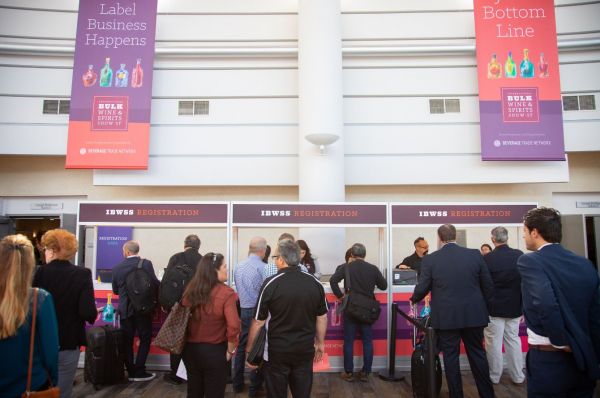 News
IBWSS San Francisco tickets can now be purchased at the official trade show ticket page, and if you buy before March 31, you will also save!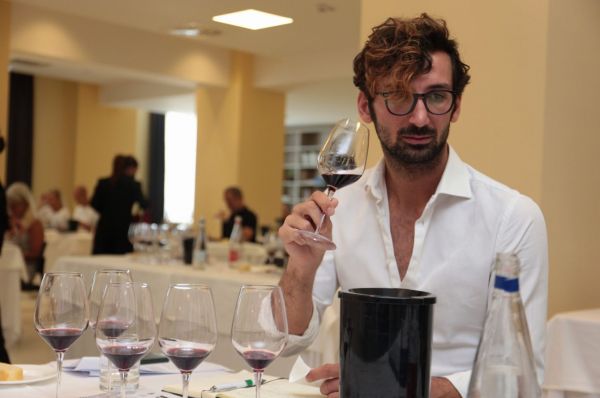 Interviews
"The Ambassador of Wine: A Multilingual Professional with Expertise in Hospitality, Sales, Marketing, and Management."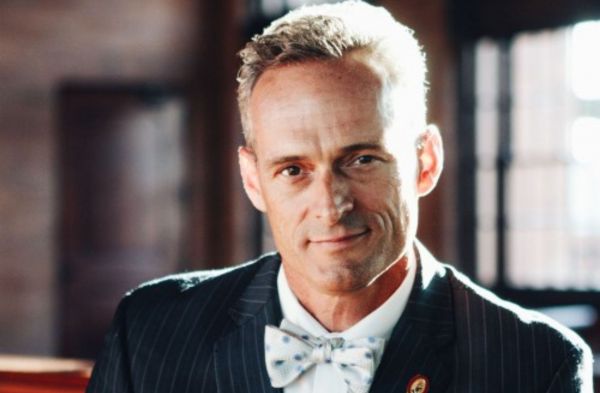 Interviews
Charlie Leary interviews Master Sommelier Ron Edwards of the major fine wine import & distributor Winebow about the company, his job & accomplishments within the fine wine sphere.