Summary of major white wine varieties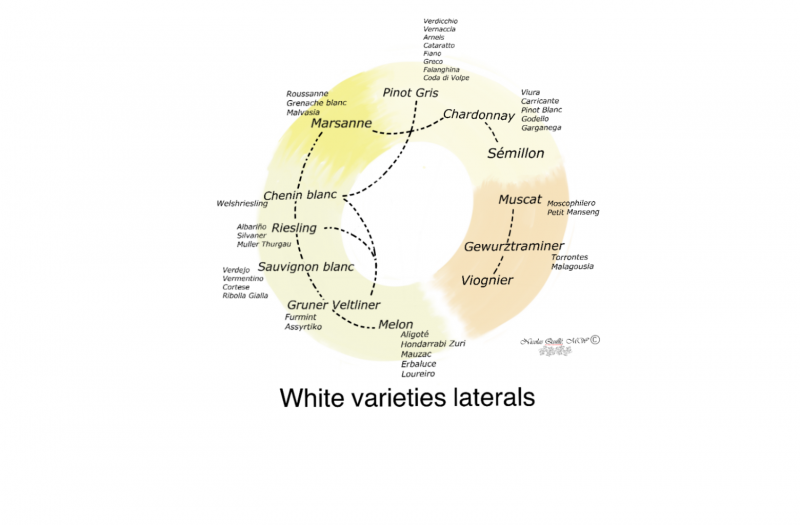 08/01/2021 From Pinot Gris to Melon de Bourgogne to Marsanne and many more, we discuss the major white wine varieties in this wine technical series.
Sommelier Business joins with Nicolas Quillé, MW to create a short wine technical series to give on-trade professionals wine technical knowledge. In this article, we write about a Summary of major white wine varieties.
This document presents shortly each major white grape variety and discusses their sensory markers. The major varieties are gathered in the illustration (the largest font size). Since our brain works quite well through analogies, it is best to learn the major varieties and then branch out to explore "look-alike" that here are called "laterals". For example, Sauvignon Blanc is a major variety and its laterals are Verdejo and Vermentino that may be mistaken for Sauvignon Blanc. Laterals are often made in the same style as the major variety. The major varieties are also grouped based on their sensory proximity: Muscat, Gewurztraminer, and Viognier are in the aromatic "terpenic" section; Semillon, Chardonnay, Pinot Gris in the non-aromatic section (often gaining complexity through secondary aromatics - debatable for Pinot Gris); Chenin Blanc, Riesling, Sauvignon Blanc, Gruner Veltliner and Melon in the semi-aromatic section (the wines are often made in a way to highlight their primary aromatics) and Marsanne alone in its own section (between nonaromatic and semi-aromatic).
Pinot Gris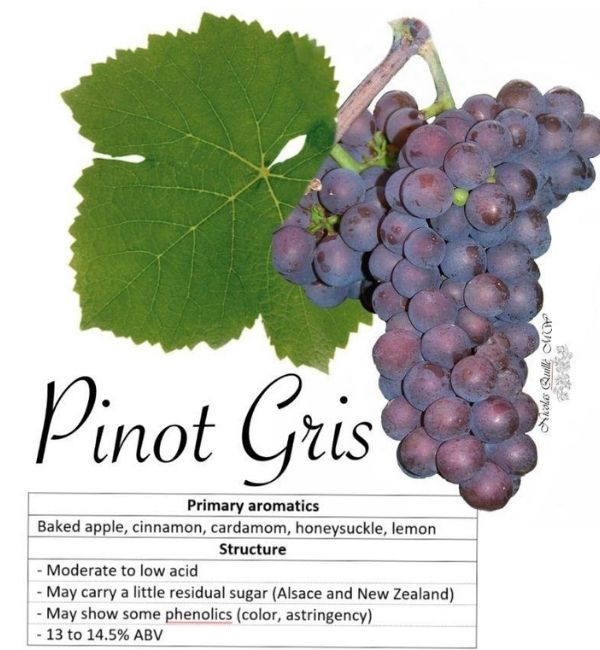 It is a mildly aromatic variety that can be relatively neutral especially at high yields and in warmer regions. It makes a quaffable white wine that is weighty from its lack of acidity accentuated by the potential for residual sugars, especially in Alsace. Because its skin is pink, it is often rich in phenolics providing a little color to the wine and a hint of astringency and/or bitterness which the residual sugar helps to balance. Pinot Gris is not very ageable and are mostly made to be drunk young. The only exception to this rule is Alsatian Pinot Gris that has significant residual sugar and develops exquisite nutty tertiary aromatics. Alsatian Pinot Gris is vastly more complex and concentrated and are in a class apart from anyone else in the world. Classic regions producing benchmark Pinot Gris wines include Alsace, Italy (Alto Adige, Friuli, Venezia Giulia), Oregon as well as Marlborough and Mornington. Laterals to Pinot Gris include many Italian white grapes such as Verdicchio, Vernaccia, Arneis, Cataratto, Trebbiano, Fiano, Greco, Falanghina, and also Picpoul, Chenin Blanc, and Chardonnay.
Chardonnay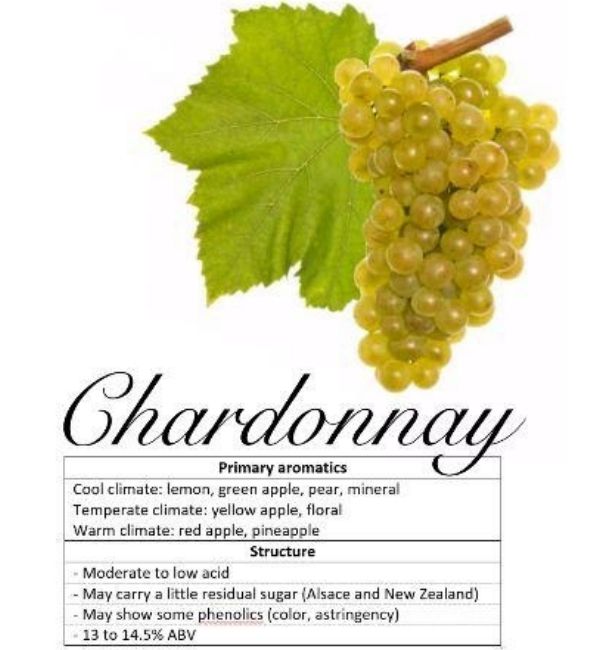 It has a modest aromatic intensity that is easily impacted by secondary aromatics of new oak, diacetyl from the malolactic fermentation, and lees contact notes. Modern styles emphasize reduction that comes through as matchstick and flintiness. The winemaking influences also greatly its structure which ranges from lean/fresh mouthfeel to opulent and broad styles. Chardonnay seems infinitely malleable leading to a wide spectrum of styles and qualities from the quaffable unoaked Macon to the intense and luxurious Grand Cru Burgundies. High-quality Chardonnay is ageable for 10 to 20 years. Chardonnay is also the base of many top sparkling wines. Classic regions for Chardonnay include Burgundy (Côte de Beaune in particular), Champagne, Northern California, Victoria, South Island of New Zealand, Casablanca, and Stellenbosch. Laterals to Chardonnay for oaked influenced versions are Semillon, Sauvignon blanc/Semillon blends, Viura and Carricante, and for unoaked styles: Pinot Blanc, Godello, Garganega and Marsanne.
Semillon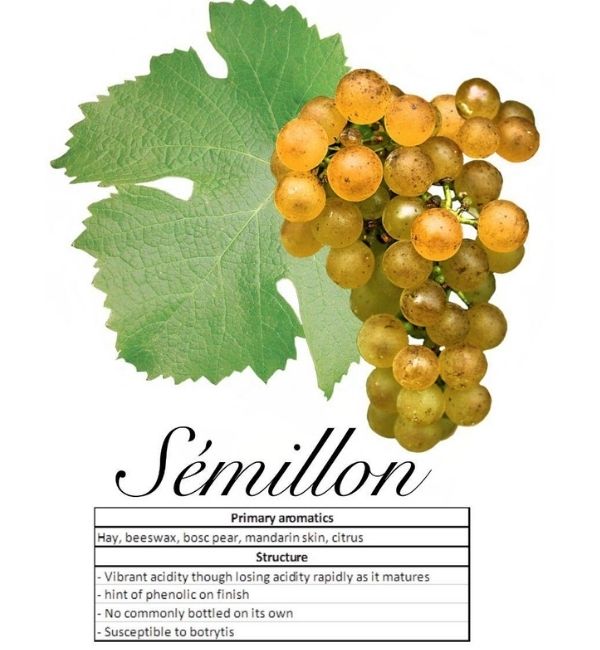 It is aromatically shy and is more often used as a blender, especially with Sauvignon Blanc, than as a solo player. Semillon has a good affinity for Botrytis infection making it a prime ingredient for many luscious botrytized sweet wines. Its natural phenolic structure makes it a good companion to Sauvignon Blanc in many "SBS" blends especially for those that are meant to age in oak barrels. Its most amazing expression is in the hot Hunter Valley of Australia where it is picked early to make a most amazing, Chablis-like, white wine. Hunter Valley Semillon has feather-light bodies, they are dry with searing high acidities, no perceived MLF, and clock between 10 and 11.5% ABV. Semillon wines are age-worthy. Benchmark regions include Bordeaux (Graves, Pessac Leognan, Entre Deux Mers), Hunter Valley, Margaret River, and Stellenbosch. Chardonnay is a classic lateral of Semillon.
Chenin Blanc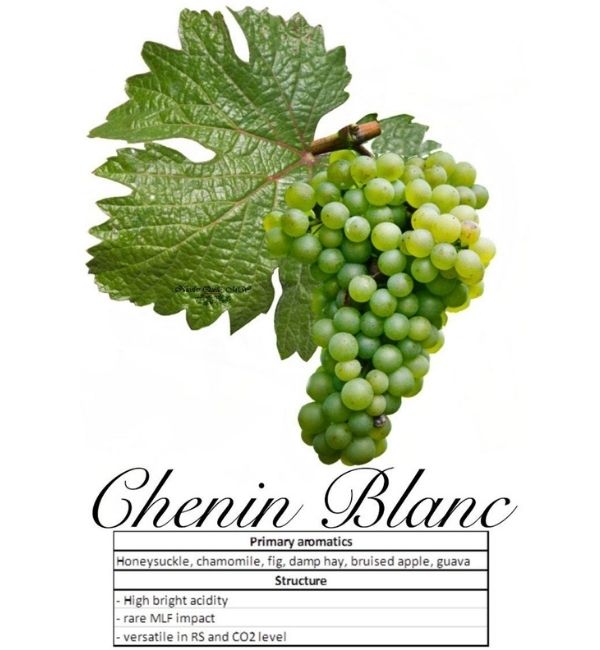 It is a semi-aromatic grape variety. It has an affinity to develop Botrytis and may gain aromatic complexity (ginger, honey) from it. It is rarely in contact with new oak although some high-end South African versions show that this is entirely possible. Chenin Blanc answers well to residual sugars and various levels of dissolved CO2 all the way to full sparkling making it a very versatile variety. It produces age-worthy wines that gain complexing wet wool/lanolin tertiary notes; the botrytized sweeter styles, in particular, are long-lived. Reference regions include the original home of Chenin in the Loire Valley (Vouvray, Savennières, Coteaux du Layon, Bonnezeaux), it's country of adoption where most Chenin is grown today in South Africa (Stellenbosch, Swartland), and Clarksburg in the USA. Classic laterals include Furmint, Pinot Gris, Marsanne, and Riesling.
Riesling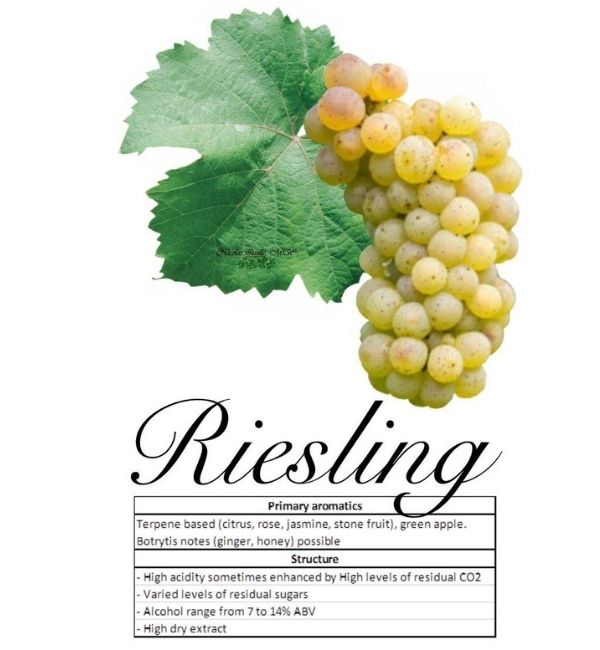 It is an aromatic variety that is focused on its intense floral primary aromatics. The naturally high acidity of Riesling makes it a perfect candidate for balancing residual sugars. Sweet Rieslings are indeed one of the pleasures of the wine world ranging from the feather-light Mosel versions to the concentrated and complex Alsatian selection de grains nobles. Dry Riesling wines can be lean and austere with searing acidities and beautiful in their purity and linearity. Riesling wines are unoaked and have a little apparent impact from malolactic fermentation since the quality of Riesling resides in its terpene driven primary fruit expression. Riesling is rarely blended with other varieties although it is found in Alsatian blends as well as in sparkling wine production. The combination of high acidity/low pH, intense aromatics and potential residual sugars make Riesling one of the most age-worthy white wines. Riesling is famed to reflect very well the place it is grown from. Aged Rieslings may develop strong tertiary petrol aromatics which may be a turn off for some consumers. Reference regions include several German areas (Rheingau, Pfalz, Mosel, Nahe, Rheinhessen), Clare and Eden Valleys in Australia, Alsace, Wachau in Austria, and Marlborough. Laterals to Riesling include Chenin Blanc, Sauvignon Blanc, Albarino and Malagousia
Sauvignon Blanc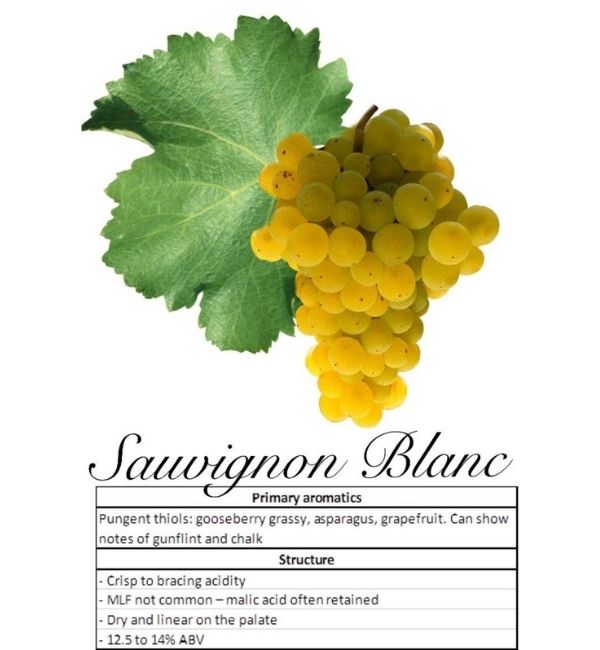 It is an aromatic variety leading to wines that are focused on primary, thiol based aromatics. Usually, the wines have a pale color in their youth with sometimes visible residual carbon dioxide. The wines are rarely put in new oak barrels except for high-end producers following the styles of the great left bank Bordeaux whites. Bordeaux white blends are classically a marriage of Sauvignon Blanc and Semillon where Semillon brings the structure and Sauvignon Blanc brings its intense aromatics (a dash of aromatic Muscadelle is possible). Nowadays many top wines utilize more Sauvignon Blanc than Semillon in those high-end blends. The vast majority of Sauvignon Blanc wines are made in a refreshing style and bottled within a year since their quality relies on the fresh and explosive aromatics. Reference countries include New Zealand (Marlborough merits a special mention since it has taken the world by storm with its intensely aromatics Sauvignon Blanc), France (Sancerrois, Bordeaux), Stellenbosch, Casablanca, Napa Valley, Australia (Margaret River and Adelaide Hills). Laterals include Verdejo, Cortese, Vermentino, Ribolla Gialla.
Marsanne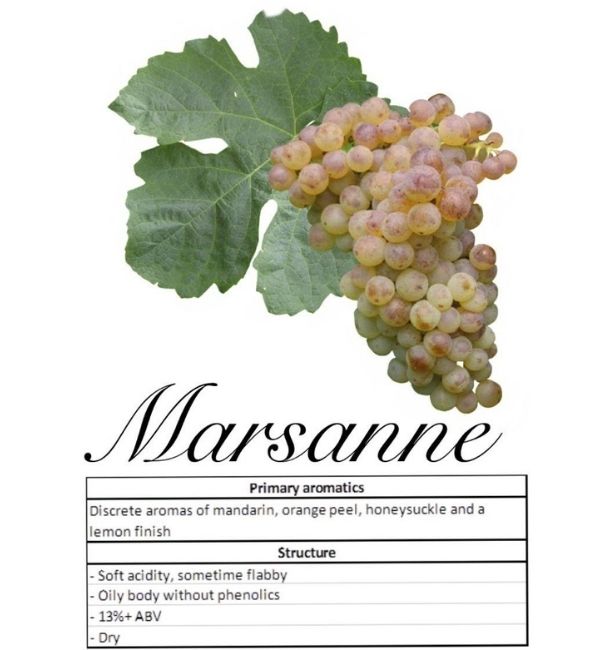 It is a lightly aromatic variety with a big personality on the palate. The mouthfeel is often voluminous without excessive bitterness unless it is aged in oak barrels. Marsanne is often blended in its Rhone Valley original home with Roussanne and Viognier. Marsanne seems to have an unexpected ability, despite its modest acidity, to age and develop beautiful marmalade and honey tertiary aromatics. In the Northern Rhone Marsanne can be yeasty and phenolic from aging in old foudres and Roussanne is commonly blended to add the acidity necessary for a long life expectancy. Australia makes lovely Marsanne with notes of citrus blossom and candied angelica (Chateau Tahbilk is a benchmark producer). Reference regions include the Northern Rhone (Hermitage, Croze hermitage, Saint Peray), South East Australia, and the Central Coast of the USA. Laterals include Roussanne, Grenache Blanc, Godello, and Malvasia.
Viognier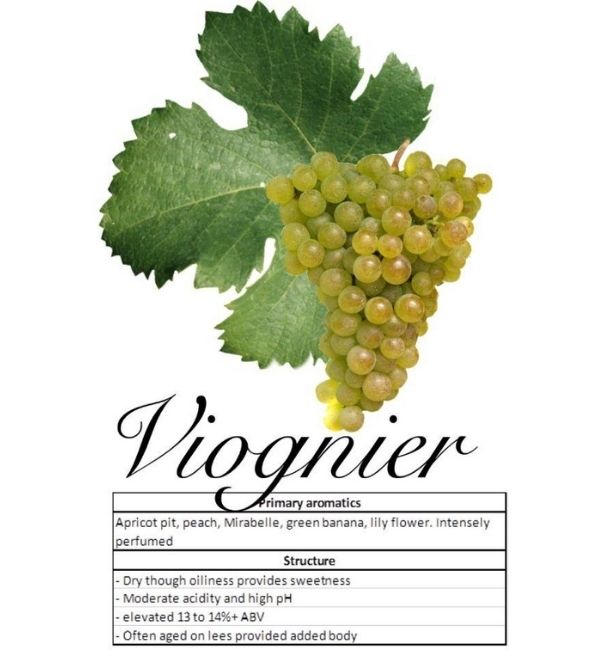 Viognier wines often have a pronounced yellow color (especially when aged in new oak barrels). The wines are intensively perfumed. Viognier may be bland at entry-level and it reaches its best when it is fully ripe and intensely aromatic. The quintessential Viognier is made in Condrieu (N. Rhone). Condrieu wines have intense heady rose petal and green banana aromatics contrasted with new oak (nutmeg/vanilla) that interfere somewhat with the fruit character of the variety. Condrieu wines are oily, hot, and exuberant. Viognier is also well planted in the Rhone Valley and the Languedoc and is found either on its own or as part of a white blend (Roussanne, Marsanne, and Grenache Blanc being classic partners) where Viognier is contributed its intense aromatics. It is also traditionally blended with Syrah in Cote Rotie adding apricot pit aromatics to the wines. Australia grows excellent Viognier; Eden Valley examples are loaded with primrose/mandarin notes. The Central Coast of the USA makes good varietally correct Viognier that is kissed by the sun with dry apricot notes and higher ABV (14.5%+). Viognier wines are not great ages. Reference regions include France (Condrieu, Cote du Rhone, Languedoc), South Australia, and the USA. Laterals include Gewurztraminer, Torrontes, and Muscat.
Melon de Bourgogne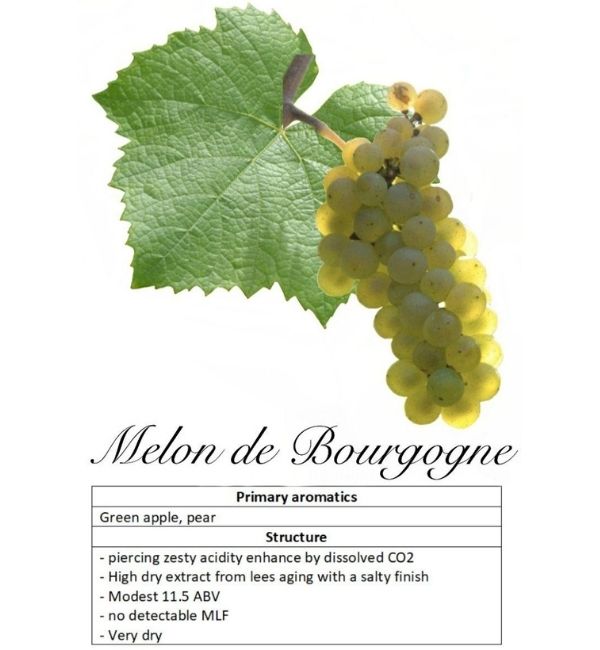 It may seem odd to choose Melon (the grape behind Muscadet) as a reference variety but it is made in a distinctive style that is good to separate from all others. Melon wines are usually pale in color in their youth and may show bubbles of dissolved carbon dioxide in the glass. Wines made from Melon are aromatically shy and gain their complexity from lees contact (sour beer, yeasty, nutty). Melon shines in the maritime climate and its wine may appear borderline unripe with a combination of high acidity and low alcohol levels. The structure (low pH, high acid) of the wine is quite conducive to long aging although most entry-level examples are made to be drunk fresh. The reference region is Muscadet. Laterals include wines from Vinho Verde (Loureiro, Arinto, Alvarinho blends), Erbaluce, Aligoté, and Hondarrabi Zuri (the grape behind Txacoli).
Grüner Veltliner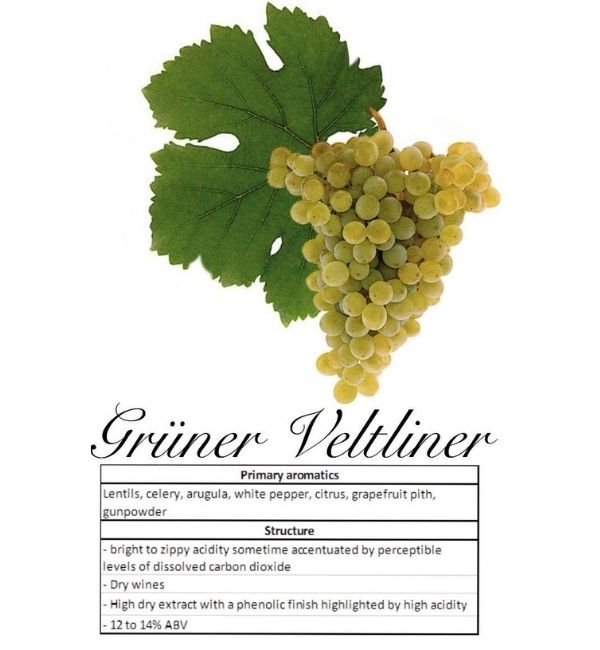 It is an aromatically shy variety that is native to Austria and produces wines that are focused on its zippy acidity and delicate primary aromatics. The wines may show botrytized notes (saffron, ginger, added texture) when the grapes are harvested late as in the Wachau (Austria) at smaragd ripeness level. Grüner Veltliner are rarely put in contact with new oak and the main winemaking contribution are from yeast extract and lees contact. A low level of dissolved carbon dioxide is likely especially at entry-level. Sparkling wines from Grüner Veltliner are possible. The wines are primarily made to be drunk young when they are fresh and vibrant but the high acidity and extract of the variety are good indicators of age-ability. Reference regions are in Austria: Wachau, Kamptal, Kremstal, Weinvertel. Laterals include Furmint, Assyrtiko, Pinot Gris, Riesling, and Chenin Blanc. Its recent trendiness, due to its ability to pair well with food, has helped seen this variety of blossom in regions outside Austria.
Muscat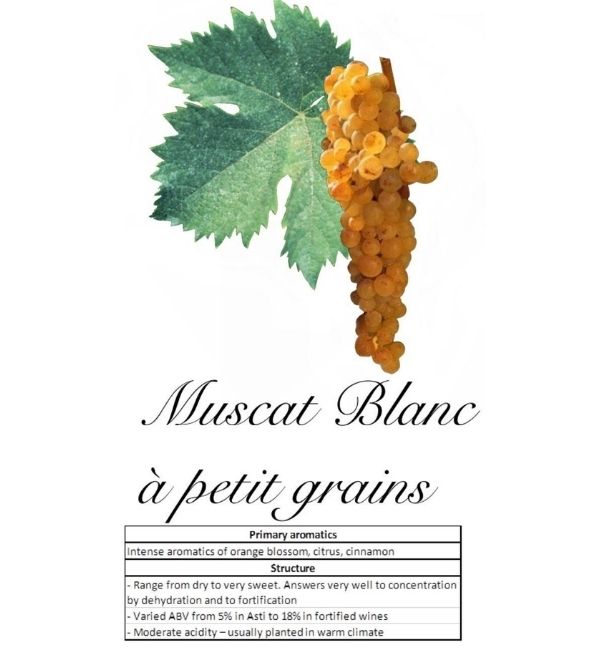 There is not one Muscat and it is better to refer to the Muscat family. This is an ancient family and various cousins are found throughout the old Roman world. Muscat wines share an intense citrus aromatic profile and prefer winemaking techniques that maximize primary aromatics. The wines may be dry (Alsace, Alto Adige) although their intense fruit character welcomes residual sugar. They are made in all styles including still (dry and sweet), sparkling (Asti), and fortified wines (Rutherglen, VDN, Setubal). It is important to realize that not all Muscat varieties are qualitatively the same. Muscat Blanc à Petit Grains (Piedmont, Rhone Valley) is the most qualitative and produces finely scented wines (orange blossom). Muscat Giallo offers similar qualities with intense citronella/orange oil notes. Muscat of Alexandria offers less intense/complex aromatics and is used in hot climate regions and is the base of several fortified wines (Rivesaltes, Setubal, Valencia). Muscat Ottonel (Alsace) produces a dry, spicy version. Muscat of Hamburg is the least interesting and is confined to cooler climates. Classic regions include Alsace, Vin Doux Naturels from S. France (Beaume de Venise, Rivesaltes, etc), Pantelleria and Sicily, Piedmont (Moscato d'Asti and Asti Spumante), Alto Adige, Valencia, Rutherglen, California
Written by Nicolas Quillé, MW
Born in Lyon, France, from a family in the wine business for three generations. Nicolas has a Master degree in winemaking from the University of Dijon, Burgundy and a Master in sparkling winery management from the University of Reims, Champagne. Prior to coming to the United States, have worked in Burgundy and the Rhone Valley as a winemaker.
He came to the United States in 1997 and worked for J. Lohr and The Hogue Cellars as a winemaker. During his time at Hogue Cellars, he went back to school and earned a MBA with honors from the University of Washington (first of class). He was the General Manager and Winemaker for Pacific Rim for 10 years where I lead our two wineries making 600,000 cases of wine. He recently took a position as the Chief Winemaking and Operations Officer for the Crimson Wine Group supervising six prestigious estate wineries in OR, WA and CA. In 2018 he became a Master of Wine formerly joining the prestigious Institute of Masters of Wine.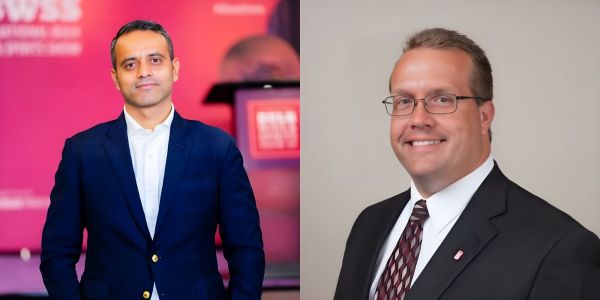 News
Attend this Q&A and insightful session on how beverage brands can develop sales processes to grow on-premise sales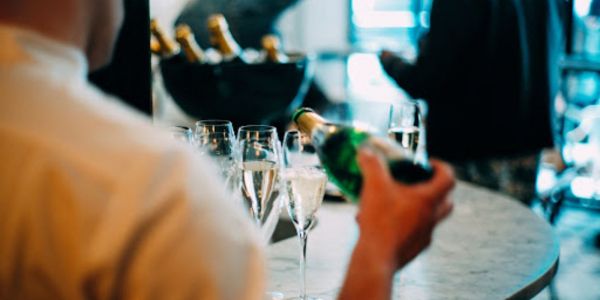 Operations and Management
Nurturing Talent and Expertise: Strategies for Retaining Sommeliers and Wine Waiters in a Challenging Wine Industry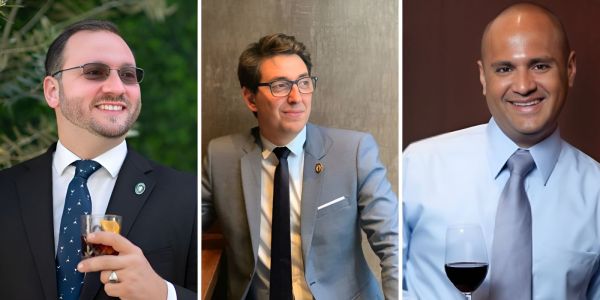 News
Sommeliers Choice Awards is pleased to share that Mark Guillaudeu MS, Jeremy Shanker, and Serafin Alvarado as its judges
South San Francisco Conference Center, 255 South Airport Boulevard, South San Francisco, CA 94080, United States
Register Now