Development of Sugars, Acids, Aromatics, and Berry Color & Weight During Ripening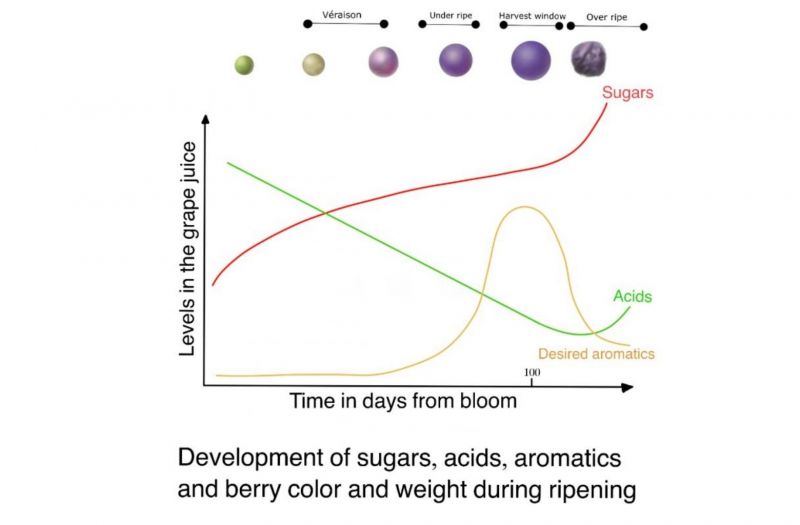 21/09/2020 Ripeness at picking is an important concept to grasp in order to unlock key information from wine tasting.
Sommelier Business joins with Nicolas Quillé, MW to create a short wine technical series to give on-trade professionals wine technical knowledge. In this article we write about Development of Sugars, Acids, Aromatics, and Berry Color & Weight During Ripening
Grapes' structural elements mature during ripening leading to suggestions related to climate, variety(ies) or the picking decision associated with a given wine.
The chart below displays the evolution of grape's critical structural elements (sugar, acid, aromatics, phenolics) for a visual. It's no surprise since fruit ripening is influenced by climate, plant health and it's the relationship between crop load vine photosynthesis power.
Each variety has an ideal harvest window and in ideal circumstances the different ripeness components are perfectly aligned. This suggests that varieties are more suited to specific terroir than others (please see the famous variety ripening chart from the work of Dr. Gregory V. Jones).
Growing a given variety outside its preferred climate zone results in a ripening misalignment of the different critical compounds which in turns leads to varietal atypical ripeness levels that one can taste.
This is not always a bad thing, it just leads to different styles away from the generally accepted one. Knowing what a classic variety tastes like in its benchmark region allows us to anchor our thinking and appreciate the variation based on the region of origin.
Written by Nicolas Quillé, MW


Born in Lyon, France, from a family in the wine business for three generations. Nicolas has a Master degree in winemaking from the University of Dijon, Burgundy and a Master in sparkling winery management from the University of Reims, Champagne. Prior to coming to the United States, have worked in Burgundy and the Rhone Valley as a winemaker.
He came to the United States in 1997 and worked for J. Lohr and The Hogue Cellars as a winemaker. During his time at Hogue Cellars, he went back to school and earned a MBA with honors from the University of Washington (first of class). He was the General Manager and Winemaker for Pacific Rim for 10 years where I lead our two wineries making 600,000 cases of wine. He recently took a position as the Chief Winemaking and Operations Officer for the Crimson Wine Group supervising six prestigious estate wineries in OR, WA and CA. In 2018 he became a Master of Wine formerly joining the prestigious Institute of Masters of Wine.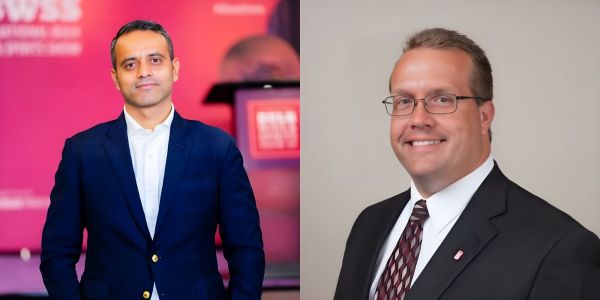 News
Attend this Q&A and insightful session on how beverage brands can develop sales processes to grow on-premise sales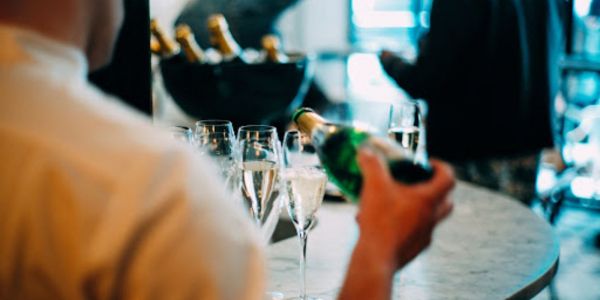 Operations and Management
Nurturing Talent and Expertise: Strategies for Retaining Sommeliers and Wine Waiters in a Challenging Wine Industry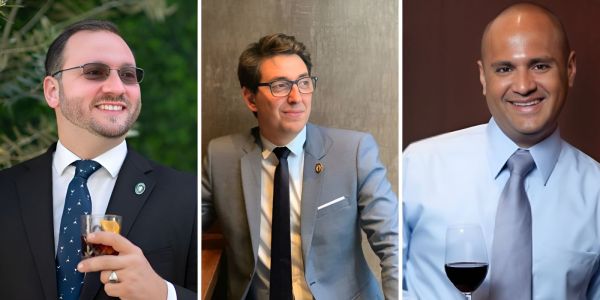 News
Sommeliers Choice Awards is pleased to share that Mark Guillaudeu MS, Jeremy Shanker, and Serafin Alvarado as its judges
South San Francisco Conference Center, 255 South Airport Boulevard, South San Francisco, CA 94080, United States
Register Now