The Growth of Georgian Wines in the U.S.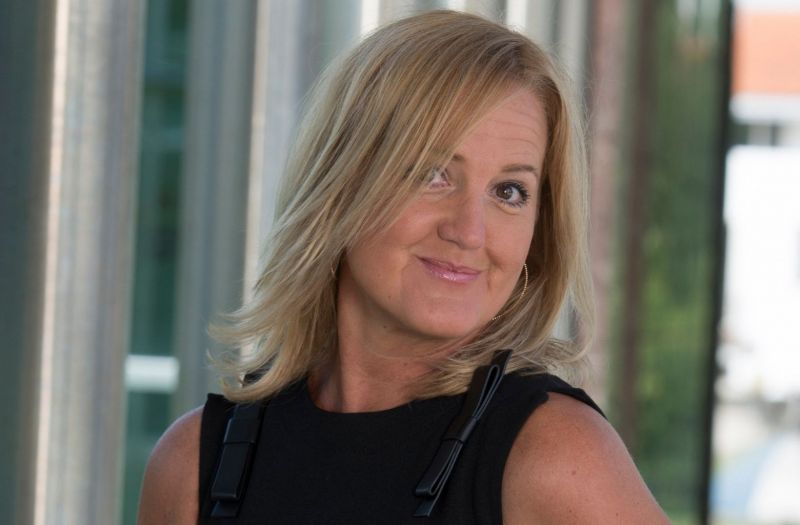 10/02/2022 We caught up with Julie Peterson to learn about the driving factors of Georgian wine imports, the importance of sommeliers in the U.S. in growing wine markets, and what 2022 holds in store for Georgian wine.
The Marq Wine Group, founded by Julie Peterson, has built value and volume for European wine regions and individual wineries across the U.S. market. Partnering with Wines of Provence in 2008, they helped grow wine exports to the U.S. from 300,000 liters to more than 20 million by 2017 and have continued achieving sustained growth.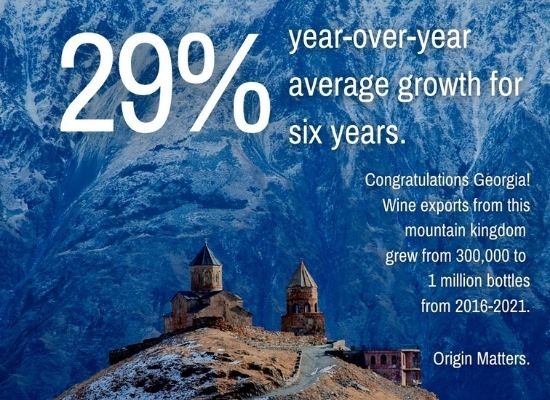 Six years ago, the Marq Wine Group partnered with the Georgian Ministry of Agriculture, and since that time, Georgian wine exports to the U.S. have achieved a 29% year-over-year growth.
At the start of 2022, Peterson announced that Georgian wine exports to the U.S. had reached over one million bottles, surpassing the initial volume goal. The demand for Georgian wine continues to climb along with its value, as the U.S. consistently achieves the highest average ex cellar prices worldwide. We caught up with Peterson to learn about the driving factors of Georgian wine imports, the importance of sommeliers in the U.S. in growing wine markets, and what 2022 holds in store for Georgian wine.
[[relatedPurchasesItems-41]]
What have been the driving factors for the increase in Georgian Wine imports into the U.S.?
Georgia mirrors many of the world's large regions, and there are several different segments within the region that have been shaped and formed by tradition and geopolitics. After Georgia gained its independence in 1991, the country was slowly discovered and became accessible to the west. One of Georgia's many great family traditions is their making of wine in clay jars, called qvevri.
Qvevri are large clay jars buried in the ground, containing wine typically made with grapes from the family's garden.
During the Soviet years, Georgians gathered their qvevri in the forest or cultivated them in a small plot of government-approved land. As a result, Georgians could protect (and continue to enjoy) over 500 native grape varieties through their family plots. The first of these traditional or "family" was imported to Italy by a natural wine importer in 2008. Then in 2012, the first imports of these traditional wines were brought to the U.S.A short ten years have passed since, but Georgian wine's popularity has grown exponentially. Georgian wine is fresh, vibrant, alive, and reflects some incredible ancient varietals. As more importers bring in this wine, the American consumer has increased access, which is in turn, has increased the demand.
At the same time, the larger, more sophisticated commercial wineries were being privatized and undergoing a renaissance. Turning more to the west, they worked to move more of their production to dry wines, still with an intense belief in their native varietals and using both what they call "European" style methods (steel, cement, oak, etc.) and "Georgian" style (wine fermented in qvevri). There is a growing demand for these wines as people are interested in the Georgian varietals made in a way that American consumers are accustomed to.
What were the communication and marketing strategies to increase Georgian wine's awareness and its rich winemaking history?
Almost every region can find a great story to tell. But, once everyone has heard the story of Georgia being the birthplace of wine, you must be able to tell a much more expansive story of a significant winemaking region. It's about in-depth education about the region, geology, soils, varieties, tradition, and characters. This effort to education needs to be persistent and consistent over a few years -- only then can you stack the knowledge systematically in the market. And as always, the wine must overdeliver for the price while working to eliminate the barriers to entry. This is held together by a mechanism that works together like a machine or a beehive.
What were the obstacles you had to overcome?
The critical element in creating a sustainable market for any region is having strong leadership. We were so fortunate with the leadership of a few key négociants and winemakers of the Conseil Interprofessionnel des Vins de Provence and with Georiga's Minister of Agriculture in the early years to agree to a long-term strategy. Following that direction without interference from big-name companies or external influence was key to nurturing growth. In addition, they gave us time to develop the category so that individual brands could come in have the opportunity to establish themselves in a consumer-friendly category.
One of the biggest challenges with Georgia was that it was difficult for a new importer to get started. Unless you were ready to order an entire container program at a time, you could not get started. Or, you had to truck wine from Georgia to Germany to a consolidation center there. So, we created a consolidated container program (contracting with a warehouse, hiring a partner in the country to coordinate the shipment, etc.) which has been highly effective in working with new importers to get them started. We find that they soon graduate out of this program and begin bringing their own containers in as their market builds.
We also started our own importing company to work with samples and logistics more effectively.
How do you work with Sommeliers and wine buyers to promote Georgian wines?
In different countries, the market is led by various segments in the industry. For example, in the U.K., it's the retailers; in Germany, it's the distributors. Comparatively, in the U.S., the market is driven by sommeliers and other professionals on the front lines, working with consumers every day. I've been so impressed by this community's desire to learn and the professionalism they take to understand the wines and the region that we simply have not had access to until recently.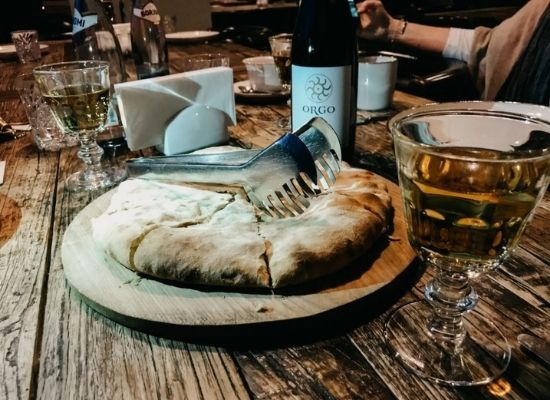 Amber Wine & Georgian Food
What do you think the key factors are that Georgian wines have in their favor, compared to other European regions?
Georgia will soon be recognized as one of the world's great wine regions, like Italy and France. It's only a matter of time. The "old world" and "new world" paradigms are entirely outdated, and I think they will slowly dissolve the industry's lexicon. Where do you put all of the ancient wine regions? But back to the question, Georgia has always been deeply committed to Georgian varieties. They have cataloged over 500 varietals and continue to discover them in forests and fields. What a great adventure to discover these grapes and wines that Georgian families have enjoyed for centuries. Secondly, we are only starting to understand why wines "born" in qvevri are unique. There is a different texture, a type of "otherness." It is no wonder researchers at UC Davis and in other universities worldwide are studying exactly what happens chemically to the wines. Third, Georgia's wine region is incredibly dynamic right now: Investment, knowledge, technical improvements, soil regeneration are all happening at unprecedented speeds. The region continues to be transformed as we speak.
Many regions have been affected by supply chain issues because of the pandemic. Has this been an issue?
Of course. Everyone is in the queue for containers. So, there is scarcity, and they come all at once, just like what we see in other regions. But it seems like things are getting a bit more stable as people adjust.
What does 2022 and beyond hold for Georgian wine?
Part of what makes Georgia so exceptional as a wine region is the determination to continue its ancient traditions, invest in its indigenous varieties, and invest in its long-term development as a wine region despite government pressure. There are winemakers who tell me they are investing 7 years in the redevelopment of their soils before planting, then it's a full seven years before a full harvest. When I ask them about their risk assessment when they live under a cloud of "It's not "if" they are invaded again," it's "when." The answer is, "We are Georgian. This is what we do."
Wine is their greatest weapon of resistance. Wine is their number one value-added export. Before the first embargo in 2006, their exports to Russia topped 90%, meaning Russia could cripple the country economically at the drop of a hat. Georgia has been able to bring this down to now under 60%. By decreasing Georgia's reliance on exports to Russia, they can weaken one of the tools that the country could potentially use (and one they have used twice in the past) against them. By supporting Georgian winemakers, we have the ability not only to explore and enjoy these incredible wines cultivated and protected for centuries but, as an industry, we can be an effective tool in the dangerous geopolitical battle taking place in Eurasia right now. Resistance by wine. Our ability to provide this makes me very proud to be part of this industry.
---
Interview By: Colleen Thompson, Writer, Photographer, Content Developer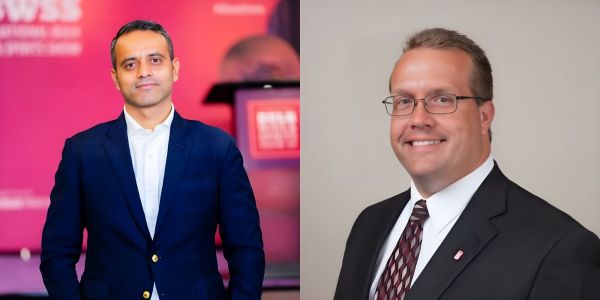 News
Attend this Q&A and insightful session on how beverage brands can develop sales processes to grow on-premise sales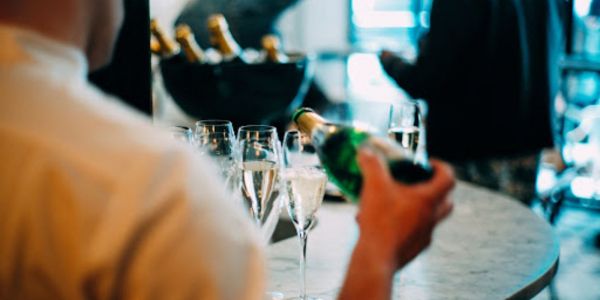 Operations and Management
Nurturing Talent and Expertise: Strategies for Retaining Sommeliers and Wine Waiters in a Challenging Wine Industry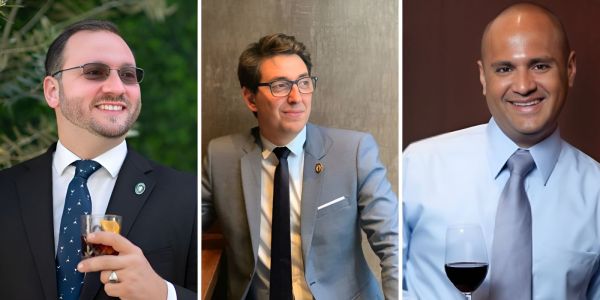 News
Sommeliers Choice Awards is pleased to share that Mark Guillaudeu MS, Jeremy Shanker, and Serafin Alvarado as its judges
South San Francisco Conference Center, 255 South Airport Boulevard, South San Francisco, CA 94080, United States
Register Now