Overview of sweet wines making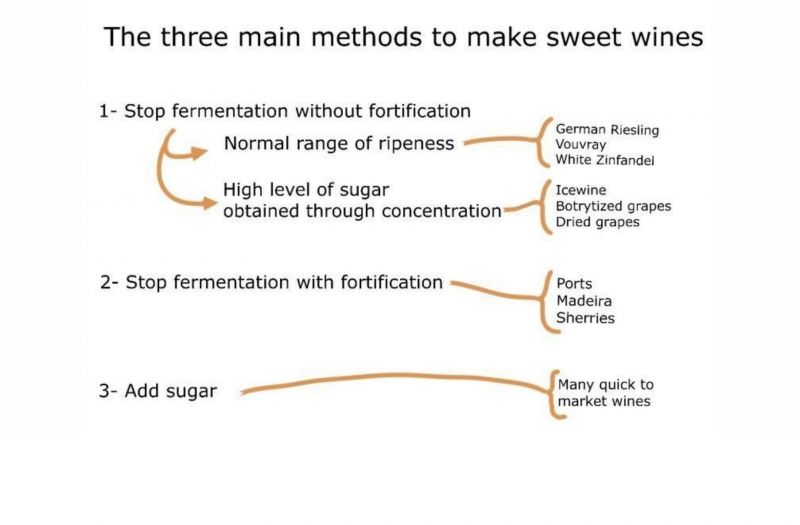 11/11/2020 There are three main methods to make sweet wines.
Sommelier Business joins with Nicolas Quillé, MW to create a short wine technical series to give on-trade professionals wine technical knowledge. In this article we write about Red winemaking for wine tasting.
There are three main methods to make sweet wines. The first one is to stop fermentation before all sugars are consumed by the yeasts through a combination of cool temperatures and sulfites addition. The winemaking process is the same than for still wines except that the fermentation is cut short. Wines made this way have residual sugars (RS), lower ABV, they rarely go through MLF and so retain a sharp acidity, and they are focused on primary fresh/fruity aromatics. A slight variant on this method is to use concentrated grapes and I will cover later.
The second method to make a sweet wine is to stop the fermentation by the addition of high proof alcohol before all the sugars are consumed; this is how sweet fortified wines are made.
The third method is to add sugar after fermentation usually using grape concentrate. Sweetened wines are often fully fermented wines and have the same taste that still wines except that one may feel that the sweetness is slightly out of place. The winemaking itself do not differ from still wines with the exception of the sweetening operation prior to packaging. Very often the sugar level for sweetened wines is moderate (up to 15 g/L RS) and this is mostly reserved for entry level wines since a little sugar covers many imperfections.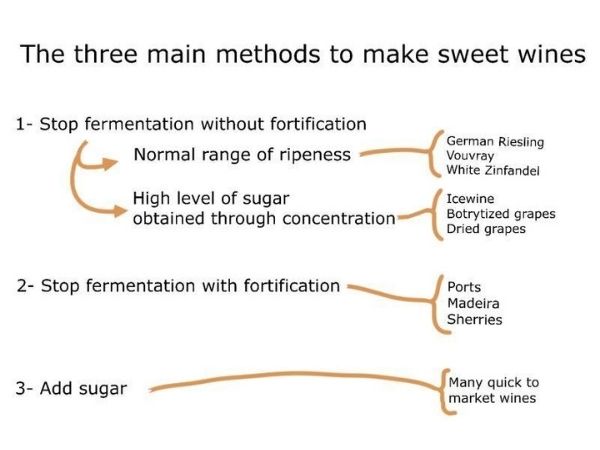 Certain sweet wines are the result of grape concentration. Concentration increases sugar levels as well as other compounds such as aromatics. How the concentration is achieved is easily tasted. The first method to concentrate grapes is dehydration; grapes may be left hanging in the vineyard, or picked and then left to dry outside or stored indoor. It is difficult to taste the drying technique since they all lead to raisin/dry fruit notes and very high sugar levels (up to 600g/L).
The second way is by pressing frozen grapes (cryoextraction). It relies on the higher melting point of berries with rich sugar levels. Practically, the first juices of pressed frozen grapes will be from the sweetest berries leaving frozen water behind; 350g/L RS juices can be obtained this way. Grapes can be frozen artificially (making high acid fruit focused wines) or in the field for true ice wines. Ice wines have increased complexity from berry dehydration (raisin) and fungal notes (ginger).
The third concentration method is through the influence of Botrytis, a fungus which, under the right circumstances dehydrates berries (noble rot). Botrytis concentrates sugars (up to 450 g/L), introduces aromatics (ginger/honey) and alters wine structure (less acidity, high levels of glycerol).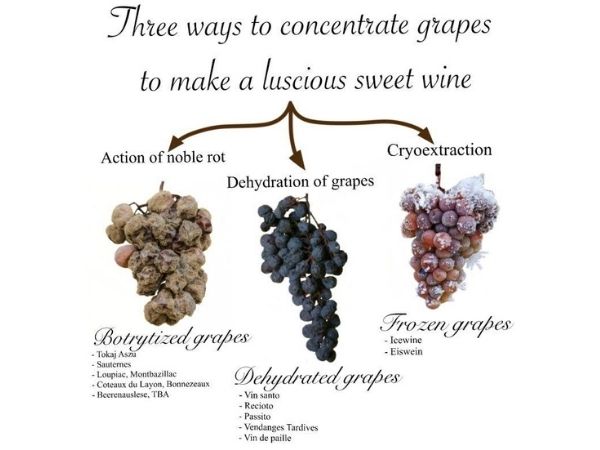 These concentration technique provide meager yields to the wineries that use them and provide us with gloriously concentrated wines. It is worth noting that in some regions the dehydrated berries from botrytis or by time/heat are soaked in still wines to extract the aromatics and the sugars but still produce some volume. This is the case with Tokaj from botrytis grapes and many sweet muscat wines from southern Italy.
The winemaking for concentrated wines are similar to white wines although fermentations tends to be sluggish and stop on their own. Indeed, sugar and alcohol are both good preservative and are toxic to living things at a high enough concentration. All these concentrated sweet wines become inhospitable for microorganisms at a certain ratio of alcohol to sugar. In addition the yeasts respond to the harsh environment by producing high levels of volatile acidity that may be tasted.
Written by Nicolas Quillé, MW
Born in Lyon, France, from a family in the wine business for three generations. Nicolas has a Master degree in winemaking from the University of Dijon, Burgundy and a Master in sparkling winery management from the University of Reims, Champagne. Prior to coming to the United States, have worked in Burgundy and the Rhone Valley as a winemaker.
He came to the United States in 1997 and worked for J. Lohr and The Hogue Cellars as a winemaker. During his time at Hogue Cellars, he went back to school and earned a MBA with honors from the University of Washington (first of class). He was the General Manager and Winemaker for Pacific Rim for 10 years where I lead our two wineries making 600,000 cases of wine. He recently took a position as the Chief Winemaking and Operations Officer for the Crimson Wine Group supervising six prestigious estate wineries in OR, WA and CA. In 2018 he became a Master of Wine formerly joining the prestigious Institute of Masters of Wine.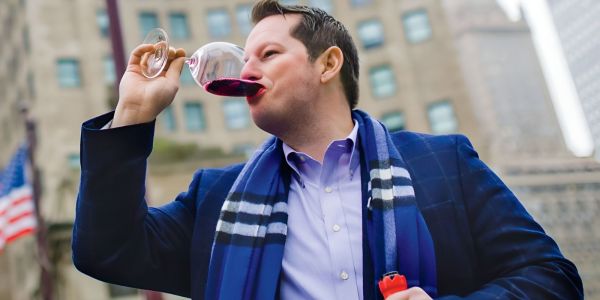 Interviews
Jon McDaniel on what makes a great sommelier, how sommeliers can create effective wine programs and how they can improve wine sales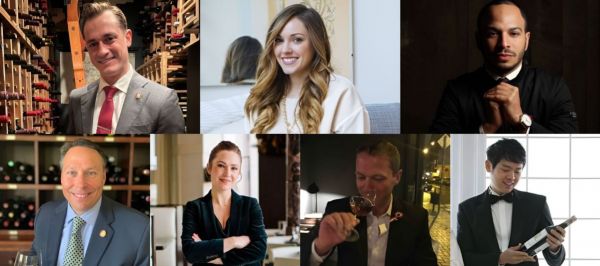 News
Top master sommeliers, sommeliers, wine directors and on-premise buyers of USA will gather in Chicago to judges wines at the 2024 Sommeliers Choice Awards, a leading wine competition benchmarking wines for on-premise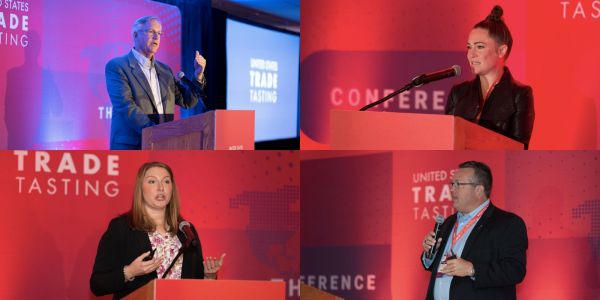 News
Mark Braver, The Fifty/50 Group; Michael E Klauer, Momentum Beverage Team: Jeremy Kruidenier, Wine and Spirits Distributors of Illinois and more take the stage at USATT 2023