Séléna Cortot, Brand Ambassador of Champagne Palmer & Co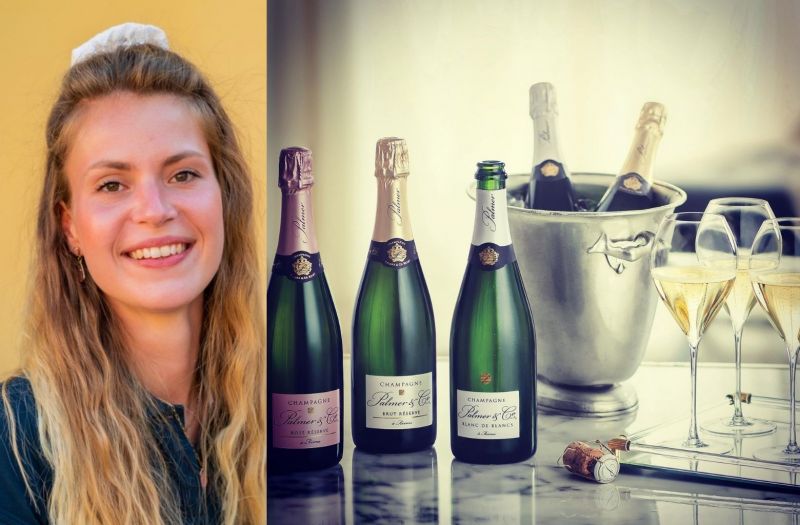 22/03/2022 Brand Ambassador Séléna Cortot describes Champagne Palmer as "Time". Take a look at her thoughts on this naturally elegant champagne created by some of the rare blends in the world.
Séléna Cortot is the Brand Ambassador of Champagne Palmer & Co for the Italian market. Coming from a Burgundian family, Selena has always been immersed in the world of wine. Thanks to her grandparents, who always grew their own fruit and vegetables she developed a certain passion in her for nature. After completing her studies in economics, she realized that she had to do something linked to her origin and nature. Her interest in wines then motivated her to get specialized in Wine and Spirits Management from the Burgundy School of Business in Dijon. During these years of specialization in Wine and Spirits Management, she had the opportunity to be Brand Ambassador for a soft drink brand.
[[relatedPurchasesItems-41]]
"I wanted to be a Brand Ambassador in the industry that fascinated me, champagne has always been a region that has inspired me."
She then realized her dream job and started as the Brand Ambassador at Palmer & Co. Currently, she takes care of the development of the brand in the Italian market by educating the sales force, hosting training and events, and maintaining the relationship with the key trade professionals.
As Brand Ambassador for Champagne Palmer, could you give us a brief about your role and what are some of the tasks involved?
I actively contribute to the development of the Palmer & Co House's image of excellence on the Italian market. It's a field-based job. I build relationships with key trade prescribers, support implementation of all promotional activity and events (tasting, masterclass, dinners, etc.), and locally implement Palmer brand strategy.
Moreover, I am working in close collaboration with our importer Vino & Design. Thus, my role is to educate the sales force ensuring a comprehensive understanding of the categories, brand's specificities, and key differentiating qualities. Together, we also build and manage relationships with selected key customers in order to deliver incremental business in the Italian market.
How do you increase your brand's visibility and promote awareness around consumers and trade?
By setting up partnerships with carefully selected hotels, bars, and restaurants. This is done through the implementation of POS materials, animation, and training. Trade marketing allows for the creation of a tailor-made win-win relationship.
What strategies do you use to gain distribution, increase volume sales, and gain menu placements?
I would say that it is the proximity that makes the difference. It is by creating this link that our prescribers become true Palmer ambassadors.
What are the 3 things you focus on while pitching your product to buyers?
One of the main markers of the house style is the fingerprint of the amazing grand terroirs of the Montagne de Reims.
The second focus would be the time factor. Time is indeed an essential element at Champagne Palmer. Defining the best moment to harvest, taking time for fermentations, taking time to achieve the perfect blend, leaving the wines on lees for many years to achieve the perfect balance... Managing time is clearly one of the keys in the Champagne Palmer winemaking process.
And the third focus would be the environment. An AOC with a worldwide reputation has a duty to pursue environmentally-friendly wine production. Therefore, we are following a demanding action plan that encourages biodiversity. We believe that no future is possible unless we protect our soils, our biodiversity, our people, and our environment.
What kind of marketing collaborations do you do with Hotels and Restaurants? Could you give examples?
We can provide POS materials, organize tastings, Champagne dinners, and create a private event. Our human-sized Maison allows us to be flexible and reactive and to be able to offer the client a customized service.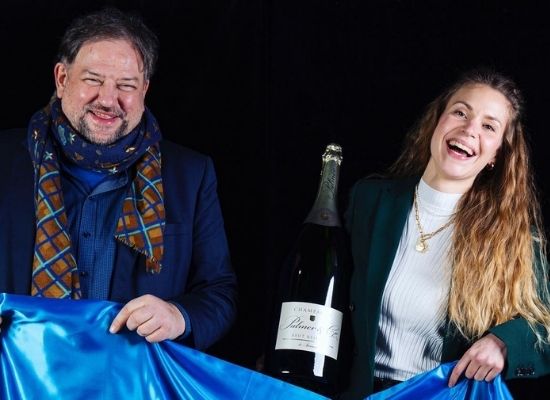 Champagne Palmer collaboration with Vino & Design; Source: Instagram
What's unique about Champagne Palmer? What do you mean by Naturally Elegant Champagne?
We are only highlighting what has been handed down by the elders. We are torchbearers and we do our best to make this beautiful house shine. If I had to choose a word to characterize Palmer & Co, I would say "Time".
The definition of "elegance" is refinement, grace, and beauty in movement, appearance, or manners. This philosophy goes beyond wine at Palmer. It is an attitude, a state of mind, but it is not played or forced. This is us.
Maintaining relationships with your clients is a big part of your role, what are a few simple yet effective ways to keep that going?
The easiest and most effective way to maintain a relationship with my clients is to be present and available. This means for example answering the phone and tending to their needs, going to visit them just to say hello, or having an "aperitivo". Human relationships are central in my job and I think the most important thing is to demonstrate empathy, listen and meet clients' needs.
What according to you is the best way to select and buy champagne for any occasion?
My recommendation would be to go to a professional. A good wine merchant or sommelier will be able to guide you. It is a magical wine that matches any occasion and food, but if you are not yet a champagne expert, I would advise asking for help from a professional who will be able to guide you perfectly! Champagne has many facets that you should explore.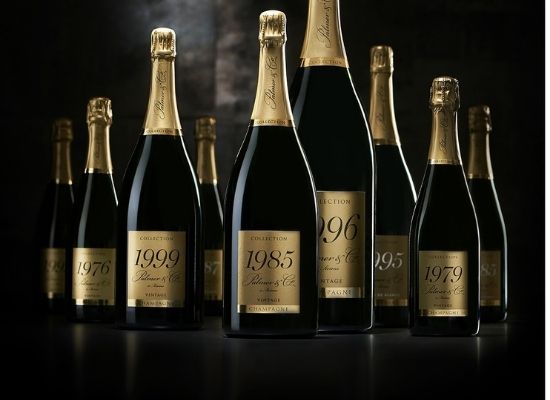 The Vintage Collection series of Champagne Palmer & Co
How has digital marketing proved to be an effective tool for you? Can you tell us about your digital marketing strategy?
In old times, reaching customers was a very expensive and complicated task. However, with technological advancement, it has become easy and convenient. Digital marketing has made it possible for wine brands to develop a stronger bonding with their customers.
We use email marketing because it is a great method to keep our customers engaged. It also helps in building customer loyalty.
We also use social media, it helps us to communicate directly with our customers, raise awareness of the brand, which in turn helps improve our sales. It's much easier to bring our brand to life through social media, imagery, and tone of voice.
We are developing a relationship with social media influencers. We started on our domestic market but have duplicated the approach with the English and Italian markets. This is a strategy that we logically accelerate at the end of the year, the peak of champagne consumption, but we also experiment with different approaches throughout the year.
What are some of the biggest challenges you face? Can you share a piece of advice for future brand representatives?
The major difficulty is that we are not alone on the market, the Italian market is very popular with the big names in Champagne and we have to make our place in this hubbub. And I must say that for the moment we are doing well! But competition can also motivate us to produce radically novel, untested ideas. This is probably the best way to see it. My advice is simple: stay positive and organized!
Finally, can you take us through some of your favorite champagne and food pairings?
Champagne and fish dishes are very often a match made in heaven. The subtle flavors of Champagne will not overwhelm the delicate flavors and texture of the fish. Particularly champagne with citrus flavors like Palmer & Co Blanc de Blancs will always pair beautifully with fish dishes.
The raw pairings are also great. Our Rosé Solera with fine Italian charcuterie, or Brut Réserve with a piece of Parmigiano Reggiano, Extra Réserve with oysters… There are many types of champagne in the Palmer range and just as many possibilities for pairing. A real treat!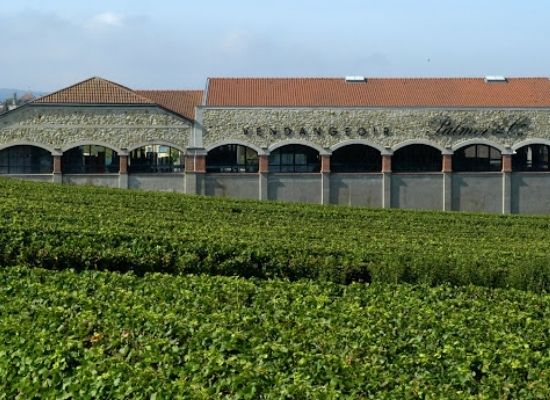 A view at Palmer & Co. vineyard
Interviewed By Tushar Anand, Junior Writer, Beverage Trade Network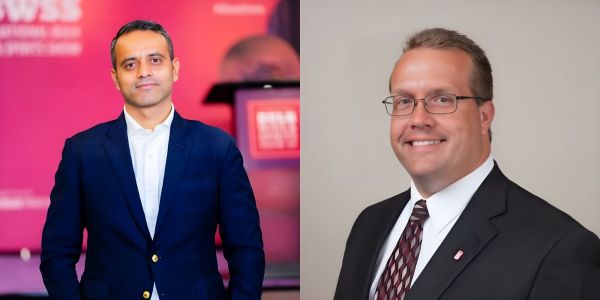 News
Attend this Q&A and insightful session on how beverage brands can develop sales processes to grow on-premise sales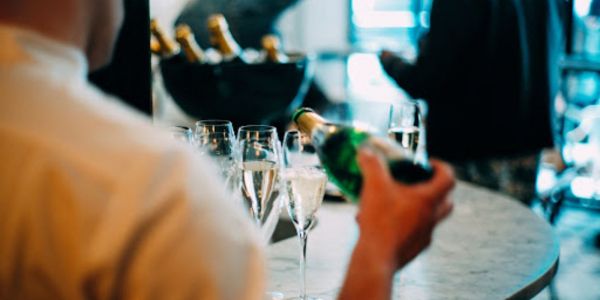 Operations and Management
Nurturing Talent and Expertise: Strategies for Retaining Sommeliers and Wine Waiters in a Challenging Wine Industry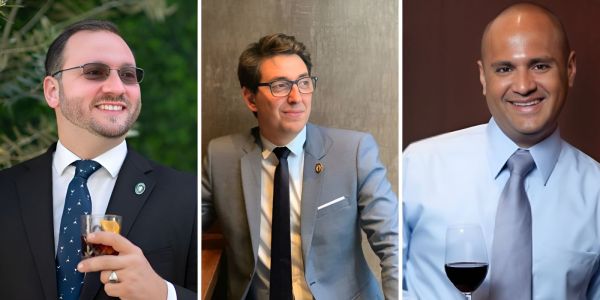 News
Sommeliers Choice Awards is pleased to share that Mark Guillaudeu MS, Jeremy Shanker, and Serafin Alvarado as its judges
South San Francisco Conference Center, 255 South Airport Boulevard, South San Francisco, CA 94080, United States
Register Now