Wine Fraud: How To Identify And Tackle Counterfeit Wine Issues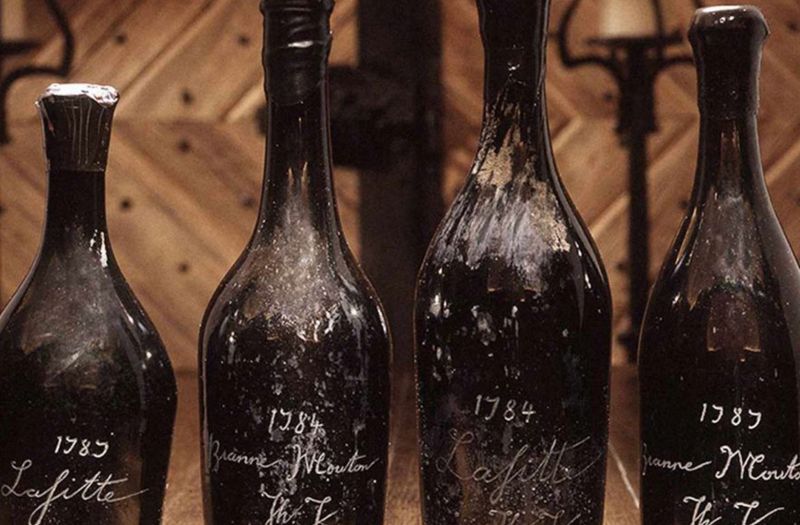 04/01/2022 The global wine counterfeiting market is estimated to be a whopping 65-billion-dollar industry. Here are some tips to validate the legitimacy of wines before your purchase.
Counterfeit wines have been a multi-billion-dollar issue in the industry.
As the wine markets continue to grow, it appears that the business of counterfeit wines seems to track this growth. In 2020, the wine market was expected to be worth $418 billion with experts predicting that around a whopping 20% of all the wines sold around the world are phony.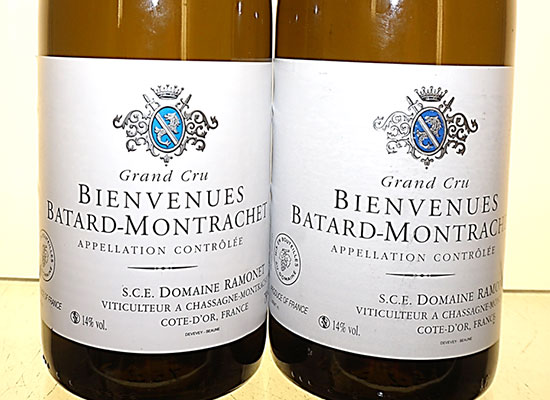 Source: What's in Your Cellar? - winefraud.com
Wines being tampered with or altered is no new thing, seemingly going back to the inception of wines itself. This issue bred an entirely new profession where "wine physicians" were very much in demand to examine suspicious-looking wines. In this article, we will delve into recent events and important people that have impacted the counterfeit wine industry.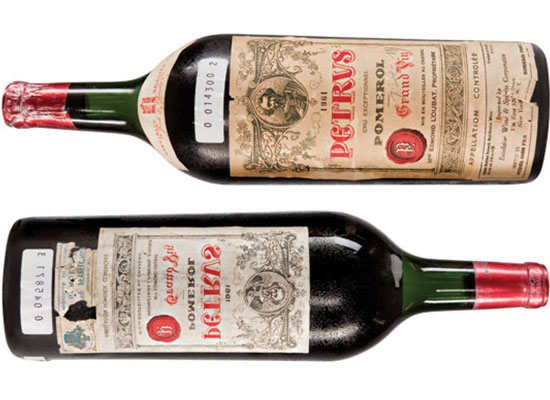 Source: nymag.com
Two of the most notorious wine fabricators the world has ever seen, Rudy Kurniawan and Hardy Rodenstock were ambitious collectors of wine and equally ambitious about selling counterfeit wine. He was known for throwing parties/tastings with expensive, hard-to-find wines. Between 2001 and 2006, the average price of an old-world bottle of wine increased by 62%, while global wine auction sales increased from 90 to 300 million. Kurniawan saw this as an opportunity to sell his wines at ridiculously high rates, which he did and was successful at. Kurniawan was caught in 2012 and given a ten-year term. He was just released and claims to be resuming his business, which will be 'above the table' this time.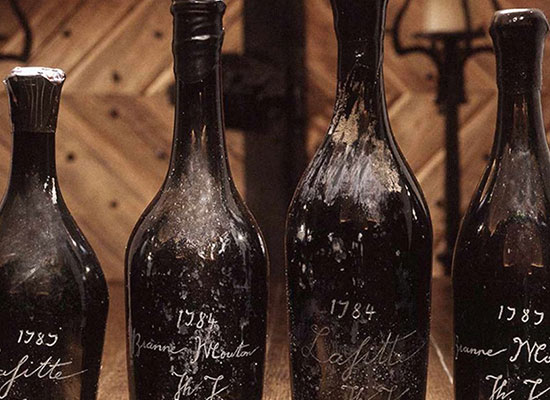 The famous Hardy Rodenstock bottles
Source: therealreview.com
Another interesting case was with the renowned counterfeiter Hardy Rodenstock. Hardy was a wine collector who specialized in ancient and uncommon bottles. He became well-known for his intuitive ability to detect old and extremely rare wines, as well as for hosting lavish wine tastings using these wines. Rodenstock is accused of being the mastermind behind a sophisticated wine scam.
Source: foodandwine.com
Maureen Downey stepped in to save the day with Chai Consulting in 2005. Maureen has been busting counterfeits since 2000. She specializes in identifying unusual wines, as well as assisting collectors in purchasing genuine bottles. Downey got a call from Hardy to fax details of a specific wine bottle from measurements of the wine label to the color of the bottle. Little did she know the man behind the voice was Rodenstock.
She's been branded "The Sherlock Holmes of wine" for her work with the FBI on a number of high-profile wine counterfeit cases. The Rudy Kurniawan case, which she solved, is one of the most well-known. Downey was the hero all wine enthusiasts needed.
Here are the main pointers that are most important in identifying a fake and to keep in mind before purchasing a bottle of wine:
1. Make sure retailers have not had problems in the past: Vendors would have gotten into trouble in the past for selling counterfeit wines to a fraudster or a naive consumer. Beware of 'unicorn' wines. Meaning, never buy wines that seem too good to be true without checking out the facts first. For example: if your vendor suggests a five-liter bottle of Cheval Blanc 1945 vintage, walk out. Why? Because the size wasn't introduced in Bordeaux until 1978. Never buy wine from a broker who isn't displaying his licenses proudly in the store. It doesn't matter if the broker has been selling for 50 years. Age is just a number.
2. Merchant-consumer-consultant rapport: Make sure that you find out the background of the merchant or the retailer. Listen to them when they say it's not available and try not to look for the wine online on your own because there's a high chance that the wine being purchased is a counterfeit. Get professionals in the business who can come in and inspect these bottles. There are people like Maureen Downey all over the world to help with such a dilemma. It's okay if you're unsure. You can get the people to inspect wines at the store and then decide. Keep yourself informed. Do not play yourself.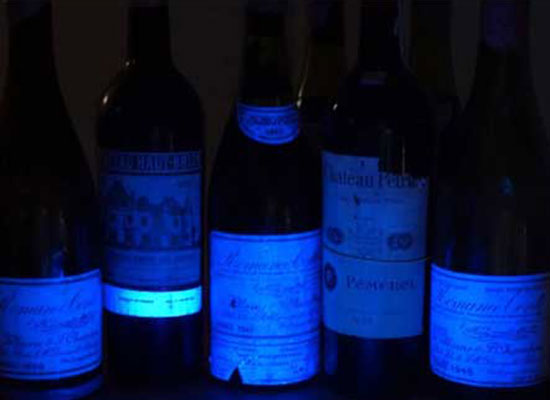 Source: winefraud.com
3. Blue lights, Stamp, and Paper Quality: Under UV light, some treatments used to brighten wine paper labels, might appear to glow, as shown above. So, if you have a bottle that shines like it's under a disco light UV (Ultra White is a chemical patented in 1957 – so OLD labels should not light up. However, everything modern will react to UV), you're dealing with wine forgery. Plate presses were commonly used to manufacture wine brands, but now almost all have been replaced by digital printing.
4. Check the capsule and the cork: The move from lead to tin and aluminum in food packaging is legally required. It's likely that the capsule in your recently acquired bottle has been reassembled if it has many folds. Fingerprints on wax capsules, remnants from a prior closure, and a recyclable symbol on an old bottle are all things to check for. This is something that customers can look into. On another note, the corks on high-end wines are usually 52-55mm long. Examine the side of the cork for 'Ah-so' marks, which are grooves made by a two-prong cork extractor. If there is evidence of grooves on the bottle, it's likely that it's a fake.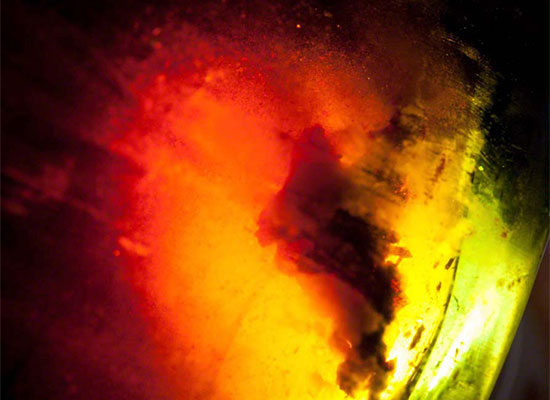 Source: winefraud.com
5. Sediments and stains: When the bottles are shaken, there is always sediment in older wines that have been stored properly on their side. However, if sediments do not shift, it may be the consequence of warming and baking which is fraudulent. The sealing that comes into contact with wine that has been aged for ages, should have a deep stain. Blotches will creep toward the top of the capsule because bottles are frequently placed horizontally. Because fake wine is created in a brief span of time using low-quality ingredients, it frequently lacks the stain.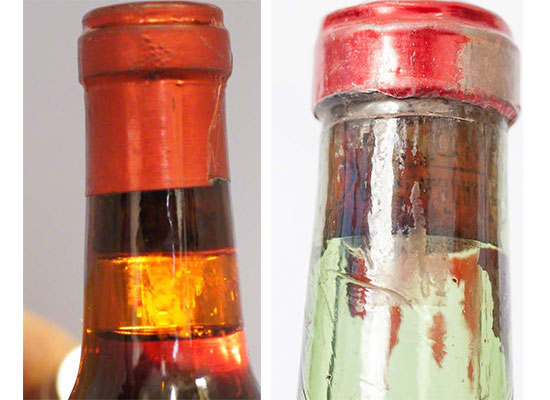 Source: winefraud.com
6. Glass and Label: Your wine's grade can also be determined by its appearance. On a smooth surface, a hand-blown bottle from the nineteenth century, for example, will wobble. In another situation, post-1930 French bottles ought to have their capacity imprinted on the glass. Get your facts right. Does the data on the front and back labels correspond to how the wine should be?
7. Glue in original bottles can be forensically aged: The age of glue in antique bottles can be determined forensically. If the glue on very old bottles, allegedly pre-1960, reacts to UV light – that is a sign modern glue has been used.
Despite doing everything you can to ensure you're not buying a faulty/counterfeited wine bottle, you may end up with one. But it is always better to be safe than sorry. Following these steps may not eliminate but reduce the risk of frequently buying counterfeit wine bottles.
Article by Kritika Shenoy, Beverage Trade Network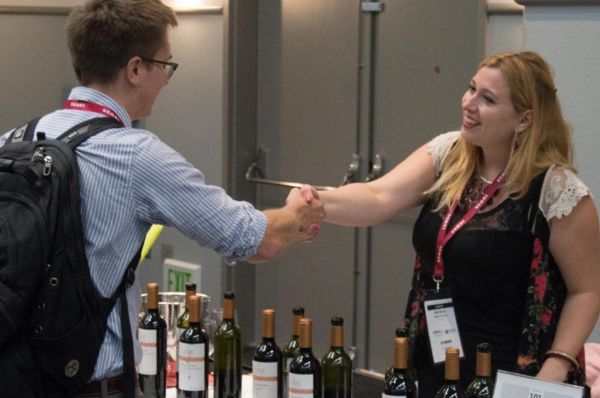 Insights
Building Connections, Expanding Palates, and Elevating Wine Culture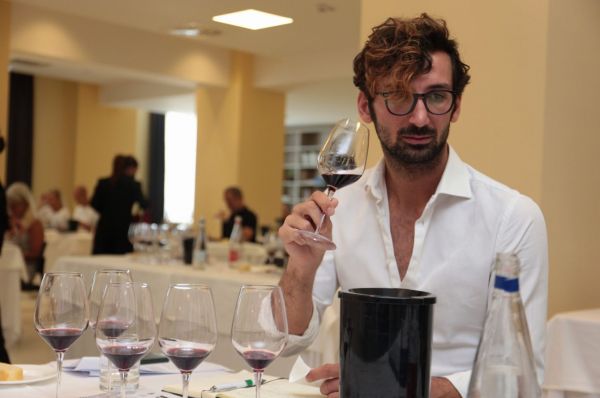 Interviews
"The Ambassador of Wine: A Multilingual Professional with Expertise in Hospitality, Sales, Marketing, and Management."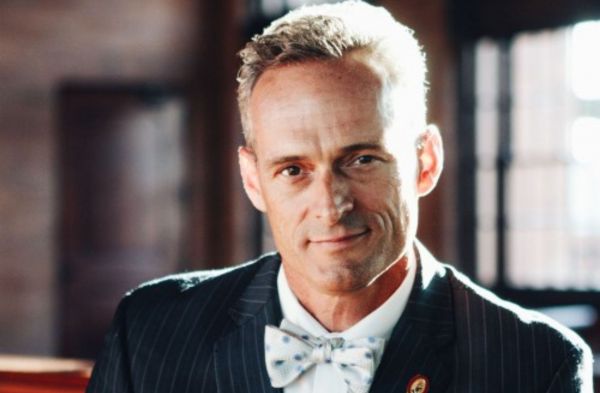 Interviews
Charlie Leary interviews Master Sommelier Ron Edwards of the major fine wine import & distributor Winebow about the company, his job & accomplishments within the fine wine sphere.
South San Francisco Conference Center, 255 South Airport Boulevard, South San Francisco, CA 94080, United States
Register Now
South San Francisco Conference Center, 255 South Airport Boulevard South San Francisco, California
Register Now