Crossword Red Blend with Moshin Vineyards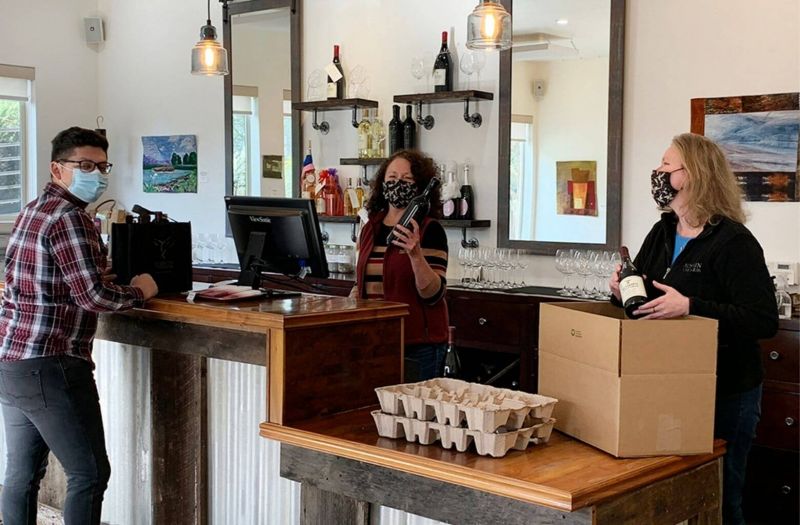 22/02/2021 Rick and Amber Moshin navigated Covid creatively with crosswords and mystery cases of wine.
Founded in 1989 by Rick Moshin, Moshin Vineyards is a small family-run winery located in the Russian River Valley of Sonoma County. Known for its Russian River Valley Pinot Noir, the winery began with Rick buying a 10-acre land in the Middle Reach of the valley. Before getting into the wine world, Rick was a math instructor and worked at a home-brewing supply store. His fondness for Pinot Noir led him to retire as a teacher and devote himself to making great wine.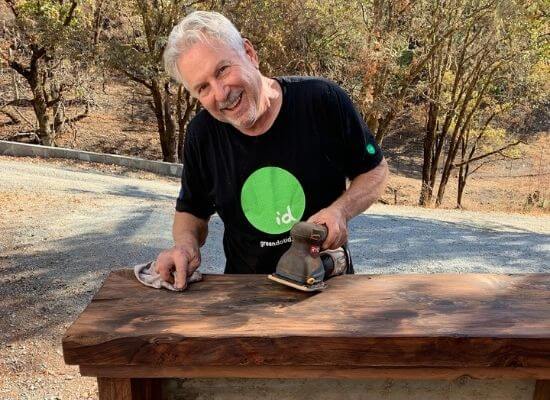 Rick Moshin, Founder & Owner, Moshin Vineyards, Source: Moshin Vineyards
The winery and vineyards are run by Rick and his wife Amber, whom he met in 2003 while she was working in the tasting room at Rochioli Vineyards. Amber now takes care of all the sales and marketing under the Moshin name and has also designed several of Moshin's specialty wine labels. Today, she shares with us the struggle they faced when Covid struck, and how the Moshin team overcame the hurdles that came their way.
How was 2020 going before Covid-19?
"Whew, hard to remember that far back. I know we were not happy with the trend in winery visitation numbers and distributor performance. So, when Covid hit, we were pretty shaken up at first and unsure how to navigate the new economic reality."
How did you respond as a business to the lockdown in terms of managing teams and furloughing staff?
"Initially, we reduced hours for staff but did not lay anyone off. We were fortunate to obtain the Payroll Protection Program loan, and we put everyone back to work, albeit with some modified duties. We put more emphasis on creative e-commerce programs to appeal to folks sheltering in place. Things like a crossword puzzle book enclosed with each 6-bottle order of our Crossword Red Blend, complimentary shipping, Mystery Cases at a great price, Pinot Noir Training Wheels - A virtual tasting with the winemaker with the wine aroma wheel included in every package.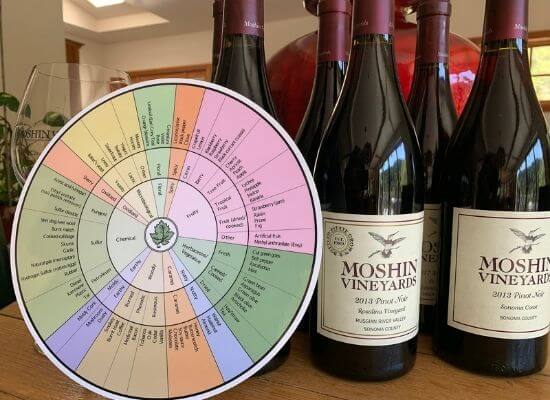 Pinot Noir Training Wheel, Source: Moshin Vineyards
We also gave our Tasting Room a facelift with all design and remodeling work done by in-house staff. Our outdoor space is limited, but we removed a bit of landscaping to add an additional tasting area. We implemented an online reservation system via OpenTable, which attracted new visitors to us. We are in the process of implementing a new winery software system that will allow us to promote online shopping and manage our wine club more efficiently.
Our winemaker is currently researching "canned" beverage options and other ways to utilize our production space as custom crush services that were impacted by last year's fires as well as the economic downturn."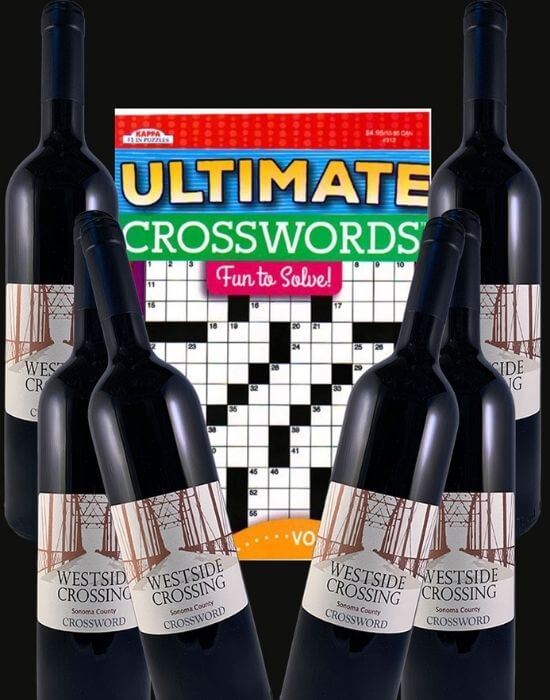 Red blend crossword, Source: Moshin Vineyards
How have you found the various teams working from home – any challenges and how did you overcome them?
"We do not have many options for working from home, but those that are, seem to be doing fine. We do have separate office spaces, and we use Zoom for all sales meetings now."
Which areas of the business have been most impacted and how have you responded?
"Not being able to entertain wine tasting guests has had a huge impact. It prevents us from growing our wine club and database of customers. Also, distribution has been hit especially hard as restaurants cannot order wine as they used to."
How were your online sales during the lockdown and what lessons have you learned?
"Our online sales were respectable, but during the lockdown, they saw a huge increase. We've found that "shipping included" goes a long way with customers, as does a well-curated selection of wine in package offers. "Pre-selected kits" streamlined the workflow for our staff when we would launch a successful e-commerce campaign. We fulfill all DTC orders in-house, so simplifying the mechanics of that revenue stream has been a helpful lesson. You can shop directly from our website."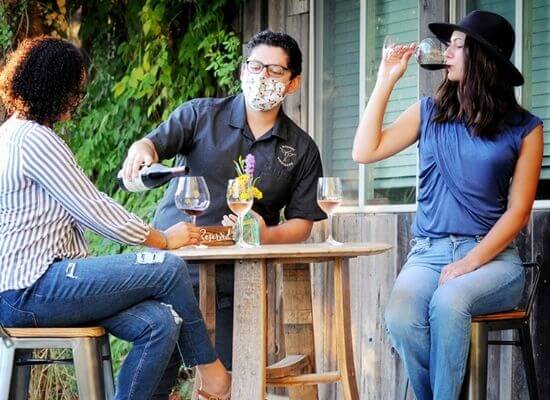 Outdoor tastings, Source: Moshin Vineyards
How about the on-trade? What steps have you taken to keep in contact and support your customers?
"Our local by-the-glass placements that once generated new tasting room visits weekly are gone, so our marketing efforts are continuing to refocus. We have several accounts that we've worked with closely. We are offering them extended payment options, no minimum order requirements, split cases, etc. - we understand the struggle, so anything we can do to make things easier for our valued accounts is important to us."
What have you done in terms of online tastings and Zoom events? Has this been effective?
"We've done a few virtual tastings, Facebook live posts, and partnerships with a couple of local chefs for cooking /wine demos. The effectiveness varies, and it's probably harder to measure than other marketing efforts. When there is more interaction among the viewers, good questions, and good content, I feel the effect will be long-term as people recall their experience with the brand as a positive memory."
What lessons and opportunities have you learned for the future in terms of how you do tastings and events?
"I feel that we've learned that "more" is not "better" in terms of attendance related to event success. Having to diligently regulate the flow of visitors (when we were open to outdoor guest visits), showed us how the quality of the experience is greatly enhanced when we have the time to devote to each guest. I believe this will have a larger and probably longer-lasting positive impact for both the winery and the guest."
What are your thoughts on what might happen over the next six to 12 months? Are you optimistic or pessimistic?
"I feel optimistic. We've all learned how to work within many new parameters instead of just waiting for challenges to go away. This has been a huge mental and emotional stretch for all of us, but when we can once again gather and toast to a brighter future, share a table or a picnic blanket, host celebratory parties, and such, I believe that we will be doing it with such gusto that all boats will rise once again."
What will be the key factors that you need to get right that will determine your success in 2021?
"Be nimble and fluid, look at all opportunities, and do not judge."
What is your strategy to grow distribution in 2021?
"Here's where it's very tempting to respond with something very snarky (as a small brand). However, I believe some element of self-distribution will need tackling while we also work on enhancing our relationships with existing distribution markets where we have had success. Communication will be key."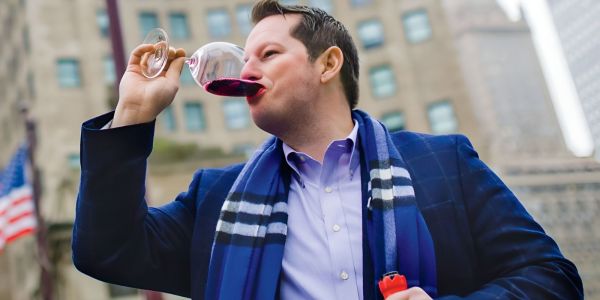 Interviews
Jon McDaniel on what makes a great sommelier, how sommeliers can create effective wine programs and how they can improve wine sales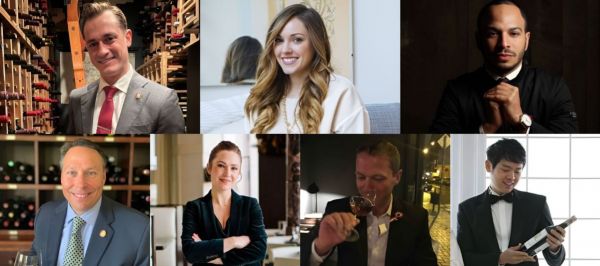 News
Top master sommeliers, sommeliers, wine directors and on-premise buyers of USA will gather in Chicago to judges wines at the 2024 Sommeliers Choice Awards, a leading wine competition benchmarking wines for on-premise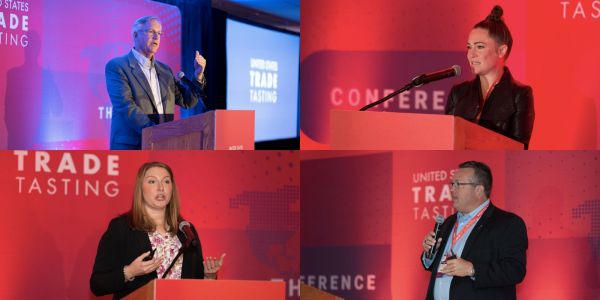 News
Mark Braver, The Fifty/50 Group; Michael E Klauer, Momentum Beverage Team: Jeremy Kruidenier, Wine and Spirits Distributors of Illinois and more take the stage at USATT 2023