What Would Will Costello Do?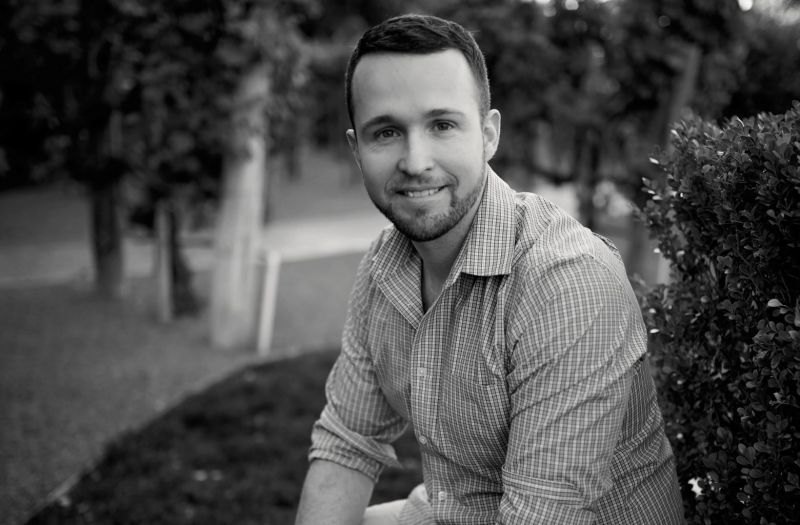 02/07/2021 When in doubt, tear a page from Will Costello's book.
Having been a General Manager of a Michelin-starred restaurant in San Diego, and the Wine Director for a 3 Michelin-starred chef in Las Vegas, Will Costello's career primarily focused on high-end hospitality and wine offerings.
But, over the years, seeing many different phases of the economy, Costello spread his knowledge to understand the value propositions for the market as well.
"Spreading my wings was important, as my transition to working for a wine company that has options from the entry-level, all the way to world-class premium tiered wines has made this a seamless way to focus on finding the perfect wine for any account or importer," says Costello.
As the current export manager for the Miller Family Wine Company, Costello shares with us his secrets on how to succeed as a sommelier, wine director, and export manager.
Can you tell us a little bit about your role?
I am the Export Manager for the Miller Family Wine Company, as well as the Estates Ambassador for the Bien Nacido & Solomon Hills Estate wines. The Estate wines are the premium Estate grown wines of the famous Bien Nacido and Solomon Hills Vineyards. I oversee all of our portfolios in the world market, including the 18 different importers we have over 13 Countries/Provinces. I work directly with many importers, as well as manage our relationships with our brokers. I cover all manner of business-related activities, including cold calling, research on potential markets, credit analysis, logistics planning, export paperwork, and education for all of the brands. In my Ambassador role, I provide consumer-facing support for wine dinners, trade education, and virtual tastings.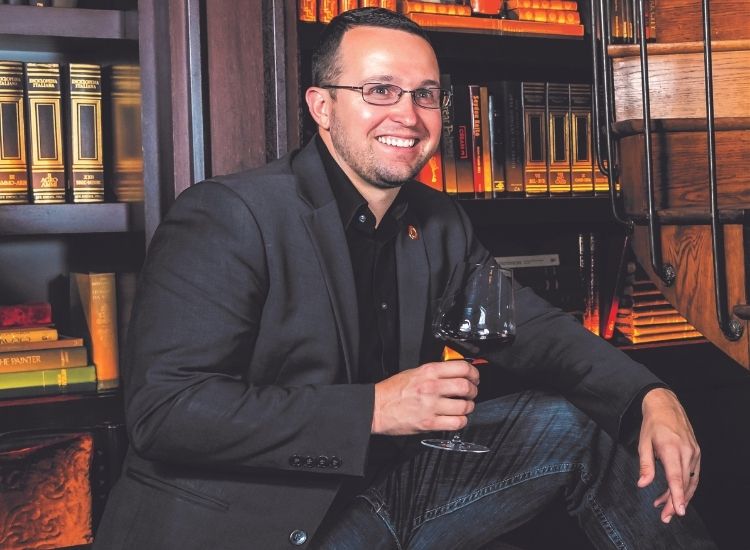 Will Costello enjoying a glass of wine. Courtesy of Will Costello
If you were to pick a restaurant and fix its wine program and grow wine sales, what would your strategy be?
First and foremost, I would start with the wines by the glass, and run a sales report for the last 6 months. This would give me an idea about what is moving the needle in terms of sales. I would then couple that with some cost of goods analysis, which would show me exactly how much of the profits are coming from those SKUs. Lastly, I would interview the primary staff and management, in order to gauge whether the brand itself is leading the sales, or if it is simply a varietal pull.
Second, once I analyze which wines are moving the needle, I would likely push to change specific SKUs to provide more margin. With this, I may also look at recommending a pricing strategy for By The Glass, which would entice more consistent sales. Sometimes, the difference between a $12 and a $10 glass of wine can mean thousands of dollars of sales annually. To decide whether to move to price up or down requires a review of those sales reports, as well as menu pricing, and a brief competitive set review. If pricing is a pain point, it would be advisable to move the pricing down to maintain a competitive advantage over local competition. As opposed to maintaining a veneer of "higher price means higher quality" which can push away more casual diners who are not driven by the branding of certain wines.
Last, I would implement a service training process, where we directly sell specific high-margin wines with certain dishes at lunch and dinner. In order to capture as many sales as possible. I would recommend an incentive for the staff, where restaurant credit is exchanged for positive sales. If the high margin wines are truly affecting net profit, giving some of them back in the form of a credit to strong salespeople only increases the willingness to see the restaurant do well.
How can suppliers work with you to drive sales?
Suppliers know their inventory and the ability to create deals. If I know I am trying to drive some margin on my sauvignon blanc by the glass, a savvy supplier could let me know of a 3-month deal on a wine, and would/could support my requested pricing in order for guaranteed volume. If the restaurant is of high visibility; table tents or branded POS could also be supplied in order to support the wine placement.
Can you share with us an example of a solid wine program?
Wines By The Glass:
Sparkling Wine & Champagne - Listed from Lean to Rich
Caraccioli, Brut, Santa Lucia Highlands 2009 33
Sea Smoke, Brut, "Sea Spray", Santa Rita Hills, Santa Barbara 2011 32
Duval-Leroy, Brut, "Rosé", Reims NV 42
Krug, "Grande Cuvée", Reims MV 55
White Wines - Listed from Lean to Rich
Barth, "Allure", Rheingau, Germany, Riesling 2014 11
Terrioir by Ant Moore, Marlborough, New Zealand, Sauvignon Blanc 2014 17
Bella Diva, Delle Venezie, Italy, Pinot Grigio 2014 15
Ovum, "In the Dark", Illinois Valley, Oregon, Gewürztraminer 2014 18
Les Héritiers du Comte Lafon, Macon-Prisse, Chardonnay 2014 22
Kumeu River, "Estate", Auckland, Chardonnay 2011 22
Flanagan, Russian River Valley, Chardonnay 2013 22
Joseph Drouhin, "Marquis de Laguiche~Montrachet Grand Cru", Chardonnay (2 oz.) 2009 78
Rosé Wines
Domaine du Deffends, "Rosé d'une Nuit", Côteaux Varois en Provence 2014 21
Red Wines - Listed from Lean to Rich
re:public, Edna Valley, Pinot Noir 2012 19
Bouchard, Pommard, France, Pinot Noir 2010 28
Domaine Mommessin, "Clos de Tart~Grand Cru", Monopole (2 oz.) 2006 69
Bodegas Riojanas, "Puerta Vieja", Rioja, Tempranillo 2013 17
Pierre Gaillard, St. Joseph, Syrah 2014 21
Château la Nerthe, "Les Cassagnes", Côtes-du-Rhône Villages, Rhône Blend 2013 18
Château Les Trois Croix, Fronsac, France, Bordeaux Blend 2011 22
Caballero, "Reserva", Mendoza, Argentina, Malbec 2013 17
Blackbird, "Paramour", Napa Valley, Proprietary Red Blend 2012 45
Blackbird Vineyards is a boutique Napa Valley grower dedicated to making small production wines of the highest quality. A typical bottle retails for $125, making this $45 glass of wine a steal. And in Vegas, not many things of luxury come that easy.
All of these wines are generally smaller producers or need-to-know producers, who offer extreme value for the price. The need to support a high-margin program allows us to target SKUs which may not have sold so well, due to their limited exposure to the masses, and request better pricing on those SKUs. A high caliber palate is needed to make sure they overdeliver for price. But essentially, passing on the savings of marketing dollars to the customer helps everyone.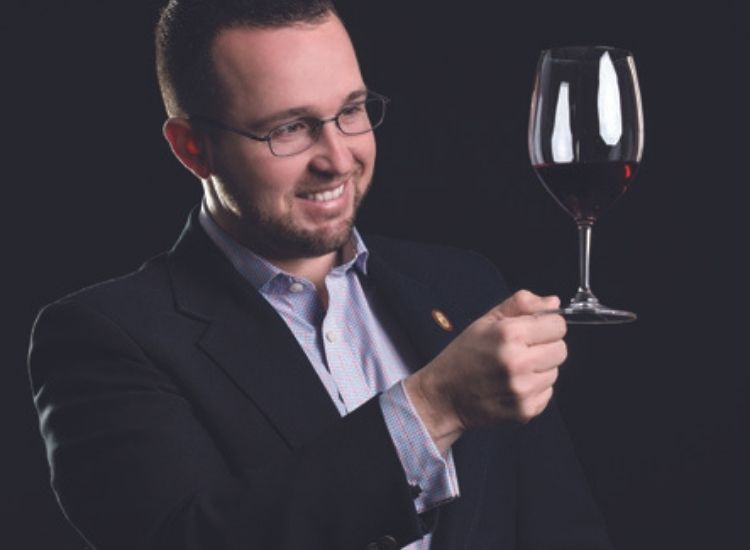 Will Costello with a glass of wine. Courtesy of Will Costello
Let's talk about your wine menu. Can you tell us a bit about what was there, why it was there, and how it helped the bottom line?
As referenced above, in order to support lesser-known producers, I targeted incredible wines from those producers. They are usually putting all of their costs into the bottle, and not on marketing/go-to-market strategies. This allows their pricing to benefit accounts that can support the brand on its own merits.
The reason this works is that the list has no "cannibal" wines. A Cannibal wine is one that steals sales from lesser-known brands due to its high consumer recognition. I won't name any names, but those brands will cannibalize the sales from a small winery, like Bella Diva, or Caballero Malbec, because a consumer buys based upon recognition. If you have too many of these wines, and often in cases, even one....you may risk sales on higher-margin wines as consumers will buy the one they recognize.
The same effect happens in politics. Name recognition is often the number one tell of whether a politician will win. All of this leads to better sales on lesser-known brands. The quality is oftentimes higher, and the margins are better for the restaurant.
What are the four main things you focus on daily?
In my role as an export manager, this is
1) Logistics Management
2) Partner Communications
3) New Business Development
4) Brand Communication
What are the things that are NOT so important to the bottom line that many sommeliers/wine directors tend to focus on?
Deadstock is not an impediment to the bottom line. Oftentimes the wine is already paid for, so it doesn't affect this month's P&L. But, instead of focusing on high volume areas of business, they worry about selling the bottles that have been there for a few months/years. By focusing on better margins in high volume areas, the pricing for those slow-moving SKUs can sometimes be put on special, with lower margins in order to turn over the inventory.
What are the points you look at when selecting a new wine for your wine program?
1) Competition on the wine list in terms of region and price. I can add a number of Napa Cabs at a steakhouse because this category has a ton of flowthrough. I can have (3) great $90 Cabernets. But in the Malbec category, this would be a poor decision. So knowing the sales trends and what sells, allows me to target exactly how many SKUs I need, and in what category. There is no reason to taste another malbec, even if it's better when I only sell a few malbecs a month. It is better to focus on the SKUs which move the needle.
2) Communication to the staff - IF I add wines to the list, but I don't do a pre-shift or communication with the staff, I risk staff favorites leaving the list or unknown wines being added without the staff knowing. If a customer calls out a wine order and they have never heard of it, they will likely say, we don't have that wine...Sorry.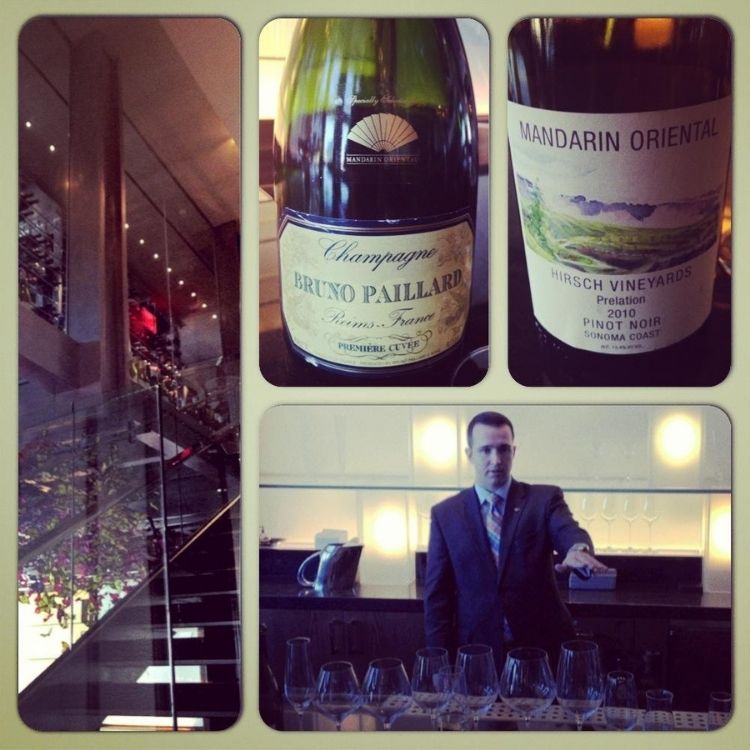 Will Costello teaching about wine. Courtesy of Will Costello
What is the difference between a sommelier and a wine director?
A sommelier sells wine directly to a consumer, as well as manages the daily stocking and inventory of the restaurant. A Wine Director plans the strategy of the list and executes revenue-driven decision-making for the business.
According to you, what makes a good sommelier, and what qualities do you look for when hiring a sommelier?
I would want a sommelier who understands the business and what moves the needle, so in the case, the restaurant group grows in success, they will have the understanding to grow into a wine director role. Just knowing how to sell wine to a table, does not mean I would have strong confidence that this sommelier would know how to run the program long term.
What do you look for when you have to evaluate the effectiveness of the wine program?
I want to know revenues, flow-through, and margins. If all of these are in line, oftentimes, the specific SKUs plugged in don't matter all that much. This means you can keep the list dynamic and fresh, for new products and new deals, without sacrificing profitability. By being a consistent buyer, more suppliers WANT to be on your list, you become an in-demand wine list and restaurant, and your buying power remains strong.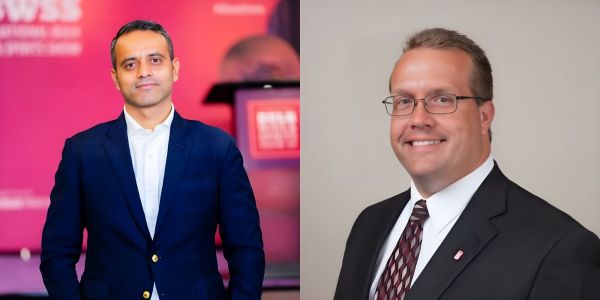 News
Attend this Q&A and insightful session on how beverage brands can develop sales processes to grow on-premise sales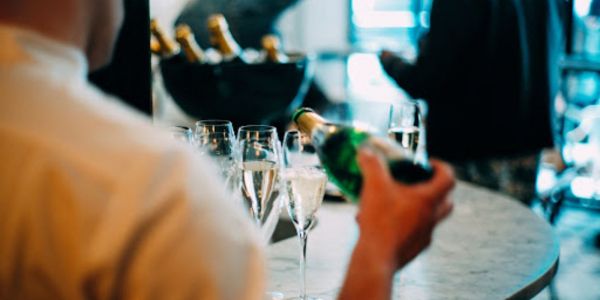 Operations and Management
Nurturing Talent and Expertise: Strategies for Retaining Sommeliers and Wine Waiters in a Challenging Wine Industry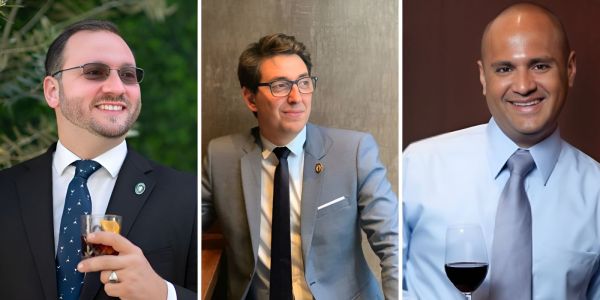 News
Sommeliers Choice Awards is pleased to share that Mark Guillaudeu MS, Jeremy Shanker, and Serafin Alvarado as its judges
South San Francisco Conference Center, 255 South Airport Boulevard, South San Francisco, CA 94080, United States
Register Now