New horizons: How Covid-19 affected America's sommeliers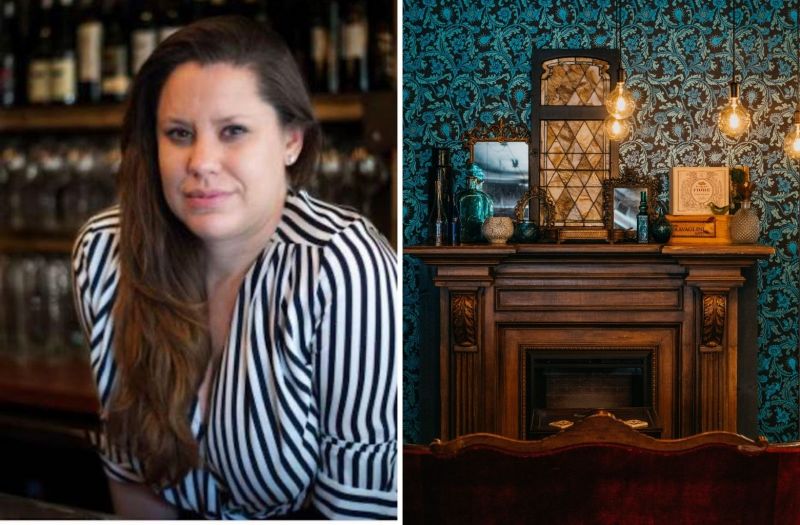 31/03/2021 From online boot camps to fast food, these are the pivots that kept wine bars in business during the roller-coaster ride that was 2020.
You used to know exactly what to expect from wine bars. Good wine, generally something a bit different from the ordinary; a laid-back atmosphere, aided invariably by some low-key music; sophisticated but simple food; and lots of customers who, age-wise, are a little bit beyond loud bars and two-for-one deals on generic lager.
It's an effective blend, but 2020 made it difficult - and sometimes impossible - to pull off. Wine bars that had been enjoying a very healthy start to 2020 suddenly found themselves in a desperate situation, with the staff they couldn't afford to pay and stock they were struggling to shift. They responded in a variety of ways, and often very effective. 2020 is no-one's idea of a great year, but it did lead to some great ideas.
Ideas that, it looks likely, will influence how American wine bars go about their business for years to come. Swati Bose, who co-owns and runs Washington DC's Flight Wine Bar with husband and fellow sommelier Kabir Amir, spoke for many when she told us in early December that 2020 will colour what she does in the future.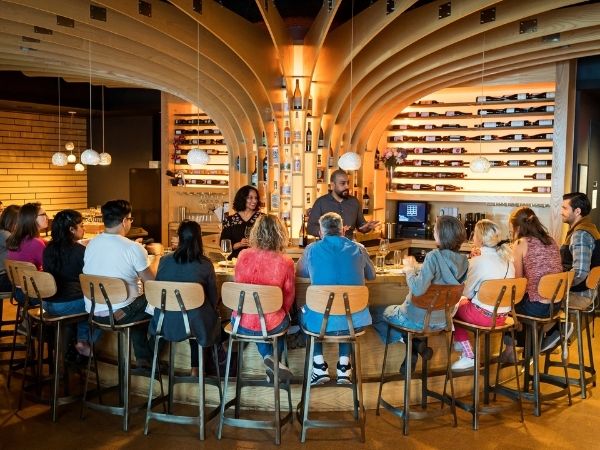 Kabir and Swati conducting monthly Flight Wine School, Source: Swati Bose and Kabir Amir
"Yeah, I do think it has a long-term effect on our approach," she said. "Going back to how we functioned before almost feels like we put all our eggs in one basket, just being a small wine bar where people walked in, had dinner and left. It seems [to me] like that we can't do that anymore, we would have to have other streams of revenue."
Jin Ahn of Noreetuh in New York City agrees. ""We have to plan better for a rainy day … or perhaps a rainy year!" he puts it. Here's our pick of some of the best ideas.
Delivery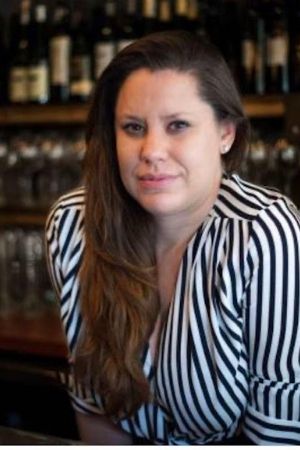 Suzaan Hauptfleisch, Owner of Kaia, Source: Suzaan Hauptfleisch
If customers can't come to you, what's the obvious solution? Take your offerings to them, although it's often turned out a little more complicated than that. In New York City, Suzaan Hauptfleisch, owner of Kaia, was one of those who had huge success with her food takeout.
"We did a meal plan program, cooking for people in the neighbourhood," she says. "We did a weekly menu based on a different theme or different country. You could sign up for how many meals, and how frequently you wanted them. We did very well, and it's still going. At the peak, we were doing 8 to 900 meals a week, and now, we're around 350 meals a week, during a calmer COVID period. So it's been very successful."
Hauptfleisch pivoted away from her central offer - South African wine and food - to focus on another of Kaia's strengths, community. At Uvae Kitchen and Wine Bar in Chicago, Lindsey Anderson and her team doubled down on their reputation for quality by offering a wine-paired dinner on Saturday nights.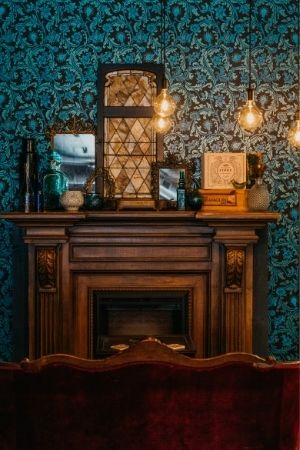 Uvae Kitchen and Wine Bar in Chicago, Source: Uvae Kitchen and Wine Bar in Chicago
"The front of house staff would come in and bottle and package the wines, and then they also do the delivery drive," she said. "And my back of house staff would put together our cheese and meat plates to go with the wine tasting, and then work on Saturdays with the prepping in the kitchen. It was really, really popular."
Getting Dirty
Others found that their traditional food offering wasn't what their customers were craving during the Pandemic. At Primrose, A Michelin Bib-Gourmand rated wine bar in Washington DC, co-owner Sebastian Zutant threw out the elegant French food for the first three months of the Pandemic and started serving something a little simpler. "I changed the name of the restaurant to Larry's, which was this nickname that my brother gave me when I was younger," he says. "And we were fried chicken and cheeseburgers for three months. So yeah, I did to-go, dirty bar food. It was great."
In Los Angeles, meanwhile, the owners of Bar Bandini - one of the city's most iconic natural wine bars - invited some of the city's best street-food vendors to set up on their patio. "It's been great. We've always done some food in-house - like charcuterie - and we've done certain pop-ups the whole time we've been open, but this really changed everything," says co-owner Josh Weinstein.
"People, when they went out, it was like one-stop shopping. You can't really bar hop in this climate. We had a residency for a month with Angie's Pizza, which was really successful: beautiful pizza that just went really well with our wines. But there's not much that can't go with natural wines!"
Online Wine
One popular solution was selling wine online, but different operators found different ways to do it. At Primrose, Zutant has set up the Phantom Wine Club, which runs monthly, offering "unique and interesting wines from all around the world". February's offering, for example, included four wines from the European nation Georgia to celebrate the election of two Democratic senators from the American state of the same name.
Also in DC, Flight has taken its wine school online, offering region-focused events that take in experts and a selection of wines, once a month. In Chicago, Anderson has enjoyed a good reception for their wine classes.
"From our public virtual tastings we got a lot of private tastings, a lot of corporate tastings," she says. "The busiest day we had was a Friday in April. We had a public Rose tasting for 40 people, and then we had two private tastings that each had 30. It was a lot to coordinate, but it kept us busy during the shutdown."
Bottle Shop
Some bars turned into bottle shops. At Bar Bandini, they found that many customers were happier coming to pick up wine than have it delivered. Liter-bottles were particularly popular, he says. "Our regulars came out really strongly for us, and bought wine," he says. "People were really buying in that beginning time. We tried to expand it with delivery - but we noticed that our group of people actually wanted to get out of the house and come, even if it was masked and [the wine was] left on the table 20 feet apart from each other. They were happy to come do that in those early days."
Outdoor seating
One thing that seemingly every wine bar did was introduce or improve their outdoor seating. Swati Bose speaks for many when she says this will change how they operate long-term. "We just had a small patio that was super seasonal, and now we're thinking that again if we survive this then we do have to think about an outdoor, indoor seating system that works year round," she says. "I think it will change the way people function for a long time to come."
Header image source: Left- Suzaan Hauptfleisch, Right - Uvae Kitchen and Wine Bar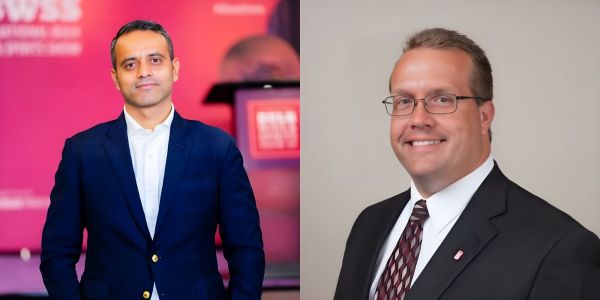 News
Attend this Q&A and insightful session on how beverage brands can develop sales processes to grow on-premise sales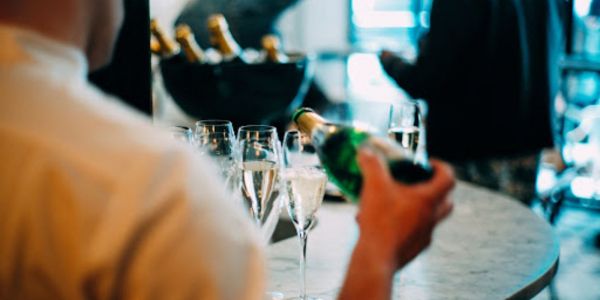 Operations and Management
Nurturing Talent and Expertise: Strategies for Retaining Sommeliers and Wine Waiters in a Challenging Wine Industry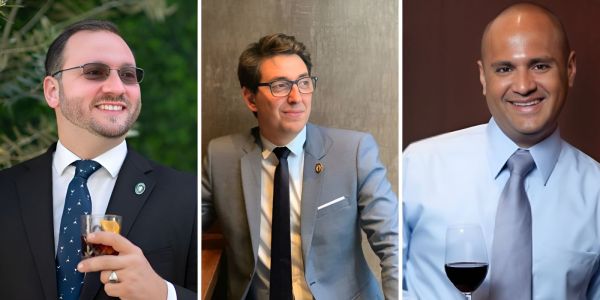 News
Sommeliers Choice Awards is pleased to share that Mark Guillaudeu MS, Jeremy Shanker, and Serafin Alvarado as its judges
South San Francisco Conference Center, 255 South Airport Boulevard, South San Francisco, CA 94080, United States
Register Now